Back in grade school, you learned about New Jersey's most famous inventions, from Edison's light bulb and Stevens' steam locomotive to DuPont's Teflon and Parker Brothers' Monopoly board game. Here are a few that probably didn't make it into your textbook…
SKINS GAME
Band-Aids • New Brunswick
The horrors of World War I heightened America's appreciation for the importance of sterile wound care. In 1921, Johnson & Johnson debuted Band-Aids, which incorporated an absorbent pad with an adhesive strip. By the mid-1920s, the company marketed them in the familiar tin box. J&J has sold over 100 billion Band-Aids since then. The original idea belonged to one of the company's cotton buyers, Earle Dickinson. His young wife was plagued by cuts and burns in the kitchen, so Earle simply combined two existing Johnson & Johnson products—sterile gauze and surgical tape—with a removable sheet of protective tape.
FORE THOUGHT
Golf Tee • Maplewood
Methods for raising a golf ball off the ground are as old as the sport itself, but it was not until 1922 that the familiar wooden tee was mass-produced by Dr. William Lowell, a Maplewood dentist. Popularized by top golfers including Walter Hagen, the Reddy Tee (it was stained red) became the industry standard by the end of the decade. Invention of the wooden tee is sometimes credited to a Harvard professor, George Franklin Grant, but he carved them for personal use and never thought of bringing them to market.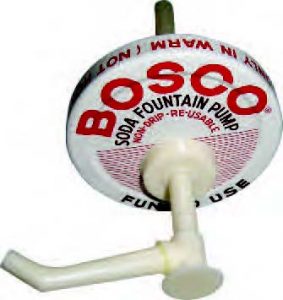 GOT MILK?
Bosco • Camden
Bosco chocolate syrup was invented by a Camden pharmacist. The William S. Scull Company, makers of Boscul brand coffee, acquired the rights to the formula in 1928 and called the product Bosco. It was advertised in the 1930s and 1940s as a "milk amplifier." Bosco was aggressively marketed on television in the 1950s and 1960s and was a major rival of Nestle's Quik chocolate powder. The color and consistency of the syrup also made it a popular choice for movie blood. Bosco, in fact, was used in the shower scene in Psycho. The Bosco Products company is still located in New Jersey, in Towaco.
NOTORIOUS RGB
Color TV • Camden
On February 5, 1940, at the RCA plant in New Jersey, a group of FCC officials witnessed the first "modern" color television broadcast. Prior to this demonstration, color transmission had to be sent on three different frequencies—one for red, one for green and one for blue—then recombined on the receiving end, which was notoriously difficult. The RCA breakthrough was to simply reverse the process used to separate the colors in the TV camera. Of course, it was anything but simple. It would be another decade before the first color broadcasts were made, by CBS in New York, using its one and only color camera.
SWEET SCIENCE
M&M's • Newark
Forrest Mars, heir to the Mars candy fortune, was not one to sit still. An entrepreneur and adventurer, he noted during the Spanish Civil War in the 1930s that soldiers were gobbling down Smarties, little English chocolates coated with sugar to prevent them from melting. In 1941, Mars received a patent for his own version of the confection and went into production in a factory in the Clinton Hill section of Newark. The M's in M&M stand for Mars and Murrie; Bruce Murrie, heir to the Hershey's company, had a 20% stake in the business. Hershey controlled the nation's chocolate supply during World War II. Today, the company makes more than 2 billion M&M's each week.
POP CULTURE
Bubble Wrap • Hawthorne
Did you know that bubble wrap started as a decorating product? In 1957, a couple of Passaic County inventors— Alfred Fielding and Marc Chavannes—were attempting to make 3D wallpaper by creating sheets of trapped air. The idea never caught on, but Fielding realized they had come up with a next-generation packing material and, in 1960, he founded the Sealed Air Corporation. The company trademarked the name Bubble Wrap and, in 2015, announced that it planned to offer a "nonpoppable" version—creating an uproar among its millions of devotees.
BARRIER BREAKER
Antitheft Tag • Livingston
In 1987, Dr. Phillip Anderson, president of Identitech, used amorphous metal made by partner company Allied Signal to create the article surveillance system based on large plastic "tags" that were clamped on to garments and other retail items. The metal strip within the plastic tags vibrated when it passed between magnetic sensors positioned at store exits. Anderson went on to teach Physics at Ramapo College. He retired with over 100 international patents for security devices using amorphous metals.