by Mark Stewart
 More remarkable stuff has happened here per square mile than in any other state in the nation. These are the cold, hard facts.
 Where would the planet be without New Jersey? Resist, if you can, the urge to crack wise and consider seriously for a moment the gravity of this question. Yes, we have given the world an occasional glimpse of our seamier underside. A submerged mobster may resurface from time to time in the Hackensack River. Occasionally a few civic leaders might get mixed up in some organ theft. And, okay, far too many of our youth are comfortable using the word "allegedly." However, these are all mere jug handles on the road to greatness that our state has traveled. In these pages, EDGE celebrates the remarkable people, places and things that make New Jersey the hottest thing going.
SINGERS
New Jersey's coolest "crooners"…
1. Frank Sinatra (Hoboken) Never recorded Newark, Newark. Why?
2. Dionne Warwick (East Orange) Her collaboration with Burt Bacharach made music history.
3. Paul Robeson (Princeton) Magnificent bass-baritone and stage actor, his three-year run as Othello in the 1940s still holds the Broadway record for any Shakespeare play.
4. Frankie Valli (Newark) Just too good to be true. He made Jersey Boys as famous as Jersey Girls.
5. Connie Francis (Newark) Where the Boys Are star grew up in the Ironbound neighborhood. Honorable Mention: Donald Fagen (Passaic) Depends on whether or not you like Steely Dan.
SWINGERS
New Jersey's coolest jazz artists…

1. Count Basie (Red Bank) Led his own groundbreaking band for 50 years.
2. Sarah Vaughn (Newark) Her PBS performance with the NJ Symphony in 1980 ranks among the greatest TV moments in jazz history.
3. Dizzy Gillespie (Englewood) Those cheeks…spectacular!
4. Jimmy Johnson (New Brunswick) Gifted pianist helped transform Ragtime into early jazz.
5. Wayne Shorter (Newark) Saxophone virtuoso was a Newark Arts High School grad.
Honorable Mention: George Benson (Englewood Cliffs) Legendary jazz guitarist is a long-time Bergen County resident.
BLINGERS
New Jersey's coolest rap and hip-hop stars…

1. Queen Latifah (Newark) Just celebrated her 20th year in the biz.
2. Lauryn Hill (South Orange) She and Zach Braff were friends and classmates at Columbia High in Maplewood.
3. Ice T (Newark) From Gansta Rap pioneer to TV cop on Law & Order SVU. Only in America.
4. Poor Righteous Teachers (Trenton) Who could forget this socially conscious hip-hop trio's haunting single, Butt Naked Booty Bless?
5. Faith Evans (Newark) Wife of the late Notorious B.I.G. has three platinum albums to her credit.
Honorable Mention: Naughty By Nature (East Orange) Renamed East Orange "Ill-town." But you knew that already, didn't you?
CA-CHINGERS
New Jersey's coolest music superstars…
1. Bruce Springsteen (Freehold) The Boss. Top of the list. Period.
2. Whitney Houston (East Orange) First wowed the world as a teen soloist at the New Hope Baptist Church in Newark.
3. Jon Bon Jovi (Sayreville) The hits keep coming.
4. Southside Johnny (Ocean Grove) The hippest thing ever to come out of Ocean Grove.
5. Les Paul and Mary Ford (Mahwah) Their Bergen County home studio turned out a bunch of #1 hits in the early '50s.
Honorable Mention: Paul Simon (Newark) Moved to Queens when he was a baby, so not a "real" New Jerseyan. No truth to the rumor that Bridge Over Troubled Waters was actually the Goethals Bridge.
STAR FACES
New Jersey's coolest acting talent…

1. Meryl Streep (Summit) A Bernards High School grad!
2. Jack Nicholson (Neptune City) You make me want to be a better man.
3. Ed Harris (Tenafly) Captain of the Tenafly High football team.
4. Tom Cruise (Glen Ridge) Cut from the Glen Ridge High football team.
5. Bruce Willis (Penns Grove) We forgive you for Hudson Hawk. Actually, no we don't.
Honorable Mention: Frank Langella (Bayonne) He brought Dracula to life on Broadway.
SCARFACES
New Jersey's coolest mobbed-up television and movie stars…
1. James Gandolfini (Westwood) Raised in Park Ridge,
graduated from Rutgers— a bona fide Jersey Boy.
2. Ray Liotta (Union) You're a pistol, you're really funny.
3. Joe Pesci (Newark) I'm funny how? I mean funny like I'm a clown? I amuse you? I make you laugh? I'm here to amuse you? What do you mean funny? Funny how? How am I funny?
4. Steven Van Zandt (Middletown) A member of the E Street Band and The Sopranos… that's a Jersey Double.
5. Joe Pantoliano (Hoboken) Joey Pants, yet another Sopranos alum.
Honorable Mention: Sterling Hayden (Upper Montclair) Film Noir heavy played the police captain gunned down by Michael Corleone in The Godfather.
WRITERS
New Jersey's coolest authors and poets…

1. Allen Ginsberg (Paterson) The best of the Beat Generation poets.
2. Dorothy Parker (Long Branch) A leading light of the fabled Algonquin Roundtable.
3. Norman Mailer (Long Branch) The Naked and the Dead was on the best-seller list for 62 weeks.
4. Philip Roth (Newark) Several of his novels are set in Newark's old Weequahic neighborhood.
5. William Carlos Williams (Rutherford) Haven't read the epic poem Paterson? And you call yourself a New Jerseyan!
Honorable Mention: Walt Whitman (Camden) His New Jersey retirement cottage was the epicenter of American literary culture in the late 1880s.
DELIGHTERS
New Jersey's coolest comic performers…

1. Jon Stewart (Lawrenceville) Reminds us each night that the news is an inexhaustible source of laughs.
2. Danny DeVito (Neptune) Grew up in Asbury Park, went to boarding school (Louie DePalma—a preppie?) in Summit.
3. Bud Abbott (Asbury Park) and Lou Costello (Paterson) Heyyyyy Aaaabbottttt!
4. Nathan Lane (Jersey City) Born Joe Lane, he changed his name to Nathan in honor of Nathan Detroit of Guys and Dolls.
5. Ernie Kovacs (Trenton) Only a guy from New Jersey could have come up with a three gorilla version of Swan Lake.
Honorable Mention: Jerry Lewis (Newark) Ranks higher on French lists.
FIGHTERS
New Jersey's coolest pugilists…

1. Joe Walcott (Merchantville) Won the heavyweight crown at age 37. Anyone nicknamed Jersey Joe goes to the top of the list, right?
2. Marvin Hagler (Newark) Marvelous Marvin was undisputed champion for almost eight years.
3. James Braddock (North Bergen) Played by Russell Crowe on the screen, the Cinderella Man was born in New York but fought out of Hudson County.
4. Mickey Walker (Elizabeth) A beloved champion, the middleweight often beat heavier boxers.
5. Tony Galento (Orange) Two-Ton Tony once knocked down Joe Louis in a title fight. He also wrestled a bear and an octopus, and acted in Guys and Dolls and On the Waterfront.
Honorable Mention: Hurricane Carter   
MOVERS
New Jersey's coolest political figures…

1. Grover Cleveland (Caldwell) Our 24th President, and the only one from the Garden State.
2. Aaron Burr (Newark) Killed Alexander Hamilton and tried to start his own county. Those nutty Princeton grads!
3. Frank Hague (Jersey City) For 30 years, no one in the state sneezed without his permission.
4. Thomas Kean (Hillside) 9/11 Commissioner set the bar high for NJ governors.
5. William Brennan (Newark) Progressive Supreme Court Justice was best known for his "absence of malice" stand.
Honorable Mention: Chris Christie (Newark) Um…we're still waiting for that groundbreaking EDGE interview.
SHAKERS
New Jersey's coolest cultural pioneers…
1. Alice Paul (Mt. Laurel) Took the fight for suffrage to unprecedented heights and won wo
men the right to vote in 1918.
2. Buzz Aldrin (Glen Ridge) His mom's maiden name was—you guessed it—Moon.
3. Bull Halsey (Elizabeth) Guided the USS Enterprise through key battles in World War II.
4. James Marshall (Hopewell Twp.) The original Blingmeister—first to discover gold in California.
5. Alfred Kinsey (Hoboken) Known as the Father of Sexology….wait, I thought that was Barry White.
Honorable Mention: Martha Stewart (Nutley) Thanks to her, we all can be perfect.
STAR-MAKERS
New Jersey's coolest coaches…

1. Amos Alonzo Stagg (West Orange) A member of the very first All-America team in 1889, he went on to rewrite the playbook for college football.
2. Vince Lombardi (Englewood) Began his legendary coaching career at St. Cecilia's in Bergen County. More importantly, has a rest stop named after him on the NJ Turnpike.
3. Bill Parcells (Hasbrouck Heights) The Big Tuna was born and raised in Bergen County.
4. Bob Hurley, Sr. (Jersey City) 900-plus victories, 20-plus championships and the coach behind the Miracle of St. Anthony's.
5. Gene Wettstone (West New York) Gymnastics guru coached Penn State to nine national championships between 1948 and 1976.
Honorable Mention: Effa Manley (Newark) Co-owned (but never coached) the Newark Eagles in the 1930s and 1940s, she was the first woman enshrined in the Baseball
CHANCE-TAKERS
New Jersey's coolest sports leaders…

1. Carl Lewis (Willingboro) Won Olympic gold in '84, '88, '92 and '96. Top that Michael Phelps.
2. Marty Liquori (Cedar Grove) Marty ran a sub-4:00 mile… in high school!
3. Rick Barry (Roselle Park) Last of the underhand free throw shooters.
4. Larry Doby (Paterson) He and Jackie Robinson broke baseball's color line in 1947.
5. Franco Harris (Mt. Holly) Steelers' star was John Grisham's favorite football player.

Honorable Mention: Derek Jeter (Pequannock Twp.) and Shaquille O'Neal (Newark) Both were born in Jersey but grew up elsewhere, so it's a tie.
EARTH–QUAKERS
New Jersey's coolest sporting events…
1. Princeton vs. Rutgers (New Brunswick 1869) The first intercollegiate football game. The first tailgaters convened three hours before kickoff.

2. Cosmos vs. Santos (East Rutherford 1977) In his farewell game in jam-packed Giants Stadium, Pele scored in the first half for the Cosmos, then switched sides and scored for his old Brazilian team in the second half. His fame helped America land World Cup 94.
3. Jersey City Giants vs. Montreal Royals (Jersey City 1946) In his first game as a pro, Jackie Robinson electrified the crowd at Roosevelt Stadium with four hits and four runs in Montreal's 14–1 victory.
4. Ederle Sets Record (Sandy Hook 1925) Gertrude Ederle set a record for the 21-mile swim that stood for more than 80 years. A year later she stroked her way across the English Channel.
5. Knickerbocker Club vs. New York Club (Hoboken 1846) The famous
"first" baseball game took place at the Elysian Field. Shhh…rumor has it that baseball was being played for 20 years before this in New York City.
Honorable Mention: Let Pepe Play! (Trenton 1974) Two years after Little League Baseball banned Hoboken's Maria Pepe from playing with the boys, the New Jersey Supreme Court ruled in her favor. Today 50,000 girls play Little League baseball!
DRIVEABLE
New Jersey's coolest roadways…

1. Boulevard East (Weehawken) New Yorkers pay through the nose for their Hudson River apartments, but the million-dollar view is really from the Jersey side in Northern Hudson County.
2. Green Sergeant's Bridge (Sergeantsville) Beloved covered bridge. Scheduled to be replaced in 1960, it was rebuilt after public outcry from the people of Sergeantsville and their neighbors.
3. George Washington Bridge Iconic structure drops to #3 here because half of it is in New York.
4. Pulaski Skyway This engineering marvel gained national historic status in 2005.
5. Oceanic Bridge (Rumson & Middletown) Spanning Monmouth County's Navesink River, it's considered by many to be the most beautiful bridge in the state.
Honorable Mention: Bayonne Bridge One of the longest and loveliest steel arch bridges in the world.
ARRIVE–ABLE
New Jersey's coolest tourist destinations…

1. Statue of Liberty As of 1987, Liberty Island is officially ours!
2. Atlantic City Boardwalk The longest boardwalk in the world…. but sadly, no longer home to the Miss America Pageant.
3. Jersey Shore From Sandy Hook south, more than 120 miles of beautiful beaches.
4. Cape May New Jersey's #1 tourist destination.
5. Twin Lights The Highlands landmark was America's launch pad for optics, wireless communications and radar technology.
Honorable Mention: Ellis Island Among the immigrants who came through this gateway were Bob Hope, Bela Lugosi, Charles Atlas and Chef Boyardee.
SOUND IDEAS
Coolest New Jersey inventions…
1. Light Bulb (Edison) Edison was actually known as Raritan Township at the time.
2. Movie Camera (Edison) Menlo Park Mall is good. Menlo Park Museum is better.
3. Phonograph (Edison) Another Edison invention. Noticing a pattern here?
4. Transistor (New Providence) A little power in, a lot of power out. The first working one came out of Bell Labs in 1947.
5. Charge-Coupled Device (Holmdel) Another miracle from Bell Labs, circa 1969. The CCD is the key component in optical devices ranging from the Hubble Telescope to the camera in your cell phone.
Honorable Mention: Electric Chair (Edison) and Jughandle (Montville) A tie—quick death vs. slow one.

FOUND IDEAS
Coolest New Jersey discoveries…
1. Radio (Highlands) Marconi proved the commercial viability of wireless communication here in 1899.
2. The Big Bang (Holmdel) Robert Wilson and Arno Penzias proved this controversial theory with their experiments in cosmic background radiation at Bell Labs in 1964.
3. Dinosaurs (Haddonfield) The 1858 discovery of the aptly named Hadrosaur in a New Jersey marl pit launched American paleontology.
4. Antibiotics (Piscataway) Rutgers-educated Nobel Prize winner Selman Waksman developed (and named) these disease-fighting drugs in the 1940s.
5. Zincite (Franklin) Rare zinc oxide crystals, abundant only in New Jersey, were the "crystals" used in the first radio Crystal Sets before the advent of vacuum tubes.
Honorable Mention: Valium (Nutley) Making it all better since 1963. Thank you, Hoffmann–La Roche.
FULL BLOWN
New Jersey's coolest headlines…
1. Hindenburg Disaster (Lakehurst 1937) Definitely not a miracle of German engineering.
2. Lindbergh Kidnapping (East Amwell 1932) H.L. Mencken called the abduction of the hero aviator's son the "biggest story since the Resurrection."
3. Martian Landing (Grover's Mill 1938) Orson Welles's Halloween prank proved the power of radio.
4. President Garfield Dies (Elberon 1881) He moved to the Jersey Shore two months after an assassination attempt and died 13 days later.
5. Black Tom Blast (Jersey City 1916) World War I sabotage in New York Harbor riddled the Statue of Liberty and shook windows all the way to Philadelphia.
Honorable Mention: Washington Crosses the Delaware (Titusville 1776) No actual headlines, but too important to leave out.

HOME GROWN
New Jersey's coolest edibles…
1. Jersey Tomatoes Technically a fruit… which is probably why it's New Jersey's official state vegetable.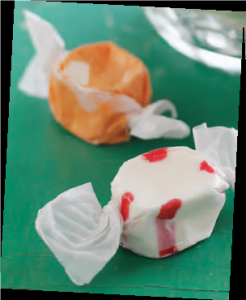 2. Jersey White Corn Sweet and tender. Hey, no stripping the corn in the store!
3. Salt Water Taffy Your dentist has just ordered new furniture for his living room.
4. Jersey Blueberries Once thought to be poisonous, today's blueberries are the result of early genetic engineering.
5. Jersey Eggplant We grow more than any state in the nation. Can you say rollatini?
Honorable Mention: Taylor Pork Roll Introduced by John Taylor of Trenton. Unchanged since the 1850s. Why mess with…urp…perfection?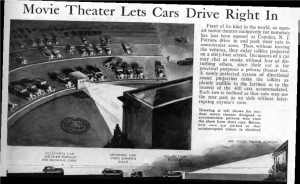 GLOBALLY KNOWN
New Jersey's coolest cultural "firsts"…
1. Air Mail The first Air Mail service went via sea plane from Keyport to Chicago in the 1920s.

2. Diners The first gleaming pre-fab diners were made in Elizabeth during World War I.
3. Drive-In Movies The world's first opened for business in Pennsauken in 1933.
4. Lazy Susan Keyport again! The first was produced by William Beadle in 1854.
5. Campbell's Soup The Camden company was an international brand more than a half-century before Andy Warhol turned its cans into pop art. Now sold in 120 countries.
Honorable Mention: MTV's Jersey Shore Proving you don't have to be good to be cool.
PLEASE DON'T GROAN
Some final cool things about New Jersey that the world has yet to fully appreciate…
1. No Self-Serve Gas If I had the choice, I'd never fill 'er up in another state.
2. Pledge of Allegiance First recited as the National Loyalty Oath at the Twin Lights in Highlands in 1893.
3. The Pine Barrens A UN International Biosphere Reserve and home of the Jersey Devil. What's not to like?
4. Omission of T's in the middle of words Mitten, Kitten, Bitten.
5. Omission of R's at the end of words …Ovuh, Rovuh, Clovuh.
Honorable Mention: Kelly Ripa Liked her on All My Children. Love her on Live with Regis.
Editor's Note: Thanks to Christine Gibbs, Rachel Rutledge, Mariah Morgan, Caleb MacLean and Lily Kennedy for their work on this feature. Special thanks to the Twin Light Historical Society (twin-lights.org). Memorabilia images courtesy of Upper Case Editorial Services.