by David Burke
How I learned to love the Habañero
When I was a sous-chef at the River Café in New York in the early 1980s, there was a creative punishment awaiting kitchen staff that showed up late for work. The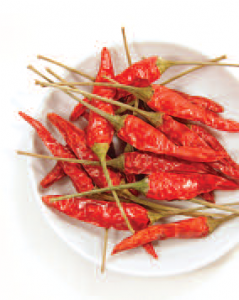 chef would slice off the top of a bell pepper and thread a string through it like a party hat. You would have to wear that hat throughout your shift, and endure taunts of "pepper-head" until it was time to go home. You knew there was bad traffic coming into the city if three or four guys were wearing pepper hats. Three decades later a couple of things have changed in the food business. First, that would probably be considered workplace harassment today. Second, and more important, the use of peppers in the kitchen has definitely evolved. I use a variety of peppers on every menu in every one of my restaurants, and I try to be as imaginative and creative with my choices as I can. Some I use for seasoning, some for flavor, some for heat.
And although I am far from an expert on peppers, I can't imagine cooking without them. That's a far cry from my early days in the business. Thirty years ago, Southeast Asian cooking was practically unknown and chefs like Dean Fearing, Mark Miller and Bobby Flay were just starting to bring Southwestern cuisine into the mainstream. I had worked in French restaurants my whole life, so when it came to peppers I was a complete neophyte. I'll never forget my introduction. One day at the River Café, someone tricked me into chomping into a scotch bonnet. I almost jumped in the river. I didn't know what to do. I couldn't get rid of the heat. It was a hot day to begin with and I really thought I was going to keel over. I was pissed! For years after that, I couldn't eat Thai food. I remember once at a friend's restaurant in Chicago, he served me a dish that was so hot that I got really mad at him. It ruined the whole meal. I couldn't taste the wine we ordered. He pointed out that I'd bitten into a chili that was there for color and flavoring. It wasn't meant to be eaten.
Later, when I first started working with different types of peppers, I still didn't fully understand or respect their power.
One time, we were working with a particularly potent pepper. I was sweating a lot that day and I inadvertently used the same hand that was handling the pepper to wipe my brow. Well, about 20 minutes later it felt like someone had stuck a screwdriver in my eye. Again, I was very new to working with peppers, so I didn't realize what I'd done. Overnight, it spread across my nose into my other eye. I couldn't see! I ended up going to the hospital thinking I had some disease that was making me go blind. The doctor asked me what I'd been doing and worked out what the problem was. The next day I had a business meeting with Phil Suarez, who is Jean Georges's partner. It looked like someone had worked me over with a baseball bat—both of my eyes were purple-red. He still gives me a hard time about that when I see him.
Even today, I make a pastramied salmon that involves boiling molasses with cayenne pepper. We paint the mixture on the fish, and then smoke it. Your hands get sticky with the molasses and it can work its way into your skin and under your fingernails. If you go to bed—or, worse, to the bathroom—without completely scrubbing off the cayenne mix, you'll be in bad shape, believe me. And during my days working in Hong Kong, I learned another important lesson: never eat Chinese food in the dark. The peppers used in cooking belong to the Capsicum family. They include a lot of familiar names, like jalapeño, cayenne, chipotle, poblano, habañero, scotch bonnet, serrano and, of course, bell peppers of various colors. Most sources credit Christopher Columbus with giving peppers their name. He brought them back from the New World and named them after black pepper, which was the only hot spice Europeans were using at the time. Black pepper was incredibly expensive in the 1400s—in some places it was used instead of money—so the "discovery" of a new way to spice up food was big news. Spanish and Portuguese explorers and traders spread peppers to Africa, India, and Asia. Paprika got to Hungary through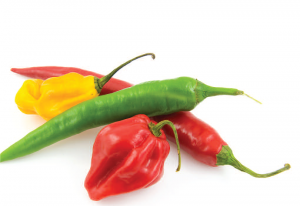 Asia, not through Europe, which is interesting. Not for nothing, but paprika is one of the trickier peppers to cook with. You really have to open it up and let it bloom.
Today I am a big proponent of peppers. Cayenne is my friend. I always have serranos and jalapeños on hand. We use serrano peppers in our firecracker applesauce. It's great how the heat and sweet mixes together. First you get the sweet, and then the heat kicks in. I didn't like jalapeños at first, but now I think they are a great way to get exactly the amount of heat you want in a dish. I am a huge fan of the peppadew, a sweet, piquant pepper that's grown in South Africa. We put them on sandwiches and in salads. We make wonderful use of chipotles in our ranch dressing and our aioli. It's extraordinary on our tuna tartare tacos. Of course, with all of the different pepper options out there, people tend to look down upon the old reliable bell pepper. For my money, it gives you the greatest depth of flavor. And that flavor experience changes depending on how you cook it. I think that among the bells, the green pepper gets overlooked. It has a little bitterness and a more unique flavor than red or yellow. Still, to bring out some heat and wake up the palate, it's fun to work with the hot stuff.
I like a little bit of heat now and then, I have to admit. If you're feeling adventurous, I recommend experimenting with habañeros. Make a habañero butter and put in on a steak or a pork chop or a burger. Keep some in the fridge and on weekend mornings spread it on some toast with eggs. Think of it as the gateway pepper—you can go up or down the Scoville scale from there according to taste. Some final thoughts on peppers. When you bite into a hot pepper, no matter how convinced you are that you've singed the taste buds off your tongue, that's not what's happening. It may be uncomfortable, but you'll survive. Peppers activate the pain receptors on your tongue and in your throat, so it sends a pretty strong message to your brain at first. In football, the first time you get tackled you feel like you've been in a car wreck. But you get used to the pain and even get to like it a little. For most people, the same is true when it comes to cooking with peppers. As long as you remember to wash up before rubbing your eyes (or visiting the restroom), the discomfort will be contained to a place where you are also experiencing some incredible flavors and textures. It's a trade-off I'd make any day. Besides, who doesn't like a little pain with their pleasure from time to time?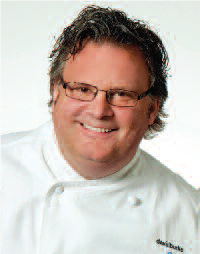 Editor's Note: David Burke owns Fromagerie in Rumson, Primehouse in Chicago, Prime in Connecticut, and Fishtail, David Burke Townhouse, and David Burke Kitchen it the James Hotel in Manhattan.