by Erik Slagle
An award-winning patient has transformed the culture of the Linden Dialysis Center.
For nearly four decades, Angela Taggart has successfully managed her renal failure through regular dialysis sessions, adherence to her doctors' orders, and the support of her family. Even so, nothing has impacted her success as profoundly as her faith and her outlook—an outlook so inspiring that she was recently honored with the Patient Engagement Award from a major national renal disease network.  
Angela's sessions at the 5-star CMS-rated Linden Dialysis Center begin with a ritual Hello to each of her fellow patients. Ruby Codjoe, RN, is the Unit Manager of the facility, which is a satellite operation of Trinitas Regional Medical Center. She has known Angela as a patient for the last 20 years. Ruby strategically seats new patients, who are sometimes depressed and upset at their own conditions, next to Angela so she can spread her own life lessons, share her insights, and offer encouragement that renal disease doesn't have to take over a person's life
"It is amazing to witness," Ruby says. "What begins with a simple introduction to a new patient who may be sad and depressed results in a more hopeful patient, thanks to Angela fostering a positive outlook in them."
When it was time to nominate a patient for the annual Patient Engagement Award presented by Quality Insights Renal Network 3 (QIRN3), Ruby immediately submitted Angela's name.  "George Elliot once said, 'It's never too late to be who you might have been.' It's a perfect way to describe how Angela lives her life."
Angela Taggart is an inspiration to all dialysis patients, according to Joan Wickizer, Patient Services Director at QIRN3.  "The thing that struck us about Angela's story was how she serves as a cheerleader for other patients," she says. "And how, for more than 30 years. she's maintained such a full, engaged life."
For the record, it's 38 years. Angela started dialysis at just 20 years old. She has made a point of trying to live every day as if it could be her last. In the early days of her treatment—following a failed kidney transplant that led to life-threatening complications—she was befriended by an elderly fellow patient who passed along life-changing advice: learn.  
"He told me to take charge of my situation," Angela remembers, "and learn what the machines do. Get involved in your treatment.  Ask questions. By staying engaged, you take back your independence.  I've been 'in school' for 38 years, and I never stop learning."
In that spirit, Angela set a goal of returning to school and, in 1996, almost 20 years after being diagnosed with renal failure, she graduated from Kean University with a degree in Business Management and a teaching certificate for Special Education.  A stint with AmeriCorps followed, and she went on to teach preschool at Rahway's Destiny After School Haven, as well as substitute teaching for the Elizabeth and Rahway school systems.  
The Patient Engagement Award notwithstanding, Angela doesn't see herself as an example. In fact, when she was told she would be receiving the honor, she thought it was a practical joke.  
"I think that sometimes I'm a complainer," Angela laughs. "I'm constantly asking questions, wanting to know how things work or why they're being done, advocating on behalf of the other patients."
Indeed, she advises and inspires others grappling with their illness and treatment. Playing that role means staying in constant, persistent communication with the staff at the Linden Dialysis Center. Angela pays attention to the small details that can make dialysis a more positive experience, from better Wi-Fi service to the comfort of the chairs.  She helps the center staff understand what it means to be a dialysis patient, including "bad days" when a patient might prefer simply to be left alone with the machine and a television.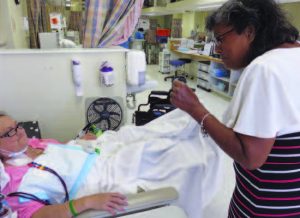 Angela reminds her fellow patients to never stop asking questions or learning about their own treatments. She encourages them to pay attention to their bodies and listen for cues, reminding them that nurses and doctors can only do so much; it's up to the patients to communicate how they're feeling and responding. 
Angela says her strength is based in faith, and in her belief that prayer can work miracles.  She is a leader in her Church community, and never stops looking for ways to transfer that faith and grace to her fellow patients.  By initiating activities like a Birthday Card Campaign for patients who have left the center and the 'Encourage Your Nurse' project, she has turned the dialysis center into a real community, with a network of love and support.
Angela's always seeking new ways to encourage other patients and the staff, and remains in Ruby's words "tenacious, resilient, and ambitious."  Naturally, whenever the center gets a new machine or other equipment, she asks for the manual and reads it during treatment.
Angela is engaged…the recognition from QIRN3 confirms it.
She exemplifies the life of someone who truly cares for others and will do everything in her power…for everyone she comes in contact with reads the nomination submitted by Ruby Codjoe and other members of the Linden team. She is the example of beating the odds no matter the obstacles that come her way