by Andy Clurfeld
"The kitchen partners shrimp with long-marinated green papaya, shards of popping-bright mint, hints of peanut and a vivacious coconut sauce that unites everything on the plate."
By Andy Clurfeld
Common Lot
27 Main St., Millburn
Phone: (973) 467.0494 
Open for lunch Tuesday through Saturday from 11:30 a.m. to 2 p.m., dinner Tuesday through Thursday from 5 to 10 p.m. and Friday and Saturday from 5 to 10:30 p.m. Closed Sundays and Mondays. Major credit cards and reservations accepted. 
Prices: Small/share plates: $5 to$18. Big plates/entrees: $26 to $35. Plates for two: $78 to $82. Desserts: $10 to $12.
As I write this, the sun is setting a deep pink-orange over the western edge of my Bayshore, New Jersey, town. Silver-blue sky streaks through brush strokes of pale gray clouds that have lost all vestiges of white in a manner of split seconds. I am as aware of the minutiae of weather at this pinpoint moment as I am of the ingredients in a dinner consumed almost a week earlier at Common Lot in Millburn.
For Common Lot, piloted by the chef-owner Ehren Ryan and his wife Nadine, co-owner and conspirator, is an unforgettable gift to those who value singular experiences in dining out. Who value respect for ingredients, a vision that eschews the tried-and-ultimately-ordinary, a determination to speak in a culinary voice that is proud, loud when necessary, yet always original.
True voices in restaurants are in short supply. That is sad. Many diners don't even know, let alone understand, what a voice in food is. They should come to Common Lot, to learn.
Cook fingerling potatoes, for example, in lamb fat, and that diner will be educated. Duck fat is the fat du jour, has been for more than a decade now in progressive restaurants. But lamb is inherently gamey, and potatoes, a crop that does best in cold weather climes, gain a brave new soul when cooked in something heartier, meatier than the fat of duck. We learn, then, through the Ryans' rendition of this cunning "small-to-share" starter plate, that meat-and-potatoes, the Germanic-influenced mid-20th-century essential supper of suburban America, how the most basic of the basics can evolve. There is a bit more on the plate to emphasize the evolution: a wash of creamy, rich burrata, of piquant onions, and a little shrapnel—mere shots—of bacon marmalade to set the dish squarely in the 21st century.
The dish isn't just fine; it's defining.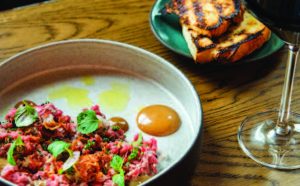 And so are the other five "smalls" we order to start our evening at Common Lot, a BYOB down the street from the venerable Papermill Playhouse, where Central Jersey schoolkids like me were shepherded to matinees on class trips and by parents on weekends. If Common Lot had been Papermill's dinner-plus-theater partner all along, it could've ignited a Broadway in New Jersey.
Meanwhile, back at Common Lot 2016: Char-grilled octopus, with edge-of-night splashes of almost-black, play off the sweet snappiness of a spring onion relish and a spare salad of elegantly cubed potatoes. It's the reduced shellfish oil that both binds and elevates the dish. Rye berries, at once boisterously nutty and coy, are the stars in a grilled avocado salad given nuance by dashes of a date-onion puree, the pulse of many-layered fermented chili and a confit of fennel that ever so subtly resonates with anise. 
Heirloom carrots are roasted with the one-two punches of honey-cumin and pumpkin seeds-yogurt. They complement each other and, in turn, the humble-goes-haute star ingredient. Beef tartare you've had; we've all had. But try it with an aioli plied with black garlic, a caramelized riff on a common ingredient that renders it simultaneously savory and sweet. In the end, it's irresistibly umami-driven. Smear the whole shebang on the charred bread offered on the plate and you'll know how the Frank Sinatra bobby-soxers at the old Paramount felt when they swooned till they fainted.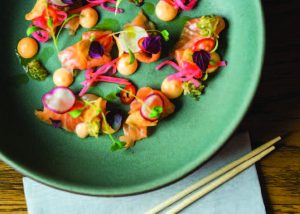 Why, I thought, haven't I had plancha-seared shrimp like those served at Common Lot? Here, the kitchen partners shrimp with long-marinated green papaya, shards of popping-bright mint, hints of peanut—and a vivacious coconut sauce that unites everything on the plate without dominating.
I want to do the entire first round all over again. I am learning and loving. I also am, as a pottery junkie of 40-plus years, turning over and caressing the handmade Jono Pandolfi dinnerware and pitchers Common Lot has chosen for its table settings. Good company: The Union City-based pottery is also anchoring tables at Eleven Madison Park, Atera, Piora and Rouge Tomate in New York City, as well as Uchi in Dallas, the Ace in L.A., and Hawksworth in Vancouver.
The big plates (read: entrees) don't lose focus. Sirloins are a dime a dozen, frankly, but Common Lot's is house dry-aged for a month and the potatoes that accompany are cooked in beef fat, of course. (I am imagining cauldrons of variously labeled fats gently simmering in the kitchen here.) Creamy leeks and a super-concentrated red onion jam are there for dabbing with slices of the beef. Celery root two ways has its way with Amish country chicken breast: It's mellowed by time in chicken fat and also left, in near-translucent ribbons, raw; the result is a yin-yang accent that can counterpoint with crunch or collaborate with sheer comfort. The literal and figurative topper: a chicken vinaigrette. 
Ocean char trends autumnal, with a mild-mannered turnip puree, a neat pile of rainbow Swiss chard and a scattering of hen-of-the-woods mushrooms rounding out the plate. But, you know, it's not really the sides that round out the plate; it's the expertly browned butter drizzled over pretty much everything. Yeah, butter is wonderful, especially when it's cooked a second short from too much. Technical wizardry.
Love these entrees, but I'm saving my favorite for last: roasted broccoli, a quinoa salad and kale chimichurri, with a Tinkerbell-esque flick of toasted almonds on the plate. I argue with myself: Was the pesto-like rough puree of kale and allium the muse for the quinoa or the toasty broccoli?Were the almonds meant as a foil for the grain or the vegetable? I have to stop thinking because we've done the unthinkable and ordered a follow-up entree from the "shared mains for two" category on the Common Lot menu: the 12-hour braised lamb shoulder, "san choy bow" style, meant for the meat to be piled into lettuce cups.
Momofuko bo ssam fans, lamb is the new pork.
The caramel-concentrated soy is key; the butteriness of the cashews and cooked-til-nutty flavor and texture of the brown rice essential. Once assembled as intended, it's birthday dinner material. And leftovers? I mean, unless the pair who share this duo dinner are sumo wrestlers who deliberately have been deprived of food for a week, you will have lamb left over. Partner it with white beans dressed in lemon and herbs and have a next-night dinner party.
The Common Lot team doesn't falter at dessert. There is a lemon semifreddo with a marshmallow cream that pops amid a feisty lemon curd and a thin graham cracker crust. It's a tango of tart and sweet, of smooth and crisp. There's a smart progression of creaminess in the duo of mousses—chocolate and peanut butter—set astride dulce de leche; the regret of the dish was the un-share-able honeycomb (too small) and the understandable paucity of the cocoa nibs (would've been too much bitter).
But the rice pudding. Hmm. Laced with vanilla and studded with pistachios, it was sophisticated in its simplicity. It defined Common Lot in a very real way, by making the common seem uncommonly intriguing. 
Who are these people? Their chosen restaurant home stops short of having that too-stark, too-wanna-be-chic industrial aesthetic thanks to paintings and the Pandolfi pottery, the warmth of wood and the graceful lines of small touches, such as the water glasses. Ehren Ryan is Australian, while Nadine, who oversees the dining room, is from Austria. They are late-20s/early-30s old souls who seem to-the-table born. They clearly have the utmost respect for tradition, all the while taking chances—and doing so with the confidence that comes from knowing you have the chops to turn chance into triumph.
Ehran and Nadine Ryan have given New Jersey a gift of a restaurant, a place that competes with the nation's best and would be deemed "worth a pilgrimage" by guidebooks if it was in the south of France. May the sun never set on the most extraordinary Common Lot.  EDGE
WINE TALK
Food with a voice merits—make that demands—wine that can match its heart and soul. Frankly, given the nuances of accents here, I would refrain from bringing any one of those too-big, too-brawny, made-for-show California wines that have limited place at the table.
Common Lot is the place to bring that mineral-driven riesling from Alsace. That age-able rosé from Bandol. That oh-so-elegant Brouilly from Beaujolais. Subtle, but sure-footed is what the food here deserves in a wine…something authentic, sincere and, of course, with a voice.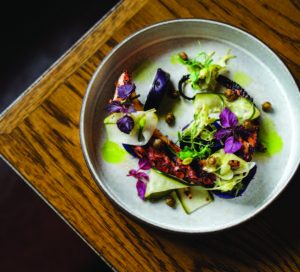 "True voices in restaurants are in short supply. That is sad. Many diners don't even know, let alone understand, what a voice in food is."