by Christine Gibbs
What's fueling the rush to install home pizza ovens?
One of the triumphant survivors of COVID-19 in New Jersey was the old-school pizzeria. Only a handful of these stores shuttered and many actually saw an uptick in business. The curbside pick-up/home-delivery model had already existed for decades when thousands of restaurants in the state were forced to adapt or die. This gave pizza-makers a huge edge when everyone went into hunker-down mode.
But I know another reason why pizza-makers made it through with flying colors: We learned just how impossible it is to make a decent pie in a standard oven.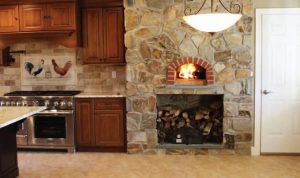 Some of us have come tantalizingly close, but it's never quite right, is it? Even the most talented home chefs with "professional" equipment and designer kitchens eventually arrived at this conclusion. In fact, I'll bet they were the first to pick up the phone and order out once it was safe. So how do you make an honest-to-goodness pizza-parlor pie at home? With an honest-to-goodness pizza oven.
Your first steps on this journey begin with finding an oven that meets all the necessary criteria and lines up with your budget, kitchen space and other needs. If you've got a buddy in the business, obviously that's an excellent place to start, but for most of us the Internet is where the search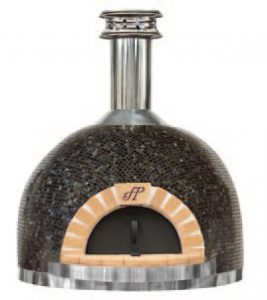 begins. Google "pizza oven suppliers" and you'll notice that the word forno—which translates as "oven"—appears in many trade names. Examples include Forno Bravo, a company that builds and ships from Monterey; Forno Piombo, a father-and-son team that annually produces only 160 custom ovens (starting at $9,500) that are inspired by Tuscany but handcrafted in the Napa Valley; and Fontana Forni, which offers made-in-Italy models using techniques crafted by generations of the Fontana family.
Pie Chart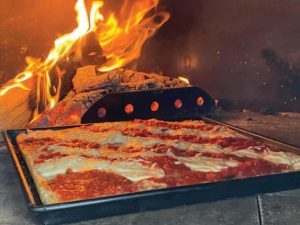 Three billion pizzas are sold in the US each year accounting for $40 billion in revenues. During the pandemic, Pizza Hut and Domino's saw delivery and off-premises sales soar by 21% and 36% respectively. Here are some other fun facts about pizza in America…
41% of Americans have pizza at least once a week

About 12% consume pizza on any given day

The average American will consume more than 6,000 slices in a lifetime

There are roughly 2,000 pizza restaurants in New Jersey and nearly 70,000 in the U.S.

In a recent poll asking consumers to name their favorite food, pizza finished fifth—behind hamburgers, hot dogs, fries, and Oreos.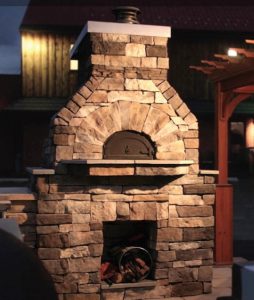 More important than finding a cool name is determining the type of oven appropriate for your situation. These are your four basic choices:
Brick Oven A centuries-old wood-fired method capable of reaching 700-1,000°F with a rustic look and taste of days gone by. These ovens can also be heated with gas or coal, or a combination of sources.

Deck Oven When space is at a premium, offers one to three decks made of stone heated by a gas or electric burner; not quite in the same league as a wood-fired oven, but it will look familiar if you frequent your local pizza place.

Convection Oven You may have one already; if not, you may want to consider one on your next remodel. It circulates hot air from the bottom, which gives you a fighting chance to produce a crispy, thin crust—but it's not made specifically for pizzas, so lower your expectations.

Impinger Oven Uses specialized radiant cooking technology to distribute hot air from both the top and bottom to penetrate the pizza quickly and cook it in five minutes or less. You don't typically find these in homes, but it doesn't mean you can't.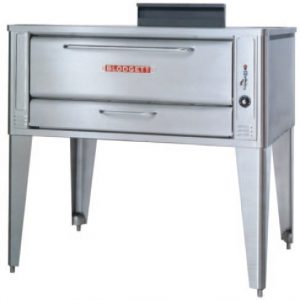 Ask any pizza aficionado and you'll almost always be told that an authentic Italian pie can only come from a wood-fired oven with a traditional stone base. Although these ovens are not unheard-of in residential kitchens in New Jersey, you're far more likely to find one a few steps outside the kitchen, on a patio or as part of an outdoor entertainment area. Would it surprise you to know that one of the top people in the outdoor pizza business is located in New Jersey? Decades-old Backyard Brick Ovens is right in the neighborhood, in Edison. Its owner, Scot Cosentino, is not only a master builder of wood-fired pizza ovens, but he takes pride in billing himself as a World Champion Pizza Maker. For more than 30 years, Cosentino has been designing, engineering and producing pizza ovens for sites ranging from private backyards to commercial restaurants.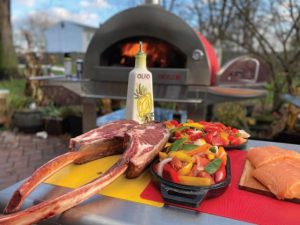 Today, the company focuses on outdoor and stand-alone installations. Its brand name is Forno Bello and its most popular model is the Neapolitan. That oven is priced at $2,800, with an additional $300 set-up fee. Cosentino offers videos to his customers with instructions on setting up, lighting up, doughing up and dishing up his favorite recipes. He confirms that the pandemic has hardly dented the business, as many New Jersey families chose to invest in their homes over the past year: "Backyard ovens sold like hot pizzas during the pandemic."
Okay, let's stop for a second. I have never experienced daily cravings like I did while researching this story, so let's talk about the kind of pizza that comes out of a great oven. The most basic traditional pizza is a margarita, which at its best is prepared with a thin crust generously topped with patiently simmered fresh tomato sauce and finished with generous slices of fresh bufalo mozzarella and an aromatic chiffonade of basil leaves. A less common, but equally traditional option often found on more sophisticated menus is the Pizza Quatro Stagioni. To live up to its label, this pizza is divided into four quarters, each symbolizing one of the seasons by featuring a vegetable typical of the time of year (e.g., artichokes for spring, mushrooms for fall, tomatoes and basil for summer, and prosciutto and olives for winter). Once again, all ingredients are crowned with a fresh tomato sauce drizzled over a thin crunchy crust.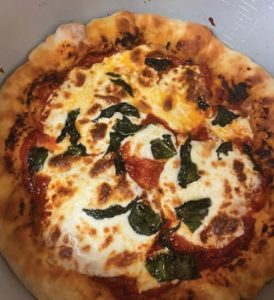 If neither of these more orthodox versions excites your palate, the variety of pizza toppings available is limited only by the creative spirit of the resident pizzaiolo. Your pie of choice might reflect your mood ("I feel like…"), your budget (Wait, 30 bucks for what…"), or even the time of day ("I'll have the Florentine breakfast pizza with bacon, eggs and spinach…"). I learned there is such a thing as a dessert pizza, too.
When I mentioned to my son how hungry this story was making me, he showed up with my grandson and a Ninja Foodie and we shopped for ingredients to create a couple of small, homemade pies on my countertop. Although certainly not wood-fired and perfect, they were okay. Which is something we all love about pizza: even when it's just okay, it's still pretty good.
A Slice of History
We all know that pizza originated in Italy, but where does the name come from? Etymologically, the word pizza is derived from the Latin pinsere, which means to pound or stamp—which became pinza and then pizza. Anyone who has watched a pizzaiolo (or pizza master) at work appreciates that making pizza requires much serious pounding of dough, followed by skillfully draping it over the closed fists of both hands and rotating it to stretch it to the proper circumference and thinness.
The first description of pizza dates back to a 10th century Latin manuscript from a town in Southern Italy. Although many Sicilian-Americans claim owner-ship on this basis, the modern pizza actually traces its roots to Naples. In fact, a non-profit organization,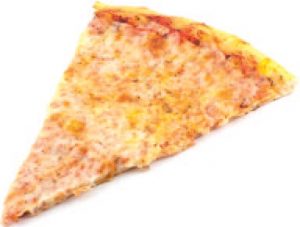 The True Neapolitan Pizza Association, was founded in 1984 to safeguard Napoli as the true pizza source. As a further fact, in 2017 UNESCO awarded the Neapolitan pizza its seal of approval by listing it as "intangible cultural heritage." It is no surprise that actor Stanley Tucci, for the first episode of CNN's Searching for Italy, opened with a visit to Naples for meetings with a family of mozzarella cheese makers, several San Marzano tomato experts, and some very famous pizzaioli as a proper introduction to the authentic roots of pizza in its native habitat.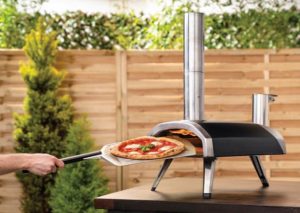 Back to business. If you prefer an indoor pizza installation, the options at the low end begin with electric, compact, and countertop ovens that can start as low as $299. The Ooni Fyra is a popular pick at that price point. If you are willing and able to make a $999 investment, the Breville Pizzaiolo model qualifies as a very high-temp "smart" pizza oven. With no unique set-up involved, these ovens can sit on any flat surface in the kitchen to quickly turn out crispy 12-inch pizzas, whether you've made them yourself or grabbed one out of the freezer.
Although there are more sophisticated indoor ovens available, their installation requirements are more complicated and therefore more expensive. Typical kits are available from $1,500 to $2,500, but if kitchen remodeling is necessary to install, the average costs to the homeowner is likely to fall into the $15,000 to $20,000 range, which includes carpentry, tiling and electrical costs, as well as permitting and compliance with local ordinances. And as anyone who's redone a kitchen knows, you can easily blow through that number if you look at a contractor wrong. The outdoor option may be a bit less intrusive, but is still likely to set you back between $5,000 and $20,000.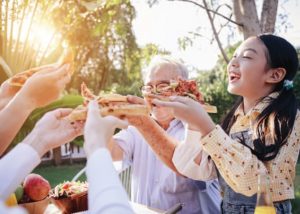 A final thought on "cost." As anyone who spent time in a college dorm can tell you, the price of pizza is measured both in dollars and pounds. Think of all the empty freezer cases during the height of the pandemic; those carbs had to go somewhere. Maybe that's why Pelotons were on back order and people started buying those black-mirror home gyms. Alas, the uncomfortable truth about our favorite comfort food is that consuming a typical pie—whether all at once or as reheated leftovers—can easily surpass 2,000 calories…and depending on the quantity of cheese on the pie, more than 200 grams of fat.
Is every bite worth the calories? Maybe not—if it comes out of a cardboard box from your local delivery joint or supermarket freezer. On the other hand, if you've crafted each ingredient by hand and it emerges bubbling from your own wood-fired, charcoal-fueled or top-of-the-line convection oven, I just have two words for you: buon appetito!