by Andy Clurfeld
"There's always an entrée that offers a combo of game meats. On this night, it's kangaroo, antelope and quail."
By Andy Clurfeld
Clydz
55 Paterson St., New Brunswick
Phone: (732) 846.6521 
Reservations and major credit cards accepted. Lunch: Monday to Friday from 11:30 a.m. to 3 p.m. Dinner: Monday to Thursday from 5 to 10 p.m., Friday and Saturday from 5 to 11 p.m. The bar is open Monday to Friday from 11:30 a.m. to 2 a.m., Saturday from 
4:30 p.m. to 2 a.m. and Sunday from 7 p.m. to 2 a.m. Prices: Starters: $9 to $20. Entrees: $22 to $39. Sides: $6 to $15. Cocktails generally range in price from $10 to $12.
The longer you work in New Jersey, the fewer degrees of separation exist between you and anyone else who lives in our storied state. I believe Clydz, a landmark restaurant in New Brunswick that opened nigh on 20 years ago, is one of the Garden State's epicenters of connectivity. When it opened in 1997, the restaurant had two near-instantly famous specialties: the kind of cocktails that gave birth to the Mixologist Generation of a soon-to-be-new century and dishes that put game—from alligator to bison to rabbit—in the spotlight. In a college town, with folks fresh out of that college coming up with these concepts and putting them into play on a stage at once edgy-hip and comfy-friendly, Clydz spoke in a language that was spirited, refreshing and dicey.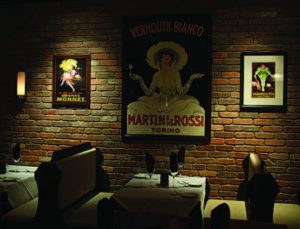 I recall reading Clydz's press materials sent to me at The Asbury Park Press, where, at the time, I worked as the restaurant critic. What are these Clydz people thinking? I said to myself. They are not following the rules.
I admired them before I took a sip or a bite. Taking a chance, choosing not to play the same-old, same-old game, always appeals to me. My admiration for the courage it takes to test a conviction in public knows no bounds. I went, was somewhat impressed and extremely intrigued, and yet never wrote a review of the then-novel fledgling restaurant. Regrets? I've had only a few. This misstep of omission is No. 1.
It's only just, then, that years and years later I meet and become friends with not one, but two members of the inaugural-era-of-Clydz staff. What are the odds? Well, in New Jersey, especially for someone who has been a reporter here for 40 years, pretty slam-dunk gonna-happen.
Game on, 2016; I go back to Clydz to see how the original vision of first owner Joe Clyde, who later was to bring his "game" game to the historic Sergeantsville Inn in the most bucolic part of Hunterdon County, has held up. Bottom line: Clydz may have shown best when the original crew of young'uns set new standards, but it's still a place with a personality. And a vibe.
Yet…am I judging too harshly our lead server, who fails to offer us the names of the day's various oysters? No, I'm not. She's wrong when she replies to my query about the types of oysters offered that night with a curt, "Are you going to order them? You don't need to know unless you are."
"I won't know that until I know what kinds of oysters you have tonight," I respond. I think of my two ex-Clydz pals, both pros in other professions now. No way, no how would they have dissed a diner that way.
Our server doesn't veer from curt when she provides a half-hearted recitation of the oyster lineup along with a sidebar of how important work on her master's degree is to her.(Message received.) The oysters are carefully presented and tinglingly refreshing, particularly New Jersey's own Cape May Salts. These Salts taste better and better every time I have them. On this night, they leave the Blue Points and Deep Bays in the also-ran category.
Meanwhile, we're finishing a round of classic Clydz's cocktails from a list that includes members of the first vintage of the mixed drinks that put this spot on the map. The size and scope of the drinks menu is comparable to the length and breadth of a classic Jersey diner's bill of savory fare. The designated drinkers at my table are gleeful.(And ever more so as the night progresses: I've never before told a dine team, "OK, you can drink too much tonight.")
I'll rattle off a few of the favorites: Corpse Survivor II (Death's Door, Lillet, Cointreau, absinthe, lemon juice; can anybody fill us in on the composition of Corpse Survivor the First?); French 55 (Champagne, Zubrowka, St. Germain, pineapple juice, lemon); Holiday Inn (strawberry-infused vodka, St. Germain, cucumber, lime); Cyn City (Hayman's Old Tom, Cynar, lemon, simple syrup, mint, ginger beer); Jersey Sazerac (Laird's Applejack, Pernod, maple bitters, simple syrup)…you get the idea. These Clydzians are into complicated.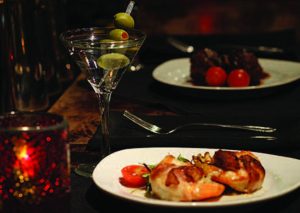 Anyway, speaking of rattling: The braised python ravioli starter cossets a fine-chop of the fillet speckled with arugula, all of which is ladled with a wild mushroom-infused cream sauce. Meatballs made with various ground game meats (boar, we're told, dominates the day's mix) are given a spray of a roasted tomato demi-glace that's mild and relatively unseasoned. As I eat both the python ravioli and the meatballs, I'm thinking it's pleasant. But I'm looking for the kind of thrill that comes from accents that understand the protein they're meant to enhance. Not there. The roasted bone marrow, plated with shreds of pulled short rib, a dab of tomato jam and toasts rubbed with black garlic, is more properly mild. I yearn for a few spoonfuls of rich jus.
The cold appetizers have more character, even though the kitchen's technical skills sometimes can falter. The charred octopus comes with cantaloupe that's been grilled and then wrapped with bresaola. Some pieces of octopus are tender and lovely, while others tough; when it works, it's terrific with onions that are pickled, tomatoes that are roasted till sweet and figs coaxed into a concentrated state. Duck confit deviled eggs sound like an ingredients' dream come true but the eggs are rubbery and—even with the accompanying chipotle-licked aioli—the starter comes off as shy. Smoked salmon tostones have a flash of red chili-powered oil and plate partners that include mango relish and a pockmark of caviar. They're in league with the other apps: in need of a flavor that leads, that guides.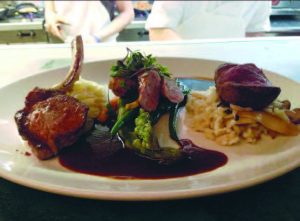 There's always an entrée that offers a combo of game meats. On this night, it's kangaroo, antelope and quail. Hesitant to try an exotic meat? Don't be. The kangaroo and antelope were chicken-breast mild, with the quail notching the highest intensity of flavor on that plate. Probably the most "gamey" entrée of the night was the rosy loin of rabbit, plied as it was with a pert sun-dried tomato pesto that weighed in as refreshingly tart and plated with nutty quinoa, favas, carrots and sweet corn. Grilled bison hangar steak was served well by a red wine reduction and a spray of onions electrocuted into frizziness. The kitchen tosses a quail egg onto the plate as a game give-away. Seafood, anyone? Try the rice bowl, with trout and shrimp in the lead and a supporting cast of squiggles of egg, baby bok choy and dashi broth. Mild, once again, ruled. But it's a comforting dish.
I suspect regulars order another cocktail for dessert; indeed, while the dining spaces were less than half-full on this weekend evening, Clydz's bar was, constantly, three or four deep. Maybe more. These are the folks, I suspect, who know to avoid the apple pie spring rolls with a "crust" that tastes like Play-doh. Better was the light-batter, not-too-sweet crepes plied with blackberries, raspberries and blueberries.
By now late-late, Clydz is rocking. As I eye the undulating crowd for the drinks of choice, I find myself stumped. I ask a server what the most popular cocktails are and he shrugs. "Everything is popular," he says. There are maybe 100 cocktails on the list. That's a lot of popular. Are the game dishes as popular as the drinks? I ask, hoping for a more specific answer.
Which I get. "The Tater Tots (with parmesan and truffle oil) and the Onion Rings (with cheese curds) are good."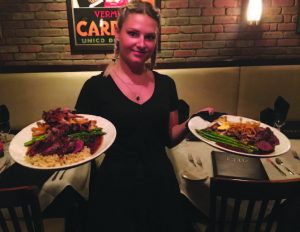 Game off, I guess. Those first years of Clydz, back in a previous century, set standards for fun and game—quite literally. The people who came together here may well have shared a spirit of adventure that wasn't offered by other establishments in New Jersey. Frankly, I wish Clydz would reconnect with its roots and the soul of its menu. Game is on the menu; it needs to be in the concepts and the cooking, too.