by Andy Clurfeld
Authentic. Exotic. Spectacular. So what are you waiting for?
By Andy Clurfeld
Summer travel season is upon us. Time to dust off the passport and plot excursions to ports exotic and intriguing. Or stay home and travel light—very light. And very near. Once upon a time, adventurous diners in New Jersey had to travel thousands of miles to experience the cuisines of foreign places. Not true today.  
In fact, Maplewood resident Anthony Ewing is tracking and mapping the Garden State's myriad and many ethnic cuisines on his in 2010, it's a veritable United Nations of dining destinations that includes some 1,200 Jersey restaurants serving 60 different cuisines. "From Afghan to Vietnamese," Ewing says.   
The New Jersey native, who started mapping his top food finds after moving back home from Brooklyn, got us to thinking about all the terrific eateries practically in our backyard. Sure, we love our sushi nights, and the "local" that serves a beloved Italian dish is never out of our hearts. But on this trip around our neck of the woods, we wanted to explore foods a little less familiar. So we'll hold the best-sushi-rolls and Nonna-approved red-sauce roundups for other issues of EDGE. 
Herewith, an eating tour that includes Chinese-inspired Peruvian, Ethiopian, Jamaican, Middle Eastern, Southern Indian and Russian cuisines.
Chowpatty
1349 Oak Tree Road • Iselin
732-283-9020
www.chowpattyfoods.com
Let's cut to the postscript: So enamored of the dahi batata poori at Chowpatty were we that, seconds after we finished dining, Atsuko Sasaki and I rushed next door to Chowpatty's market to buy the ingredients to make them at home. The little dish that captivated was a small, delicate puff made from chickpea and rice flours that's sliced at the top so it could be stuffed with potato, a cilantro-green chili kind of pesto, a tart-faintly sweet reddish-brown sauce, and a slap of super-creamy yogurt. We downed those babies in no time
Now, my pal Atsuko is a certified chef in Japan and mightily skilled in the kitchen, so she replicated the dhai bataka poori at home first time out. I, of course, forgot the yogurt, but still managed to enjoy eight puffs before I even sat down to dinner.
This is what dinner at Chowpatty can do for you: educate and stimulate. 
After being enchanted by the dhosas, Atsuko found a friend who offered to teach her how to make the crispy rice flour crepes that are super-sized and can be filled with all manner of things: spices, cheeses, onions, vegetables. We nab the cheese-masala dhosa that puts two spice mixtures into play to great effect. A chile-potent red does a do-si-do with a cilantro-coconut green as they take aim at the sultry cheese melting into the crunchy crepe.
The sturdier uttapam, also made with rice flour, is served here much like a pizza. Ours is topped with a variety of vegetables and we can't help but slice it like a tomato pie. We're loving it alongside the tuver ringan, a mash of eggplant and peas that comforts and warms.
You must try a Thali platter at Chowpatty: Served on a round platter compartmentalized into little dishes of vegetables, rice, dal, pickled vegetables, yogurt-based sauces and legumes, it's a feast meant to be eaten with tiny pappadum and charred bread made with millet flour. Don't be shy with the sauces, including chili pastes hot and moderate, ghee and raita.
Dessert? Go for the pineapple-orange ice cream or the very dense, very rich, extraordinarily delicious mango kulfi, crowned by pulverized pistachios. We'll end with another postscript: That's sold in the next-door market, too. 
Nargiz Deli & Cafe
1651 Springfield Ave. • Maplewood
973-761-0123
Facebook: NargizDeliCafe
You can get gyros and paninis and pita sandwiches crammed with feta-cukes-tomato and your craving of the moment (lamb, chicken, hummus) at Nargiz, a specialty market with a bent towards things Russian and Eastern Mediterranean. But why get what practically is ordinary in NJ when you can get a piroshkie?
This, to me, is a no-brainer. This Russian marvel is an uber version of a pirogi  crossed with a buttery, flaky almost brioche-style roll stuffed with something wonderful. Honestly,  you don't even need sour cream. That's how good these piroshkies are.
Do like we did and get an assortment. Lamb? Yup. Potato? Natch. Cheese? Of course. As I eat them, I can't help but feel this is a kind of melting-pot food that so many people from so many cultures would relate to easily. On top of the pirogi-brioche appeal, it's got a Korean pork bun sensibility and a hometown hoagie attitude.
Lamb meatballs are killer tasty at Nargiz. Find them in the display cases and tell the friendly folks behind the counter that you'd like them warmed so you can eat a bowl of them at one of the cafe tables. While you're at it, score the earthy, forcefully smoky eggplant casserole and a scoop of the Georgian bean salad, flush with cilantro, chopped onions and nuts. 
Don't leave without shopping around. I found a pretty jar of pomegranate molasses that will make my next muhammara (red pepper-walnut-pomegranate) spread very likely the best ever. No offense to mail-order businesses, but you never know what you might bump into when combing the shelves of a place like Nargiz. 
I am going to figure out what I'm going to do with the cured sardines I snatched from the refrigerated case. Tonight might be the night I warm some olive with lots of lemon juice and flat-leaf parsley and toss those little fishes with strands of spaghetti and that sauce. Might be? Definitely will be.
Lalibela
261 Irvington Ave. • South Orange
973-327-4840
Facebook: Lalibela Ethiopian
Kategna is injera bread plied with butter and spiked with hot chili spices. It isn't shy and it isn't like anything you've ever tasted, unless you've been intimate with the addictively sour, spongey bread of Ethiopia. Made from teff flour, injera is the vehicle for eating in Ethiopia, used instead of forks and spoons and knives. Its uniquely pourous texture makes it one sublime scooper, and it's the principal reason you should check out Lalibela, a small, humbly decorated storefront with a devout clientele.
So back to the kategna: Here at Lalibela, the chile-flecked injera is rolled and sliced something like a wrap sandwich – only there's no filling. The flavor and the texture of the injera itself are what give it charisma.
It's almost as though there's an effervescence to injera. It's rather magical.
Anyway, here's what happens when you order a pair of entrees at Lalibela and pretty much any Ethiopian restaurant: Both entrees, as well as a pair of sides of your own choosing, come spooned atop a huge, flat pancake of injera. You also get a basket of jelly-roll style injera. Take your pick and start scooping.
The lamb stew, with lots of garlic and onions and a pronounced pop of tomato and pepper, is a stunner, with layers of flavor that serve as foils for the sour bread. A stew of beef is less interesting, mostly because the spicing is less complex, but little dumplings made from chickpea flour and and long-cooked in a berbere-spice mix with onions holds its own with the crisp, thin pancake. 
Collards are a must, for they serve as a bridge between the meats and the legumes. Lentils, for instance, are on fire in a way that rivets; when you alternate between the collards and the fiesty beans, there's a yin-yang that comes into play.
The service at Lalibela varies: You might get a helpful soul or one less interested in your culinary education. Odds are, no matter, you will at very least bump into new flavors that make for a new favorite dish.
MishMish
215 Glen Ridge Ave. • Montclair
973-337-5648
www.mishmishcafe.com
MishMish is a hit and hip restaurant in the downtown district, a short stride from Anthropologie and an even quicker journey to the mind-set of Yotam Ottolenghi and his era-defining "Plenty" and "Jerusalem" cookbooks. You want a little Yotam without the kitchen work? Come to MishMish and be transported to the heart of the Middle East.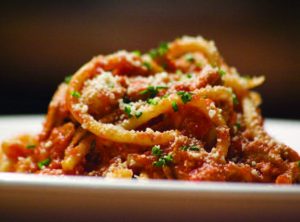 A local who is conversant in MishMish-ese tells me the hummus is a marvel, but you can skip it in the dip round since it's easily obtained in hummus bowl form. This is excellent advice, especially since the smoked eggplant spread here is one to order by the gallon. Maybe by the cauldron, since it's extra-deeply smoky, comes with a flourish of mild, crumbled cheese, and is the perfect partner for the singularly sensational pita. 
Let's take a moment to talk about this pita. Forget what you buy in the supermarket. This is pita from Planet MishMish, a thicker incarnation that mines the depth of flour like, say, a Dan Richer at Razza (in Jersey City) does for his bread and pizza.
Fried cauliflower is worth the splurge on oil intake, cause it's so good, so comforting, that it doesn't even need the yogurt-based dip served on the side. I flat-out adored the shishito peppers char-grilled whole and served naked save for a wedge of lemon. Eat 'em by the bushel.
If you are a card-carrying member of the Ottolenghi flock, you know from shakshuka. (If not, it's eggs poached in tomatoes, onions, chilies and spices, often served with cheese on top and bread.) You've eaten shakshuka for breakfast, for lunch and for dinner. It's the absolute-right-at-any-time dish. How did we live without shakshuka?Anyway, MishMish does it with mushrooms and harissa, with lamb meatballs and with lamb sausage. Each has a following. I can vouch for the lamb meatballs. I could write a whole story just about the lamb meatballs, but I don't have time or space. 
Mostly because I want to get to the hummus bowl with ground brisket ragu. Are you in heaven yet? No kidding: The folks here grind up brisket and add it to a slushy of tomatoes and warming spices. Think cinnamon most prominently and you've nailed it. If you eat this dish and don't immediately plan a dinner party, do not consider yourself on the food-centric spectrum. Depending on your mood, you might favor the grilled chicken shawarma hummus bowl, a beauty thanks to the roasted tomatoes and drop-dead sensuous caramelized onions.
Think about it. Is there a reason not to eat the MishMish way every day?
Pimento Grill
1908 Springfield Ave. • Maplewood
973-846-4555
www.pimentogrill.biz
Pauline Barnes, owner/chef at this sweet storefront, wants you to know that once you enter her domain, you are under her care. And guidance. She'll help you plan your dinner, your party, your life. She'll tell you why you need Pimento's jerk chicken, why you must experience her oxtails, why you need the coconut "run-down" red snapper. 
We are happy in her presence and soothed by her comforting Jamaican fare. No, it's not high-on-the-Scoville scale stuff, but it's lazy-day swell when island attitudes beckon and you want to turn yourself over to dishes that take you away. Like a Calgon bath used to do.
Talk about those oxtails. They are simmered in gravy, along with big, broad butter beans and a host of island herbs and gentle spices. Similarly attuned to the milder side of eating life are the brown stew vegetables, which incorporate soya chunks to maximum advantage. This is the dish that will cure you of your misconception that everything island is going to set off a 12-alarm fire in your mouth.
We took on the curried goat with relish, gnawing on the hunks of lamb-like meat. Ditto for the jerk chicken, which is among the mildest I've ever tried and totally right for beginners. We snacked on the fried sweet plantains throughout dinner, because, frankly, they put you in a "nothin'-can-be-finer" mood.
I think the under-the-radar fishes just might be the best tickets on Pimento's menu. Pauline's touted run-down snapper is a winner, simmered as it is in a coconut sauce and served head-on, bones-in, yet easily filleted at table. It was the sauce, creamy, yet light, and flecked with greens, black beans and onions, that made the dish divine. The escoveitch whiting, even though fried, offered a nice ping of vinegar.
Hello, island time. We need you.
Don Julio
50 Marshall St. • Elizabeth
908-820-9494
www.donjuliorestaurantnj.com
Chinese immigrants to Peru in the mid- to late-19th century brought with them culinary concepts and traditions they fused with ingredients and new sensibilities they discovered in their new home in South America. The result is a cuisine known as "Chifa," and nowhere in New Jersey is it found with more authenticity and sheer deliciousness than Don Julio.
Located near the waterfront here, Don Julio is a destination. It can be crazy-packed on weekends; fair warning. Folks come for both the Chifa and also traditional Peruvian fare. The menu, almost telephone-book long, is worth coming early to read so you can study and plot.
Here's what I think you should do: Assemble a large party and go all-out. Do Chifa as your primary, but don't miss the best of Peru here. First, have the ceviche, for it's an expertly crafted Peruvian model, flush with shrimp, topped with hunks of sweet potato and plain potato, a chunk of big-kerneled Peruvian corn, crunchy beans and a ton of onion rings. Bet you will eat the whole thing.
Then go for the wonton soup. Frankly, strip mall American Chinese joints water down, and dumb down, wonton soup. See what it can be by sipping the mutlilayered broth holding delicate-skin wontons, thick slices of juicy roast pork, thick shreds of cabbage and slices of white-meat chicken. And, ah! The noodles, the noodles!
Fried rice is nirvana. It is light, bright and mostly about the exquisitely cooked rice. It's neither salty nor dry. It is punctuated by nibs of pork, peas, egg and sprouts, and it possesses a seminal freshness. 
Our server smartly directed us to the sirloin steak over "green noodles." How simple, yet how beautiful. The "green noodles" are made so by tossing hearty spaghetti-like strands with a verdant sauce that looks and tastes like pesto made with cilantro. Which it is. But, again, there is a lightness and a brightness that speaks to a deft hand in the kitchen.
We cannot resist another recommended dish, the sweet-sour fried fish, which is neither sweet nor sour, but fascinating in its purity of taste. Plied with cabbages and surrounded by a brothy brown sauce, it looks like a bowl of confusion, yet yields clear, clean tastes. It says a lot about Don Julio. Which can teach you a whole lot about "from-away" flavors right in your own backyard.  
ETHNIC NEW JERSEY
Anthony Ewing, founder, publisher, editor, writer of the peerless EthnicNJ.com Web site, has a handful of favorite ethnic restaurants in the EDGE sphere. Here are five, in no particular order, that are worth your while to check out.
The Banderas • Summit • Costa Rican
Enter to a full wall mural of a Costa Rican volcano. Find inside a traditional menu of rice dishes, including chicken and rice and shrimp and rice. "Costa Rica is all about simple, straightforward food," Ewing says. "Not too spicy." 
Seoulite • Berkeley Heights • Korean
An early example of authentic Korean is this regional favorite that settled into a mainstream town years ago. "There aren't barbecue tables," Ewing says. There are, however, beautiful "soft tofu stews and bibambap made in the kitchen and rice cakes in red pepper broth." Ewing notes there will be another branch of Seoulite opening soon in Somerville.
Thai House Rock • Colonia • Thai
Well, Thai with a hefty "side of rock-'n'-roll," Ewing says. Think vinyl records on the walls. "It's a hole-in-the-wall," he adds, but the food is sincere. 
Arepas Pues • Elizabeth • Colombian
"Authentic, Colombian-style arepas are served here," Ewing says, which are different than those from other parts of South America.
Binh Duong II • Hillside • Vietnamese
It's the younger sibling to the original, in Bloomfield, and Ewing pegs this one as serving better food. In fact: "Some of New Jersey's best Vietnamese food."
Editor's Note: Andy Clurfeld recently presided over the 1st Annual Garden State Culinary Arts Awards. New Jersey's most influential restaurants and chefs vied for top honors in 13 different categories in front of a standing-room-only crowd of foodies, friends and family. Several nominees have appeared in the pages of EDGE, including Cucharamama, A Toute Heure, Common Lot and The Frog and The Peach. You can check out these stories and others by clicking on the FOOD button at edgemagonline.com.