by Andrea Clurfeld
 'The ricotta-marinara blush sauce is crazy-good, its rich cheesey soul tempered by the acidity of tomatoes. Get it over a sturdy pasta that can stand up to the sauce.'
 Should you be worried you've actually come to the right place, the voice – The Voice – of Frank Sinatra will reassure you that you have, that this duck-your head, watch-your-step, below-sea-level entrance is indeed the way, the only way, to enter the inner sanctum of Chef Vola's. Frank is always singing at Chef Vola's.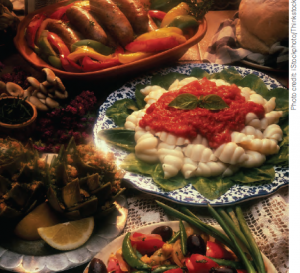 Frank, who legend has it wanted to be buried with a slice of owner Louise Esposito's banana cream pie, who knew the secret behind the name of the world-renowned restaurant, and who just might be its unofficial mascot, invariably greets diners who descend into the basement and keeps crooning all night long. Those diners might be Jay-Z and Beyonce. They might be members of the cast of The Sopranos. They might be sports stars. They might be good old Jersey boy rock stars such as Jon Bon Jovi. You don't believe these folks, plus heads of state and of Fortune 500 companies, hurdle the hoops of the reservation process to score a table in the cramped, cluttered, completely charismatic low-ceilinged, dimly lit dining spaces where vintage Italian nonna fare is served alongside a handful of improbable-sounding original Esposito dishes? They do.
Check out Chef Vola's walls of fame that bulge with bumper-to-bumper photos of Louise and her co-owner family members, husband Michael and sons Michael Jr. and Louis, as they snuggle with the familiar faces of those they've fed. Fancy-pants restaurants can't claim the extent of the celebrity patronage of this 90-year-old BYOB a block from the Boardwalk and at the edge of a neighborhood sometimes described as a tad sketchy in Atlantic City. They fly in from L.A. They pit-stop from a finals match to a championship game. They hop-scotch from Munich via Philadelphia, renting a car and driving east on the Atlantic City Expressway. As did my dining neighbors the same night I marveled at the new additions to my old restaurant friend, which had gotten a bathroom upgrade and some extra seating since my last visit. (Oh, don't think Chef Vola's still isn't cheek-to-jowl. You will, I promise, still be able to read the fine print on the wine bottles at the adjoining table and hear everything said.)
Two couples from Germany started their U.S. tour with a dinner at Chef Vola's because, they revealed, friends who'd made a similar trek told them the food, the atmosphere—and what I translated as schtick—was the best anywhere. And you only have to drive from your home port somewhere in New Jersey. Chances are, once you do, you will again. You may well make reservations on your way out for your next birthday or anniversary. You will return for the cannellini and string bean salad scattered with cubes of sharp cheese and salami, a veal chop so large you will be glad you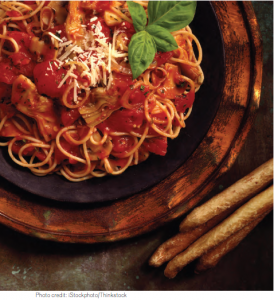 didn't fly in because even the leftovers couldn't fit in an airplane's overhead compartment, pasta awash in a "blush" sauce that combines ricotta and marinara, and Louise Esposito's pies, each of which—and there are a good couple dozen—have their own ardent legions of fans. I'll throw my support behind the coconut-pecan ricotta pie, but we'll discuss later. First, the hype surrounding Chef Vola's is exaggerated. Yes, the phone number remains unlisted in a phone-book sense of listing numbers. But you have it here and you can find it if you have basic-level Internet skills. Second, you can get a reservation. As with many extremely popular restaurants, you simply have to plan ahead, call ahead and not expect a table at 8 on a Saturday night.
You don't need to be blood relatives of the Espositos or routinely play to sold-out concerts in stadiums. Yes, it's cash only, it's not cheap and you must bring your own spirits. (Consider prosecco for starters and a red wine for entrées.) It is a bit hard to find on initial visit. Park in the lot in the shadow of the Tropicana and walk a block and a half north. That boardinghouse-style structure you see at an odd, almost dead end is Chef Vola's. Don't look up for the entrance, but look down and to the side farthest from the Atlantic Ocean. You got it, Bunky. Now you've got to get a salad, such as that double-bean number with creamy white cannellinis and crisp green-bean batons set off by the same elements as a classic chopped salad. Or, right for autumn, the toss of arugula with dabs of goat cheese, sweet-tart dried cranberries and a dressing much like a fig glaze, only thinner. Don't go all hoggish on the plates delivered to your table: Share everything.
Chef Vola's is where the you-getta-lot school of eating in Joisey was born. You'll find prosciutto- and roasted red pepper-wrapped mozzarella served to half the diners around you. You'll see crab cakes made from jumbo lump crab that defy the genre in pure size of lump. They're simple and divine. Too many people, distracted by the sensationalism of the crab cakes, overlook the most rustic of dishes here, the veal sausages. Please don't make this mistake. Channel your inner Italian grandma and get these links with their tangle of fried red and green peppers and onions. The second you'll walk in the door, you'll get a hankering for pasta, and you should not let this craving go unabated. The ricotta-marinara blush sauce I spoke of is crazy-good, its rich cheesey soul tempered by the acidity of tomatoes. Get it over a sturdy pasta that can stand up to the sauce. Or, if you're choice-challenged, try the pasta trio.
The night of my recent visit, we blasted angel hair with that blush sauce and took another haystack of the thin macaroni with a clam sauce skillfully composed of clams, a jigger of olive oil and plenty of garlic. I adored the mushroom fra diavolo, a chunky sauce with spirit and sass, though I think I'll like it better next time with penne. I so liked the Flintstone-size veal chop with mushrooms I once had at a birthday dinner that I maneuvered ordering to make sure my first-timer dining companions could take a stab at it. To my knowledge, they are still debating which rendition of the veal chop they most love: the mushroom'd one or the parm'd one. (Parm fans outnumber 'shroom fans a good 10-to-1. I'm a proud minority voice.) While my companions argued, I ate most of a fish entrée I'd avoided at previous dinners because it sounded unlikable. It's anything but, no matter how overwrought it sounds: red snapper topped with a jumbo lump crab cake and topped again with a Champagne-Cognac cream sauce, all of which is swirled with pesto. Who knew this could work? The Espositos, who invented it.
If you want to delve into Chef Vola's history, and perhaps be told the secret behind its name, order the chicken cacciatore. It's one of the few dishes from the original owner of the restaurant, Chef Pina Vola. And here's what few patrons know: Pina Vola was a woman. (She sold the place to a fellow who kept it fairly intact until 1982, when the Espositos bought it and greatly expanded the menu.) Not only weren't there many female chefs in Pina's day, women weren't exactly thought of as top chef material. Which maybe is why Pina didn't do much to publicize her presence. But her cacciatore is commendable, a feisty stew that lets big-flavored tomatoes dominate. Do order it bone-in. And don't fold on me now, not with your nimble server ready to recite the pies of the night. Plus, Frank's probably revved up to "New York, New York" form and one of those Espositos will be watching, if not taking your dessert order personally.
If you want to get invited back – that is, have your next reservation taken—don't skip dessert. With Sinatra's devotion to the banana cream pie recommendation enough (be aware it comes semi-frozen, which I think doesn't do its flavor justice—but who am I and what do I know?), I'll direct you to the coconut-pecan ricotta pie. It's served warm and it's a doozy, the shreds of coconut and crumbles of pecan bringing soul to the molten cheese. I've also got a thing for the limoncello cream pie. This one's packed into a crust made of lemon drop cookies, which are the perfect foil for the pumped-up Italian liqueur. Decadence is what the chocolate-peanut butter mousse pie is about. I laughed as I watched a friend tuck away all but the three bites I'd taken mere minutes after declaring himself too full to make it back to the car, let alone consider dessert. Maybe that's why Louise Esposito personally slaves over those pies. Maybe that's why this family and its crews both in the kitchen and in the front of the house shimmy around the diminutive spaces night after night. They want to keep an eye on you to make sure you've taken dinner to the extreme—eaten more than you should, laughed more than usual, eavesdropped on your table neighbors more than propriety allows. They want you to have the full Chef Vola's experience. Their way.