by Sarah Marks
Are you ready for your first electric vehicle? Is your home?
The recent surge in the price of gasoline and the geopolitical mess that caused it has a lot of New Jersey drivers hitting the accelerator on their decision to purchase an electric vehicle (EV). State and federal policymakers have already set the finish line on internal combustion engine (ICE) automobiles at 2050, less than three decades away. For many of us that day can't come soon enough. That being said, it's not as simple as flipping a switch. To meet this lofty goal, energy producers, automakers and consumers must match technology, political policy and current inventory headwinds with financial incentives and seamless customer satisfaction. It's a tall order.
One of the first questions homeowners (and, for that matter, renters) have when considering an EV purchase is Can I charge up without leaving my driveway? It's a valid question. At the moment, New Jersey ranks toward the bottom of the "charging stations per resident" chart, although given how road-reliant we are, that is destined to change. If you're suddenly in EV buying mode, however, promises don't get you to the nearest charging station.
The average cost of a home charging unit is $750 before professional installation. You will need to determine the most logical space for the unit, thinking about its distance from the main breaker (usually in the garage) and where the charging port is located on the car. A dedicated 220/240 volt breaker is required, and a professional electrician has to install it. Depending on the work and permits needed, that can run upwards of $1,000. Utility companies sometimes offer special rates to homes charging vehicles, based on time of day, day of the week and demand. Homes with solar power may out the various car forums online for tips and tricks from brand owners on what make and model of charger works best in your area of the country, when to charge and how to track your car's kilowatt usage and regeneration when driving between charges. Most EV owners will tell you, only charge when your battery is close to empty. also benefit from extra discounts. You'll also want to consult your home insurer to see if you need an additional rider or disclosure when adding a charging unit to your home. In addition, it's a good idea to check
for EV drivers living in condominium apartments or multi-family dwellings, the lack of charging capabilities is a concern for public utility companies like PSE&G and JCP&L. The redistribution of power to meet real-time charging demand will likely involve building micro-grids. Micro-grids are smaller networks of solar-powered homes and alternative-energy capture sites, which redistribute excess power into the public-private sector closest to high-demand centers. Garden State property owners may find their rooftops are going to increase in value as solar resale becomes a necessity.
If you are a tenant, installing a charging station can be tricky. While some newer apartment complexes offer this amenity, older buildings likely do not. Obviously, tenants need to discuss installing a new 240 charging unit with their landlords. Some may see it as a way to increase rent, or make their apartments more appealing. However, as a rule, most will want tenants to share some of the cost, or perhaps all of it. You can also charge an EV with a standard 120 outlet, but this can be slow going—an overnight plug-in may only get you an hour's worth of commuting. There's a reason why this is nicknamed "trickle charging." On the plus side, a slow charge is much better for battery life.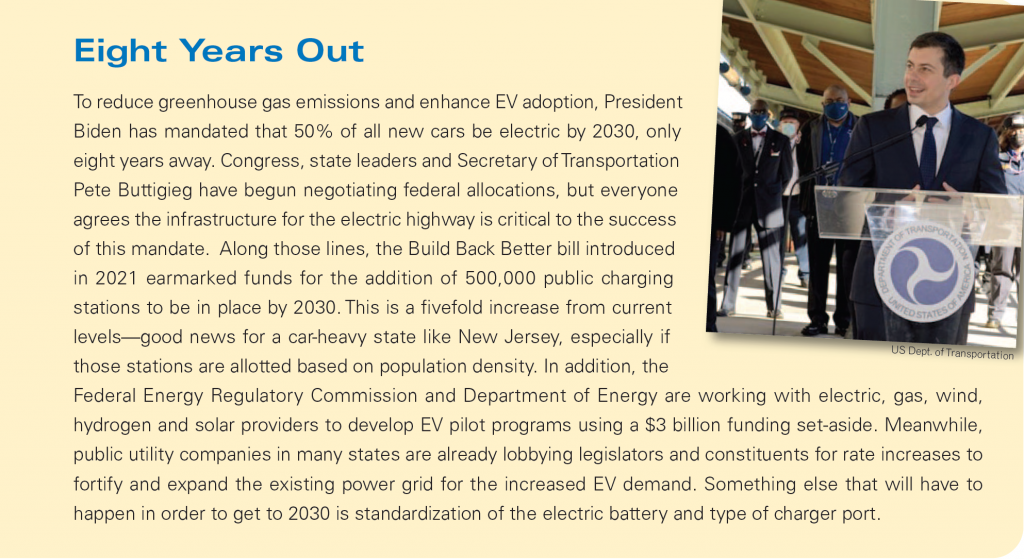 Outside of the added expense of installing a charging unit, there are three other major concerns with which newcomers to the EV market must familiarize themselves. Range anxiety is still the number-one obstacle to electric vehicle adoption. Currently the choice of EVs features a range of 50 to 400 miles between charges, with prices from $25,000 to $200,000. A manufacturer's published range will vary based on driving behavior, outside temperature and vehicle load. Parallel Hybrids run on electric plug-in charging for a limited range and then switch to gas after the charge runs out. The transition is seamless while driving, however automakers are reluctant to keep this EV design because the weight of two drive differentials reduces the capacity for more batteries. Thanks to Tesla, the trend is towards 100% electric long-range batteries. Lithium battery-makers Panasonic and LG are pushing the range, but battery fires remain a concern among many consumers. Lithium-Sodium, Hydrogen and Propane alternatives are still in testing mode.
The second major concern amongst EV shoppers is price. Prices for EV's run the gamut, from a low of $38,000 for a Hyundai Ioniq to Tesla and Karma, in the $150,000 range. At the start of 2022, automakers experienced a surge in EV orders thanks to rising gas prices, which only increased after the United State imposed sanctions on Russian energy imports. Unfortunately, the lack of dealership inventory pushed consumers into hybrid purchases, which enjoyed record sales. I say unfortunately because, over time these models are not reducing emissions and will eventually be sidelined along with traditional internal combustion cars.
Among those who did find available EV's, many enjoyed very generous trade-in allowances for their older hybrids and ICE vehicles, as the used car market is still booming. And then there are the tax credits and rebates that are still available. In New Jersey, rebates up to $5,000 are being offered to those who buy or lease a new electric vehicle. There are still federal tax credits of up to $7,500 being offered for EV purchasers, although it's worth noting that tax credits are not part of the president's infrastructure bill.
While financial incentives cushion the sticker shock some EV shoppers experience, know also that the revenue lost from gas tax is likely to result in a road usage charge of some kind on EV's. Last year, Utah charged a flat annual fee of $20.00 for a gas hybrid and $120.00 for an 100% electric model—or the option of paying 1.52 cents per mile. Consider the cost of such fees along with the energy costs when deciding which model is right for you.
The third concern of EV shoppers, addressed earlier in this story, is when, where and how to charge. Right now, 70% of all charging in America is done at home—overnight or during off-peak hours.
Adding a dedicated charging unit to your home will max the capacity of a 100-mile-plus battery to 100% overnight at a 100 kw/h rate. Household chargers can also be designed to run off rooftop solar when tied to a battery storage system or a dedicated circuit in the breaker panel. Direct Current (DC) units—also called Level 3 chargers—are designed for EV models made on or after 2018. A DC charger can replenish about 240 miles in a long-range, 300-mile electric car in less than half an hour. Tesla has converted most of its charging banks to DC units in the hopes of reducing wait times at their popular hubs along major transit routes, tourist destinations, upscale hotels and casinos. Recently added software warns the Tesla owner when the car is fully charged and must be moved quickly. Drivers who leave their vehicle in a charging spot after notification will be charged an additional fee. At the upper end of the market, speed is everything. Leading the charging speed race is Porsche and its Turbo unit, capable of pushing 800 volts at 450 kw/h. The company's $82,000 Taycan can be recharged to 100% in under 10 minutes. However, the cost of this "super charge" at peak rate can run into the hundreds of dollars.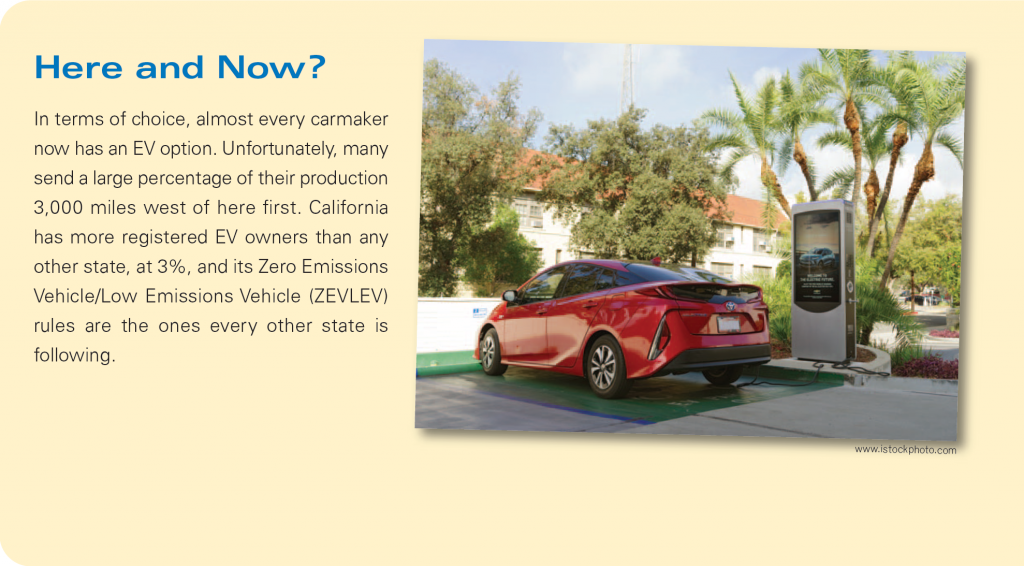 Right now, residential charge station suppliers include ChargePoint, Blink, ElectrifyAmerica, TESLA, EVGO and VOLTA. The year, make and model of your vehicle, as well as its charging receptacle, contributes to speed of charging and cost per minute, or kilowatt cost. The average cost when charging off-peak at home is .045 per mile when using .15 per kwh as the basis. Tesla and Lucid vehicles are the least expensive models to charge.
When charging away from home, the costs can vary widely. Electric owners use a subscription card or app on their phone to utilize most stations, however there are no regulations on what a station provider can charge, by time, kilowatt hour or both. Some hotels, casinos and retailers have provided the space and power as a customer service, but don't bet on free charging forever. Only VOLTA does not require a subscription or charge for the power, covering their costs through sponsorship advertising placed on the station.
What's down the road for new EV owners? Automakers across the globe are revamping their supply-chain sources for EV batteries by partnering or purchasing manufacturing capability. Even so, Joan Michelson (right) points out, "deciding which EV to buy is going to be complicated." Michelson, the former head of Communications and co-head of sales and marketing at Chrysler's Global Electric Motorcars, says buyers should be prepared to consider all kinds of variables: "Your lifestyle, your transportation needs, whether you have access to charging—I don't, in a condo building, for example—where you drive regularly, whether it's your only car or a second car, as well as overall cost of ownership." She has watched the evolution of electric vehicles for two decades and speaks to all things electric in her Electric Ladies podcast.
Just back from the 26th UN Climate Change Conference in Glasgow, Scotland, Michelson offers some innovative ideas on the future of EV ownership and the new automakers behind them. "As the issues of lithium battery warranty, repair, disposal and sustainability become greater, there could be an
Joan Michelson OEM (Original Equipment Manufacturer) option for an EV lease subscription plan that balances the higher cost of an EV with the concern surrounding technology changes. Tax credits from the federal and state governments will also help consumers and manufacturers ease into the investment of an EV."
Another appealing aspect of switching to an electric vehicle is the "dealer disruption" ushered in by Tesla. EV makers you'd never heard of a couple of years ago are bringing new technology and unique styling to the market—without dealership sales tactics or service centers. Rivian, Lucid and Lordstown Motors have made news with long-range trucks and luxury cars, and are now taking orders for delivery in 2022–2023.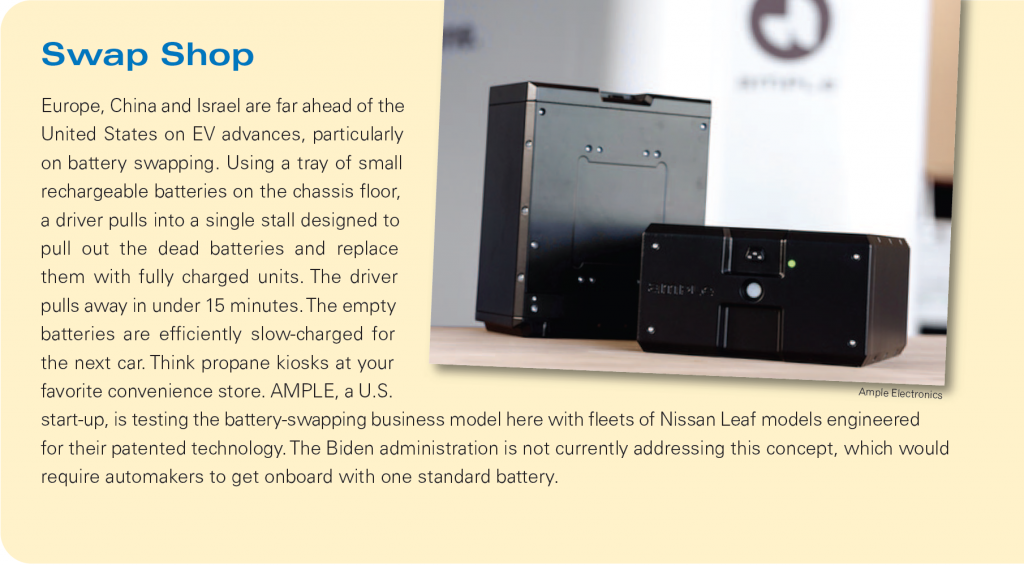 Michelson is especially interested in what's happening at Piech Automotive—founded by Porsche family heir Anton Piech—which is creating a unique car company that has broken with traditional manufacturing theory. Peter Thiel, the founder of PayPal, is an investor and several "A-list car guys" from Porsche/VW Group, BMW, and TESLA have joined the company. Piech is offering short-term leasing of EVs; it will be interesting to see if this leads people to buy more EVs as a result of driving them for a few months—as well as the impact on dealerships, since they are leasing directly to consumers and not going through dealerships.
The Piech brand is built on the concept of modular vehicle components, long-range batteries and ultra-fast charging. Their sedan, SUV and sportscar designs use mix-and-match compatibility for plug-in, traditional ICE and hydrogen batteries capable of 80% charge in under five minutes—with simpler parts and software upgrades.
Taking a cue from Tesla, Ford, Toyota and other brands are testing the direct-to-consumer order process, eliminating the dealer haggling in order to compete with online showrooms and vendors such as Carvana and Vroom. Manufacturers are actually urging their dealer networks to revamp the old-time sales/service model to embrace EV charging as a revenue stream. AUDI is all-in on this idea, having built its first Charging Lounge back in December as a hub for business and social meet-ups in a café-type environment while your car is charging.
It's in Germany, so don't get excited yet. However, whether you are a current owner or still just window-shopping, you can get excited about the myriad ways that traditional automotive brands and dealerships will define themselves as part of the EV revolution.
Editor's Note: Sarah Marks is a car concierge and automotive consumer advocate for all things car-related. Sarah lives in Henderson, Nevada with her husband, Norman. You can ask her car questions at her website: www.mycarlady.com.