by Andy Clurfeld
24 North Ave. East, Cranford HOme • 908.276.3664
Reservations recommended.
Hours: Monday through Thursday from 11:30 a.m. to 10 p.m., Friday and Saturday from 11:30 a.m. to 11 p.m., Sunday from 11:30 a.m. to 9 p.m. All major credit cards accepted. Dress ranges from neat-casual to festive. Prices: Salads: $8 to $10.
Tapas: $6 to $14, with a mixed selection of tapas at $24. Cocas (mini pizzas): $8 to $10. Paellas and entrees: $18 to $26. Side dishes: $6. Desserts: $7.
In the end, the matter of the Red Velvet cake was the cherry on top of a sweet evening. Cervantes, a Portuguese-Spanish restaurant in Cranford known more formally as Cervantes of Spain, is the real deal –an Iberian destination that tips to approachable authenticity. Its menu bursts with the key foods of the peninsula, from pulpo (octopus) to piquillos (the sweetest roasted red peppers on the planet) to pimenton (smoky, sometimes hot paprika) to potatoes in all forms (mashed and shaped into croquettes, fried like chips, cubed and tossed with jazzed-up aioli). It's got a near-arm's-length list of tapas familiar to anyone who has traveled in either Portugal or Spain or been to a big-city Iberian spot; a couple of Mediterranean-style pizzas; more than a half-dozen cauldrons of paella on tap; and a lineup of mild-mannered entrees that gently guide those schooled primarily in Italian or French cuisines into a related realm.
My Portuguese friend is enchanted. My Yankee/Joisey pals are too busy snatching seconds and thirds of the tapas to speak. As the table is re-set for entrees, they gulp and say, "You mean we have to eat more?"
Well, we did skip the Red Velvet Cake – yes, all-American Red Velvet Cake – but let's talk about the really good stuff first.
Properly conceived and executed tapas, the small plates of Iberia, are more substantial, less precious than many modern American appetizers. Thoughtfully ordered, eight tapas can be a satisfying supper for a party of four. Here at Cervantes, where the bountiful plates of tapas range in price from $6 to $14, you get value and variety on top of roundly flavorful, easy-eating small plates.
Take that octopus—and don't be put off by the thought of an eight-armed sea creature. As prepared at Cervantes, it's quite like all that calamari you've inhaled. Only its larger chunks of soft meat aren't fried, but slowly stewed with Yukon Gold potatoes in olive oil and that smoky, sensuous pimenton. A fan of the classic Italian dish of scampi? Well, here, shrimp are similarly sautéed, perhaps with a more buttery olive oil than the often bitter ones from Italy and an extra teaspoon or two of minced garlic. With hunks of bread to sop up the sauce, you're golden.
I was feeling mighty sunny myself as I poked through the poached egg sitting atop the dish of duck confit and potato hash and let the runny yolk ooze throughout the dish. Poached egg atop any meat is pure Portuguese, and knowing Cervantes served this riff on a classic was one of the reasons I'd called this dinner to order. Have this, learn from it and make it at home for company from, for the most part, prepared ingredients.
Cervantes' chorizo is what Iberians call their very own: It's not stoked with heat, like some Mexican and American chorizo, but dense, rather than crumbly, deeply meaty rather highly seasoned. It's served in a rich Rioja reduction that demands bread, or fried potatoes, and it's yet another tapa that, combined with a vegetable, could do nicely as supper.
Whatever you do, don't miss the patatas bravas at Cervantes. Think warmed potato salad dressed in a pimenton-licked aioli, a smoother, eggier take on mayonnaise. Six bucks! Heck, after you've tried it, you'll want to buy it in bulk and put it on the menu for Fourth of July. The only miss on the tapas list were the two types of potato croquettes we tried, and not because the mashed spuds weren't warm and fuzzy fun: The promised chicken in one, and the serrano ham in the other, were MIA in most of the gently fried balls delivered to us.
It's hard to top good-eating tapas even in Spain and Portugal. My times on the tapas trails rarely were followed by entrees even half as memorable. But do check out Cervantes' slow-roasted suckling pig, all gussied up in a chic tian of a presentation, a molded round of layered garlicky potatoes topped by carefully assembled meat that tasted like mild pulled pork. There's a hint of orange in it, a tout to the Valencias so prevalent in the homeland, and that's the dominant seasoning. Nicely cooked chicken breasts, with just a quick hit of lemon and a deft glaze of Rioja, were light on garlic and olive oil—and rightly so.
Pass on the traditional paella, plumped with chorizo, chicken, shellfish and vegetables: Like far too many paellas, it had overcooked clams, shrimp and lobster and dried-out rice. At $26, it's also one of the higher-priced items on the menu. We took a chance on the daily fish special, sole in a standard-issue lemon-caper sauce. No need for you to do the same.
If luck is on your side, you'll get our server, the gent from Lyon (yes, the one in France), who will shake off your request for Red Velvet Cake like a pitcher on the mound rejecting the catcher's call. I had to ask: Why Red Velvet Cake on an authentic Portuguese-Spanish menu?M. Lyon shook his head. Come on, I beg, whose idea was this? Another shake of the head. Who is the chef?A very talented fellow from Mexico, M. Lyon said, though he didn't know his name. OK, I say, I want to try this Red Velvet Cake. An even more violent shake of the head ensued.
We locked eyes.
"No, Miss," M. Lyon said to me. "Not here."
I was happy M. Lyon wasn't a complete company man. Frankly, I don't want to eat Red Velvet Cake in an Iberian restaurant any more than I want to eat patatas bravas at a catfish fry in Mississippi.
So we enjoyed a crunchy-crusted, orange-scented crème brulée (yes, my Portuguese pal said, crème brulée is served over there) and one of the few understated tres leches cakes (hey, our world is one big table these days) I've ever eaten.
And all the way home, we plotted our next round of tapas at Cervantes.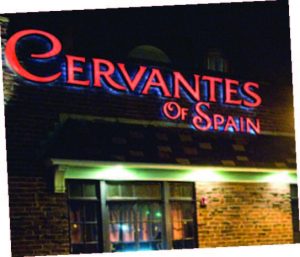 Cervantes is located in a modest brick structure astride the train station in Cranford. (Come after 6 p.m., we were advised, and parking is free in the train station lot.) It's part bar/lounge, where there's often a lively happy hour, and part dining room. When the weather's amenable, there's a patio for outdoor dining. Imagine sipping cava, Spain's sparkling wine, on that patio this summer as a prelude to a round of tapas.
Problem is, on the night of our visit, only one cava was offered on the wine list. (And the producer's name wasn't even given.) Bringing in bubblies that are so right with a diverse selection of tapas would not only do justice to the food, but better serve diners' needs.
Editor's Note: Andy Clurfeld is a former editor of Zagat New Jersey. The longtime food critic for the Asbury Park Press also has been published in Gourmet, Saveur and Town & Country, and on epicurious.com. Her post-Sandy stories for NBCNewYork.com rank among the finest media reporting on the superstorm's aftermath and recovery.