by Dan Brickley
Looking like a star is worth every penny
 Heatproof Yourself Like the Stars
The allure and glamour of Hollywood is something that will always define and inspire stylish culture. When summer weather turns hot and heavy (and it certainly does here in New Jersey), droves of people flock to darkened cinemas more than any other time of the year. After a long, dehydrating day at the shore, there's nothing better than settling into a big, comfy seat in a vaulted, air-cooled theater to watch your favorite flawlessly put-together movie star perform in front of the camera. That may well be the secret star quality of all big-screen idols—they always manage to look so cool, literally and figuratively.
You'll never see George Clooney sweat, Kate Hudson's t-zone get shiny, or Julia Roberts's curls frizz. There's no doubt that having skin, hair, and makeup experts on call for minute-by-minute touch-ups is essential for movie icons to stay camera-ready at all times. I myself, however, while shooting some scenes for my television show, have had to rely on my own quick fixes and ever-ready products to work their magic. After some arm-twisting, the EDGE editors have convinced me to divulge a few of my closely guarded secrets. The truth is, there are tons of ways to keep yourself in camera- ready condition (even when off-film).
The ones I have chosen to share with you will easily get you through any heatwave looking as flawless as Catherine Zeta Jones on her best day. Light hydration is key. Shy away from heavy moisturizers that in summer heat will transform that healthy matte finish on your skin into a shiny, mirrored surface. Instead, always keep an EVIAN MINERAL WATER SPRAY in your bag. Although this spray has been around forever, it's still an industry staple that manages to keep skin looking supple, not slippery. The spray comes in a handy 5-oz. size and retails for around $10. When the heat and humidity get a little out of hand, it's always a great idea to keep blotting sheets at hand. Although they say the camera adds at least 10 pounds, a sure-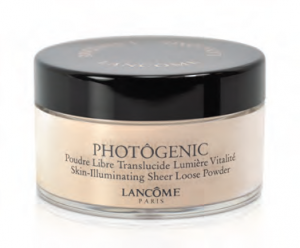 fire way to keep your face looking trim and contoured is to eliminate any shine. After shooting for eight hours in 103-degree, dense New Orleans heat, I found that DIOR'S BLOTTING PAPERS ($21) were a total and complete lifesaver.
Not only do the sheets wipe away shine, they come with their own mirror and are treated with a light fragrant powder that adds a matte finish to even the most reflective of t-zones. As far as light makeup is concerned, PHILOSOPHY'S THE PRESENT ($25) is a true gift in any season, but particularly useful during summer. Made with natural antimicrobial agents, The Present literally forms a barrier over your skin that both locks in moisture and blocks out environmental impurities. Sound too good to be true? It's not.
Simply rub a dime-sized portion of The Present on your clean face every morning before applying any other makeup and your skin will literally appear flawless all day long—I promise! As a final step to finish your face, most makeup artists recommend a quick brush-over with a loose powder. LANCOME'S PHOTOGENIC SHEER LOOSE POWDER ($32) is a dream come true. With a large blush brush, gently dust your face and neck with light powder, then follow up by blotting around your nose and under your eyes with CHANEL'S MAT LUMIERE foundation ($52). If, perchance, you spot a dreaded blemish, CHANEL'S PRO LUMIERE CORRECTEUR PROFESSIONAL FINISH CONCEALER ($38) is a quick and easy fix.
I shouldn't have to tell you this but it's worth a reminder: make sure your foundation and concealer perfectly match your skin tone. When choosing a base or cover-up, it's critical to test the makeup against your skin in natural light. Fluorescent lighting can so drastically skew color perception that you just might end up looking more like Marcel Marceau than Marilyn Monroe. On a final note, hair has always caused the most problems for me personally on film. I'm one of those people with insane, schizophrenic hair—something like Zeppo Marx meets Alfalfa from The Little Rascals. While shooting,
I always keep a travel-sized can of L'OREAL ELNETT SATIN FLEXIBLE HOLD HAIRSPRAY ($16) on the set. The Elnett line is a hair lacquer that doesn't overload the follicle with fragrance or dry it out with tons of extra alcohol. This particular spray manages to be light, yet nourishing with a bouncy, non-static hold. Believe me, if it can keep my hair in check, it will work wonders for you. By applying these simple cosmetic fixes and stocking up on the recommended products, you'll be able to get yourself camera-ready in no time. Most importantly, remember that a natural, healthy glow is the order of each and every day. With these simple tips, you will easily put your best face forward through any heat wave. Keep your personality as light as your moisturizer and makeup and you'll discover, soon enough, how to not shine…like a true star!
Editor's Note: Dan Brickley was the host of TLC's A Makeover Story for three seasons. He has authored numerous articles on fashion and beauty.