by Sarah Rossbach
The Garden State is fertile ground for heritage roses.
When Stephen Scanniello's Great-Aunt Helen heard of his new role as a Rosarian, she sighed in relief that at least one member of the family had not strayed from the Catholic faith. Helen despaired for the souls of Stephen's parents and six siblings. Not only had the Scanniellos left the Catholic Church and became devout Protestants (in reaction, he says, to a fall-out with a stern school nun); his father had taken on a second job at the local temple, where the kids spent every Friday night helping him in his custodial duties. Little did Helen know that the title Rosarian referred to Stephen's job as curator of roses at the Brooklyn Botanical Garden.
Today, Stephen Scanniello (right) is one of the top rosarians in the world.
While Gertrude Stein may have dismissed "A rose is a rose is a rose," when Scanniello discusses heritage roses, he addresses each rose's special, individual qualities and growing temperament as though it were a quirky, beloved member of his family (not unlike Great-Aunt Helen). In fact, Stephen's first memories of roses can be traced to his Uncle Joe, an official rose tester for the Jackson/Perkins Rose Catalogue and his Aunt Joanne. Like clockwork, Joe and Joanne would prune their Blaze roses every St. Patrick's Day, and then smear all the cuts with blazing red lipstick as a sealer to keep insects and larvae out. By the 4th of July, their garden was ablaze with magnificent, patriotic red roses.
Scanniello never dreamed of becoming a rosarian while growing up in the Bergen County town of River Edge. He practically stumbled into it.  After majoring in biology and working in a medical lab (which he claims was "fascinating for a week"), he was asked to photograph the lab experiments. The lab recommended he take a course in photography, where he met some BBG (short for Brooklyn Botanical Garden) employees. That led to a job in the BBG education department, after which he became a general gardener for a year. When the BBG's rosarian retired and his successor lasted only a year, Scanniello won the job and worked there for 17 years.
Now Scanniello is curator of the Peggy Rockefeller Rose Garden at the New York Botanical Garden in the Bronx. The reach of his influence, knowledge and involvement in heritage roses spans the world. I first heard about his work when he ran a hands-on heritage rose propagation workshop for a local garden club, propagating roses from cuttings from a 19th century rose bush. In 2009, Scanniello won the Great Rosarian of the World Award. He also is President of the Heritage Rose Foundation, where he encourages a down-to-earth approach to preserving and propagating heritage roses. Loosely defined, a heritage rose is one with origins that can be traced back to the mid-1800s, before the advent of the hybrid varieties that are common today.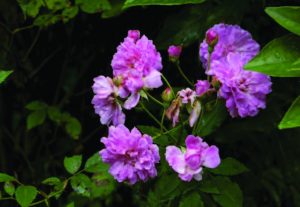 His thumbprints are on projects ranging from a rambling rose garden in Bellingham, Washington and a rose garden and propagation program on the Frank Lloyd Wright-designed Southern Florida College campus, to a vast heritage rose collection in Chambersville, Texas and a children's plant workshop a bit closer to home, in Harlem.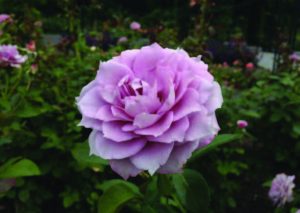 With the influx of genetically engineered roses, Scanniello's approach to heritage roses is almost like a spiritual calling. "Rosarians have a responsibility to preserve species roses and their oldest known hybrids," he explains. "Modern-day rose hybridizers are turning to these oldest roses for the key to creating healthy roses. Without the preservation of species and old roses, a valuable genetic link to disease resistance will be lost."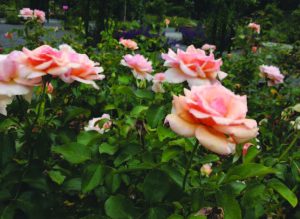 The author of seven books on roses, Scanniello approaches his subject like a detective. His mission to find and preserve roses spans the world and is a bit of a race against time, as uneducated gardeners are planting newer breeds and eschewing the older roses. It is a mission that often leads him to some unexpected places. One source, for example, was discovered in East Germany, behind the former Iron Curtain. Sangerhausen Rose Garden—a time-warp, hermetically-sealed garden—had remained untouched from before World War II, offering healthy roses that had escaped the heavy-handed adulterations of modern-day hybridizers. Another fruitful, if macabre, source of heritage roses are old cemeteries. There, like ghosts surrounding old, unkempt graves, grow some of the best examples of heritage roses from another era.
Our own Garden State lives up to its name in this regard. Indeed, it is rich in rose history. Cities including Newark, Elizabeth, Jersey City and Rutherford were home to some of the top rose nurseries in the early 20th century. Prior to that, New Jersey was the primary source for the fresh-cut roses that brightened up the Gilded Age mansions of New York City. Lately, Scanniello—who owns a rose-covered weekend cottage in Barnegat—has been working on designing a new rose garden in a cemetery on the grounds of Christ Church, in Shrewsbury.  He also works privately in New Jersey, the Hamptons and on A-list estates.
It's plain Scanniello loves his job. As we strolled around the Peggy Rockefeller Rose Garden, he introduced me to beautiful, fragrant roses, their histories and peculiarities. Even the roses' names seemed to evoke a mix of humor and pleasure in Stephen as he rattled off randy rose names—not the least of which are "Blushing Thighs of an Aroused Nymph" and "Spineless Virgin."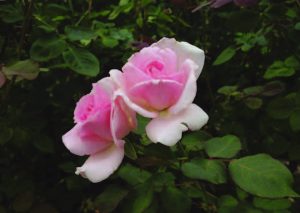 Starting your own heritage rose garden, Scanniello insists, is not as daunting a task as one might imagine. For starters, he recommends planting a heritage rose in a 24-inch pot or wooden barrel, placed in a location that gets plenty of sun. It should be watered either in the early morning or late afternoon, near the mid-day sun.  He encourages New Jersey gardeners to plant roses hailing from New Jersey, such as a pink Jersey Beauty, which was created in South Orange, or South Orange Perfection, or New Dawn, a continually blooming genetic off-shoot of the Dr. van Fleet rose. Other good strains of roses that will bloom continually are the Parade or Dream Girl, bred by Martin Jacobus in Ridgefield in the 1950s and '60s.
As for pruning, Scanniello returns to his roots, advising me to cut back the roses every St. Patrick's Day.  Now to find the right shade of red to seal the cuts!
GETTING STARTED
Stephen Scanniello's 2006 book A Year of Roses features tips for the suburban rose grower, including…
Become acquainted with your local rose society. Members love roses and tend to be willing to share their vast knowledge.
The best way to purchase roses is from mail order catalogs; the quality of the plants is superb, you will find many species you would never find in your local garden center and your dollar stretches far.
The roses you ordered in January will arrive in April. Plant them shortly after they arrive.
Prune roses in early March and have all pruning finished by mid-April.
In the winter, rose bushes look spindly and stark, so when planning your rose garden,
border it with evergreen plant material, such as boxwood, to add structure and winter interest to the garden.
When in bloom, roses require some care. They need at least five hours of sunlight per day as well as regular watering during late afternoon.
Roses need a well-drained site with friable soil—soil that breaks up easily and allows roots to thrive and water to pass through easily.
Weed by hand! Never use weed killers in the rose garden. They damage the roses.
Deer adore rosebuds. In early June, start protecting the blooms by applying a deer repellent to the rose garden area.
Whenever possible, purchase roses that grow on their own rootstock and are not grafted on to a different rootstock.
Some reliable sources for heritage roses with their own rootstock are:
antiqueroseemporium.com
vintagegardens.com
derrosenmeister.com
rosesunlimited.com
Editor's Note: Sarah Rossbach has written for House & Garden, The Washington Post and Harper's Bazaar. Among her many books is Feng Shui: The Chinese Art of Placement. She is an author and feng shui consultant who has studied and collaborated with Master Lin Yun, a revered figure in Chinese culture and spirituality. The Peggy Rockefeller Rose Garden, designed in 1916 by landscape architect Beatrix Farrand, features 670 varieties of roses. For directions and hours log onto nybg.org.