In 1961, a twenty-something  DJ with a warm but booming voice hit the airwaves in New York for WABC and Rock & Roll was never quite the same again. Bruce Morrow, aka Cousin Brucie, played it all during his evening  show, which could be heard for hundreds of miles up and down  the East Coast. Like most radio jocks, Morrow looked for a side  gig to boost his popularity. He  began hosting weekend music shows across the river at Palisades Amusement Park and those raucous concerts drew teenagers from New Jersey, New York and Connecticut like moths to a flame. With a dozen or more acts sharing the stage, the Palisades Park shows soon became a high-powered launching pad for new records, in turn launching Morrow into the industry stratosphere. And there he remains. More than five decades later, thanks to the enduring quality of that era's music and the loyalty and love of all those screaming baby boomers, he has returned to WABC to spin records on Saturday nights.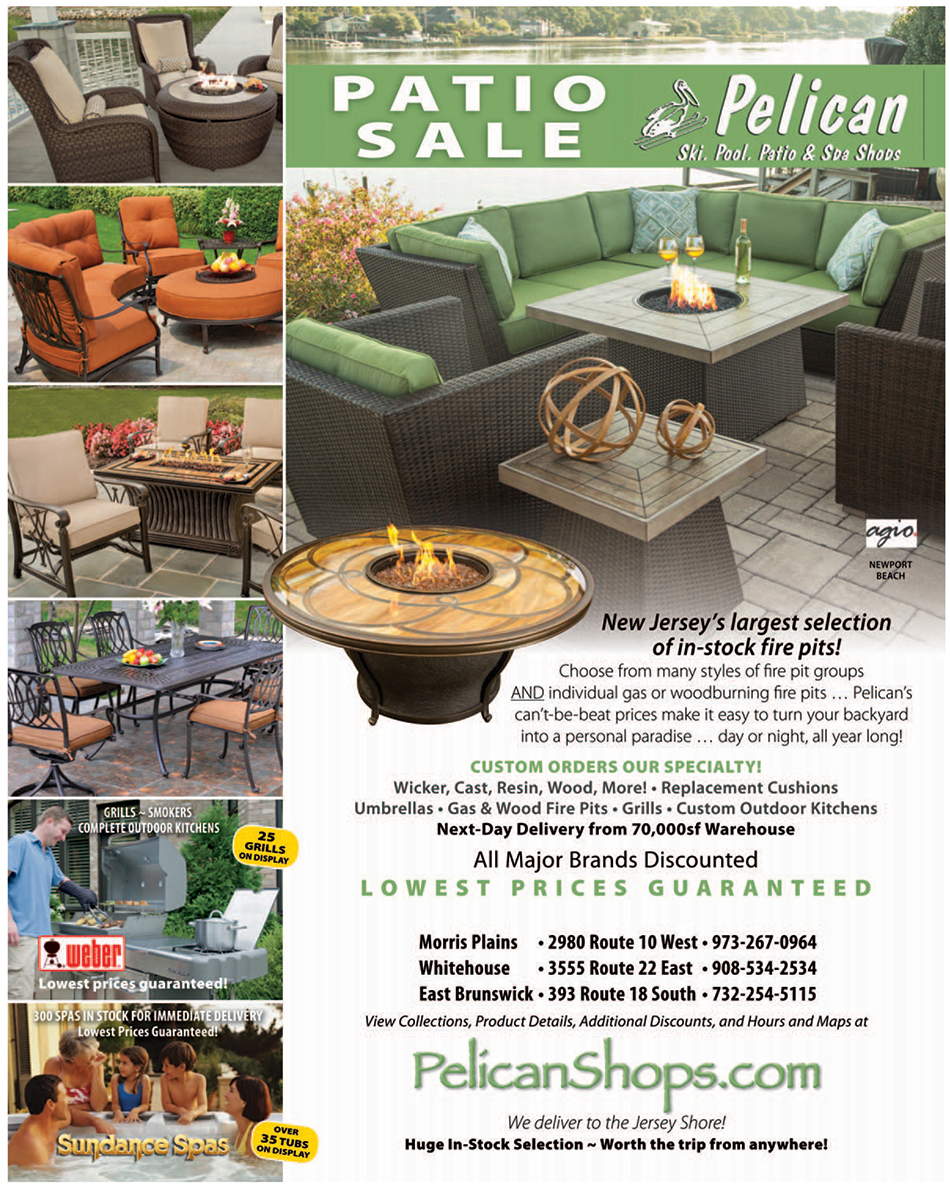 EDGE editor Mark Stewart, whose parents refused  to take him to those legendary shows on the cliffs  of Fort Lee, finally got his chance to connect with  Cousin Brucie.           
EDGE: Music fans around the country, myself included, know you from your radio career, from WABC to NBC to CBS to Sirius XM and now back to WABC. But a lot of people in New Jersey remember the decade or so you put on those epic weekend Cousin Brucie Rock & Roll shows in the music pavilion at Palisades Amusement Park. Where does that fit into the big picture? 
BM: If you asked me what the most important part of my life is, there are two things I would mention: Palisades Amusement Park and introducing the Beatles at Shea Stadium, as well as my involvement with them. But Palisades Park would be number one. There is a great line about that: Here is where we grew. Here is where we got older. Here is where we learned. It was the happiest time of my life, a time of physically being with my audience. For just about a decade, I hosted and produced the shows and had a wonderful time. It's really where I discovered what I was going to do for the rest of my life on the air. It was those beautiful live contacts on those beautiful, sometimes rainy Saturdays where I developed Cousin Brucie.  
EDGE: You brought in some huge names there. What was your level of involvement behind the scenes? 
BM: I booked all the acts. I would make a call and, fortunately for me and for Palisades Park, the artists would perform gratis to promote their music. If you made an appearance at Palisades Park, you really were going to sell a lot of records. They knew darn well that, if they appeared with Cousin Brucie, we were going to have a good time, and a profitable time.  
EDGE: A lot of DJs in your era had side gigs to survive. This was something more, though. 
BM: Absolutely. The love of that audience sitting there in that wonderful outdoor "auditorium" was amazing, it was immense, because we were so close to each other—I was always in the audience. And it never ceased. Every week I would have 10, sometimes 15, acts on that stage, including some of the biggest acts in the country. And remember, they lip-synched the music. That was a very important part of the story. In the 1960s, that was okay. Irving Rosenthal, the owner, did not want to spend a lot of money, so we couldn't afford bands.  
EDGE: And that came off without a hitch? 
BM: The equipment was not the latest, shall we say. The turntable was in a very little booth and the stylus, well, you might as well have had a screwdriver on the record. So every once in a while, records would skip. In 1962, it happened to Tony Bennett and he got pretty upset. I don't blame him. We broadcasted a lot of our shows live—thank god this wasn't one of them. Columbia had just come out with his album I Left My Heart In San Francisco and they knew it would ensure quite a number of sales for Tony to perform at the park. So the record starts and he's lip-synching: I left my heart…in…San Francisco-cisco-cisco-cisco-cisco-cisco-cisco. He was very upset. We finally got him back on and he finished the song and he left in a huff. To this day he has not forgiven me. Four or five years ago he was visiting Sirius XM where I had a show and he left me  a note: "Cousin Brucie, do me a favor and don't play  my records anymore." He was just teasing me, but  he never forgot. I never forgot, either. I was terribly embarrassed. It happened a few times, but not often. With most people, they would just go along with it until we fixed it. The audience would applaud and laugh. They knew we were lip-synching.  
EDGE: Were there little-known performers who blew you and the audience away when they appeared? 
BM: Oh, there were so many. Every time a record came out that I liked, I would contact the record company and we'd put them on the stage. One I remember right off the bat was a fellow named Curtis Lee. Like so many performers, Curtis actually introduced his record "Pretty Little Angel Eyes" for the first time on the stage at Palisades Park. It was a good, rocking song. He was introduced by his mentor, Ray Peterson, who sang "Tell Laura I Love Her" and so many other great songs. Ray came out with me on the stage and introduced Curtis Lee as his "protégé" and he performed his song for the New Jersey, New York, Connecticut audience. And it did very well. The record did not skip that day—if it had skipped that would have been terrible because Curtis had no experience. He was scared stiff! 
EDGE: Does one moment stand out from your years at Palisades Amusement Park? 
BM: We had a young lady from Tenafly, about 15 years old named Lesley Gore. She became a very dear friend. We lost her a few years ago, way too young, but her music survives. Lesley came out on stage, she was so tiny and so nervous—this was one of her first times in front of a major audience. She was standing next to me—I was wearing my leopard-skin suit—and she looked up and I could see she was upset, in some kind of pain. That stage, which wasn't exactly up to date, had some cracks in it. Poor Lesley had caught the heel of her right shoe in one of the cracks. She whispered to me, "Cousin, my shoe is stuck. I can't move." I kneeled down, put the microphone on the stage, slipped her foot out of the shoe and pried the heel out of the crack in the board—and put her shoe back on like a princess. Then she went out and did "It's My Party" and was phenomenal. And she did cry…but because her shoe was stuck. 
EDGE: The return to WABC, which is now a talk station, with your Saturday Night Rock & Roll Party has created a huge amount of buzz. Were you expecting this "reconnection" to have this kind of effect? 
BM: I knew it would be pretty exciting but I had no idea it would be like this. 
EDGE: So I have to ask, when you see fans in their  60s or 70s, is that screaming teenager still in there somewhere? 
BM: Oh, they're still in there. The emotion and excitement and affection is there no matter how old they are. They want a hug—which unfortunately we can't do right now. I feel the love and the affinity and the connection. See, connection is a good word here.  I was, and am, a connection to a better time in life.  Oh, we had a lot of problems in those days, but I represent a bridge that is very important today, because everybody wants to go back a little bit, they want to escape this nightmare we're going through, nightmares that we've been going through, for a couple of decades or so. So here is this guy who's a connection to a good time through something called music. Shakespeare wrote in Twelfth Night, "If music be the food of love, play on." Well, that's what I've been serving up: energy, spirit and mutual love and respect. I don't care where you're from, we have this one thing in common and  it's music—the music of the 50s, 60s and 70s. It's an amazing common bond.  
Editor's Note: Cousin Brucie's Saturday Night Rock & Roll Party began airing on WABC  in September from 6:00 to 9:00 p.m. and can be heard at wabcradio.com and can be streamed on the WABC app. He looks forward to restarting his live oldies concerts at PNC Arts Center in Holmdel once public gatherings are safe for  his fans.