by Caleb Maclean
Two years in the making, Generation Fit opens at the Newark Museum.
If you are the parent of a school-age child, then you are undoubtedly aware of the fact that 1) there isn't much around here in the way of interactive museums once you've done the Liberty Science Center, and 2) left to their own devices, kids will almost always make the most atrocious food choices imaginable. (My own still insist Sour Patch Kids count as a serving of fruit). These seemingly unrelated facts are suddenly relevant thanks to the Newark Museum, which is opening an intriguing new exhibit for young people on November 26 entitled Generation Fit: Steps to a Healthier Lifestyle. The name may not be as spine-tingling as a ride at Great Adventure, but rest assured that it's worth the trip. As the final touches were being put on the colorful and inviting 2,000 square feet of space, Ismael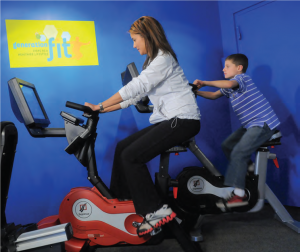 Calderon, Ed. D—the museum's Director of Science and curator of Generation Fit—gave EDGE a tantalizing sneak peek. Calderon calls it an exploratory space, and that it is. But here's the clever part—as kids explore the interactive exhibits, lessons of healthy eating, the benefits of exercise and a profound awareness of their own bodies start to sink in.
By the time children have worked their way around Generation Fit, they are likely to be a little smarter about the choices they make. According to Calderon, that's a big step on the path to a healthier lifestyle. "Remember that we have been hard-wired to eat dating back to our days as hunter-gatherers," he points out. "Today, we do less work to get our food, and much of the food that is available has little nutritional value." One of the core messages of Generation Fit is that a healthy body is not measured so much by its outward appearance, but rather according to a person's heart rate, determined by age.
The exhibit focuses on themes related to nutrition and exercise that are designed for families of all shapes and sizes—encouraging conversation in an inviting and non-judgmental environment. Different body types displayed at the entrance convey this message. Incidentally, by the time you reach this point, you've already been outfitted with a pedometer and raced up a flight of stairs. No elevators, please! Inside Generation Fit are a series of interrelated sections that engage kids and help simplify complex ideas through interactive displays. In the What is a Calorie? section, kids work the Calorie Crank, which provides a hard lesson in the amount of activity required to burn off a cheeseburger and fries. (Parents will merely appreciate that they don't have to explain to their children what a calorie is.) One of the coolest teaching tools is the Body Scan. Kids roll a computer screen over a full-sized representation of a human body and it uses the different types of scans doctors employ for an "inside look" at diseases related to being overweight or obese.
You'll be prying your children away from Body Scan, probably so you can play with it yourself. The My Plate section addresses nutrition and portions in a clever way. An array of foods representing various cultures is set upon a dining table, along with plates ready to be filled. After kids make their picks, an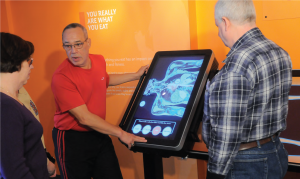 interactive display provides feedback on whether the selected meal is sufficiently balanced. It also provides alternative food choices. As you work your way around the exhibit hall, you'll encounter the Label Decoder, Sugar Detective, Dollars and Scents, Know Your BMI, Exertainment and FIT Center (FIT is an acronym for frequency, intensity & time). You can probably make an educated guess at what each offers, and you'd be right. The key thing here is that Calderon (left) has seen to it that each section over-delivers. Two good things to know about Generation Fit. First, to avoid the chaos and disorder that sometimes diminish other interactive children's exhibits, the Newark Museum will probably be time-ticketing the exhibit. This is a great idea. Call ahead to get details on this. Second, the crowded times for Generation Fit will probably be between noon and 2:00 pm. Plan accordingly.
Editor's Note: The museum is located at 49 Washington Street in the Downtown Arts District, a couple of minutes away from NJPAC, and is open Wednesday thru Sunday from noon to 5:00 pm. Generation Fit uses research data from the Robert Wood Johnson Foundation and Center for Disease Prevention, the national Let's Move! Initiative, National Institute of Health and scholarly journals.