by Mariah Stewart
Is your pet truly happy with its home away from home?
As a college undergrad, I volunteered at the local Humane Society for several years. One of my duties was to check in on the new arrivals, report on how they were adjusting, and try to make them as comfortable as possible until we could find them loving homes. Given the circumstances, most of the dogs and cats did remarkably well. Every so often, however, I sensed that one required some extra attention. In a couple of cases, I actually folded myself (I am 5'11") into their cages and gave them the close, physical contact I could see they needed. I became so close to one little black dog that I adopted him. I couldn't imagine him not being a part of my family. If you are still reading this story, it's okay—you can admit it: I am the person you would like to imagine is looking after your pet when you are away. Unfortunately, I'm no longer in the pet-cuddling business. However, if you do your homework, you can find people like me who are.
Ask 100 pet owners what the most stressful part of a vacation is, and half are likely to answer making sure my pet is okay. The other half? I'm pretty sure they're lying. The truth is that, deep down, everyone wants their animal to enjoy quality time while they are away. For some creatures (say, a turtle) quality time equals getting fed and being left alone. For others, the more human contact the better. While sky's-the-limit, spa-experience boarding options do exist, most vacation care falls somewhere in between these two extremes.
Building a basic "profile" of your pet is a helpful tool in choosing the best care option. There are a number of factors to consider, including:
Type of pet, age of pet and length of ownership
Does your pet require special care? Does it have a routine?
Is there anything unusual about its diet or medical history?
Is your pet comfortable with new people and places?Other animals?
Your pet's temperament. Does it mind being left alone? Does your pet have separation anxiety?
What sets off your pet? What are your pet's negative behaviors or habits?
Obviously, some pets are more mobile than others (good luck lugging that 40-gallon fish tank anywhere!), so exercise your better judgment on this one. In some cases, your pet so dislikes boarding or traveling that a pet-sitter is the only viable option. Age is another important factor. Although there is no general consensus about what age is too young for an animal to be boarded, most would agree that boarding under the age of 6 months is not the best idea for a dog or cat. Because most facilities will require certain vaccinations or even that your pet is spayed or neutered before boarding, you will have to wait until they are at least old enough for these procedures. If you do need to go out of town while the cat or dog is still young, boarding with your breeder or veterinarian is an option, albeit an imperfect one.
SIT!
Pets are most comfortable in their own home and personal space, so pet sitting is a good option for many pet owners. This is usually a better choice for older pets, or ones with health problems that are less mobile and require specialized care and routines. By hiring a trusted sitter, pet parents can rely on personal, one-on-one attention for their pets in a familiar and comfortable environment. This option is often cheaper than boarding and eliminates the hassle and stress of pet transportation. If you don't have a friend, family member, or neighbor capable of the responsibility, there are a number of services where you can locate reliable, experienced pet sitters. Many sites require background checks on sitters, offer "pet insurance," and provide reviews and ratings for their sitters, which helps you choose the right person for your pet.
DogVacay.com is an intriguing company. It has specific training and emergency procedures that its sitters must follow, 24/7 customer support, and easy online booking and payment. You choose whether your dog will stay in your own home or at your pet sitter's, and you receive daily photo-updates of your animal while you're gone. The National Association of Professional Pet Sitters (petsitters.org) and Pet Sitters International (petsit.com) can point you to a professional pet sitter for any type of pet.
Most owners arrange a meeting between pet and sitter to make sure the animal is comfortable with this new person
in its territory. It also gives the sitter time to become familiar with the layout of the home. Payment should be arranged beforehand, as well as how often you expect the sitter to stop by and whether he or she will be sleeping over at your house. Give the sitter your specific, detailed instructions, schedules, house rules, and emergency contact information, and that of the local veterinarian. It is also a good idea to have this written out for the sitter to keep on-hand as a reminder.
If the pet sitting option seems right for you, the final consideration is whether it's right for your pet. Some anxious pets will develop negative behaviors when left at home alone, even for very short periods, if they sense that their owner might not be returning. This includes loud, persistent barking (or meowing), urinating or defecating inside the house, and scratching or chewing up furniture, personal belongings, or even the house itself. I once fostered a small dog that blasted through the bars of her crate and then scratched an escape hole under my bedroom door. This type of behavior is not only destructive, but potentially dangerous—especially if the animal ingests inedible materials or chews through electrical wires. These pets require more supervision and attention throughout the day, and may be more suited for a boarding facility where they will not be left alone and are less likely to be destructive or hurt themselves.
BOOK IT!
Pet boarding entails any kind of pet care outside of your own home. It could be in either a private residence or commercial facility, including doggy day cares, boarding with a veterinarian or breeder and, yes, even luxury pet spas. Some of the most popular boarding options are in the homes of experienced individuals, where pets can receive a lot of personal attention in an environment that is more similar to their home. It's even more important to do your research on this type of boarding, because they may not be required to follow the same regulations or standards as a more commercial facility. They often have a limited number of spaces, so booking your pet's stay early is important, especially if you have a dog who loves these visits as much as you adore vacationing.
Okay, you're not sending your kid to boarding school. But it's still worth doing your homework before picking a boarding situation. In addition to comparing bells and whistles, read through online ratings and reviews of each facility. Just because your friend, family member, or vet recommends a certain boarding facility does not mean that everyone had the same positive experience. Have a list of questions prepared, including:
Where will my pet stay? Alone or with others?
How long will my dog be walked? Played with?Outside? Inside? Alone? With others?
What will my pet eat? Can you follow my special instructions?
What are your standards for safety and security?Hygiene? Health? Required vaccinations?
Is the staff qualified? Is veterinary care available? How many staff members do you have?
Do you do any behavioral training?
What happens if my pet gets sick or injured? What are your emergency procedures?
What is the total cost? What amenities or services does this include?
What do I need to bring along?
There are not many federal regulations for boarding facilities, but individual states and cities do set their own specific standards. Make sure your boarding facility is in compliance with these regulations; additional accreditation or certifications are a plus. The International Boarding & Pet Services Association (IBPSA) offers training and accreditation for boarding facilities, as well as groomers, dog walkers, and veterinarians. Any non-veterinary facility can also earn accreditation and certification from the Pet Care Services Association (PCSA) if it meets certain standards. Above all else, make sure you can secure a boarding agreement that guarantees what you expect out of the boarding facility.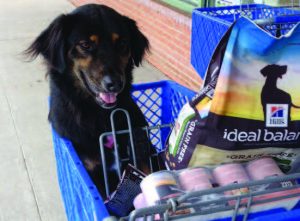 Unfortunately, for some people and their pets the first boarding experience is also the last. Certain pets struggle with the boarding environment and develop nervous, defensive behaviors. The combination of an unfamiliar environment, strange people and animals, and changes to the typical routine can completely change an animal's behavior. During my time working at the shelter, I noticed that some animals never quite adjusted to living in a kennel. We struggled to get these animals adopted because of these nervous, erratic, unpredictable, defensive, and even aggressive behaviors. Some animals responded with just a little extra attention, including the dog I adopted. As a last resort, to free up space in the shelter, we would place these nervous animals in foster care, where their behavior and temperament improved dramatically, making them much more adoptable. Some other downsides to pet boarding are the higher cost and risk of exposing your pet to disease. Most kennels require vaccinations, but there are a few illnesses (such as kennel cough) that spread in this type of environment.
The key to making the right choice is to understand your options and, just as important, to understand your  animal. The goal for all is peace of mind. The dog (left) I adopted in college, by the way, turned out to be a winner. At least my parents think so, which is good because now he's "their" dog. They found a great boarding situation, and determined that the dog actually prefers leaving the house than staying with a sitter. When the family travels, they drop him off at a local kennel operated by a man the dog absolutely adores. The closer the car gets to the destination, the more excited he becomes.
As soon as the car door opens, he sprints the final 100 yards to the kennel door, and can't wait for my parents to leave. I get it. I felt the same way when I was a teenager.
Checking In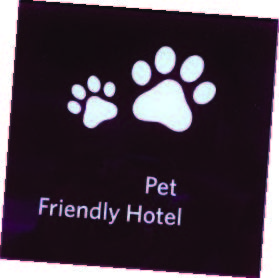 In cases where pet-sitting and boarding aren't viable, the best option may be to travel with your pet. For the record, a high percentage of people who choose to travel with their pets do so because they are the ones with separation anxiety. Whatever is behind that choice, pet-friendly hotels are becoming more popular around the world and offer a surprising variety of amenities. Pet owners can find hotels that offer charming welcome gifts, comfortable pet beds, designated areas for walking, playing or bathroom breaks, pet room service, day care, and even luxury spas. Guests can also expect informed concierge services that can point them to pet-friendly attractions in the area. To find pet-friendly hotels in the United States, plug your destination into Pet-Friendly Hotels (pet-friendly-hotels.net) or Pets Welcome (petswelcome.com). According to Pets Welcome, these are the Top 10 Pet-Friendly Destinations
Adirondacks
Blue Ridge Mountains
Cape Cod
Catskills
Hamptons
Jersey Shore
Lake Tahoe
Martha's Vineyard
Napa Valley
Oregon Coast