by Mark Stewart
Two distinct menus have made Rella's a 'shore thing'.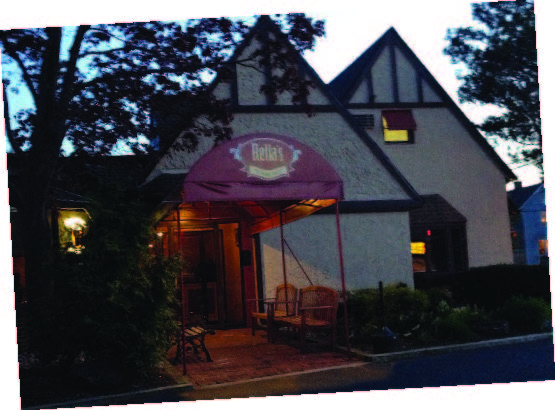 There is a rule of thumb in the restaurant business: Try to be everything to all people, and the best you'll be is Applebee's. The worst you'll be is out of business. That being said, Rella's Italian Tavern proves you can serve two masters, both literally and figuratively. The restaurant's menu offers two ways to go (as its name implies), imaginative Italian cuisine or reliable tavern fare. Co-owner Sal Chiarella knows his way around both kitchens. He created and sold both the neighborhood go-to spot Harborside Grill in Atlantic Highlands and Fratello's, a high-end Italian eatery in Sea Girt. Both are still going strong.
What Sal and his brother, Sam, learned from these successes was how to build a menu around both types of cuisine. The majority of patrons at Rella's pick either Italian or tavern fare; a fair number mix and match. Our group—comprised of seven veteran Jersey Shore diners—agreed to explore the Italian side of Rella's kitchen on a busy Thursday night.
If you are one of those people who skips the starters to save room for the main course, Rella's definitely poses a dilemma. The entrée portions are ample, to say the least, however the front side of the menu packs a surprising amount of star power. Indeed, the descriptions don't begin to do justice to items that shine once they hit the table. Case in point: artichoke Francaise. Nutty and tart, the lightly fried bite-size portions are packed with flavor without overwhelming the palate. Another winning item is the broccoli rabe and sausage stuffed bread. Out of the wood-burning oven and piping hot, it too is done with a surprisingly light touch. With sweet sausage on one side and peppery greens on the other, the two tastes speak for themselves, with just a bit of mozzarella to pull the whole appetizer together.
The hit parade continued with rack of lamb lollipops, a selection on the evening's specials menu (but generally available). Enough for two, especially with the accompanying swirl of whipped potatoes, the two-bite pops are exceptionally flavorful and drizzled with a balsamic demiglaze.
Two members of our dining group had eaten at Rella's before and raved about the eggplant rollatini appetizer (as well as the eggplant parmagiana listed among the entrées). We took their word for it and opted for the fried calamari instead. Lightly seasoned and domestically sourced, it is better than most but not extraordinary in and of itself. It's the marinara sauce that's the eye-opener. Fresh, tangy and uncomplicated, it plays a big part in the restaurant's popularity. It elevates everything it touches.
At our table of seven, the home run starter, by unanimous agreement, was the blackened sea scallops salad. Served on a bed of mesculine with grape tomatoes, cucumbers, peppers and toasted almonds, the scallops were meaty, flavorful and done to perfection. Often, these types of salads are overdressed. Not so the ginger-soy dressing. Interestingly, no one at the table thought they would have ordered this item solely from its description. However, several said they would return to Rella's just for a second shot at the salad.
Pizzas at Rella's are available in traditional and personal size, with design-your-own toppings as well as tasty combinations like the two we ordered—prosciutto & baby Arugula and a basic Margherita. The crust is thin and the ingredients fresh, emerging from the aforementioned oven and rushed to the table still bubbling. Rella's also has a "pizza bar," which saw a lot of action on this night, when the Rangers and Flyers met to open the Stanley Cup Playoffs.
Hockey, for what it's worth, is kind of a big deal here. From late October through the May/June postseason, Rella's is a gathering place for NHL fans, who can position themselves in front of one of eight enormous flat-screens that we counted—including one in the main dining room. Our waiter, Nick, kept a close eye on our table but we also caught him keeping tabs on the action with his other eye. Later, he told me he was a hockey player as well as a fan.
The opening courses set the bar high for what followed—a parade of imaginatively conceived and prepared main courses served family-style. Rella's prides itself on the big dish concept. It works well for some entrée choices and not for others. Chicken and fish can be tricky to get just right when you're feeding an entire table. On this night, we agreed that individual orders would have been preferable for the herb-encrusted red snapper and chicken & sausage Scarpariello. That being said, both of these dishes packed plenty of flavor. The Scarpariello preparation is a classic country dish featuring copious amounts of herbs and garlic in a balsamic reduction, along with spicy sausage. Rella's offers a choice of boneless or bone-in. Bone-in is the way to go. The snapper fillets sat atop a mound of delicious spaghetti squash and were finished with a sun-dried tomato beurre blanc. We did not sample the other fish special, Blackened Tuna.
It bears mentioning that the fish entrées at Rella's are popular year-round. The Chiarella brothers have forged long relationships with local fishing fleets; when they hook a great swordfish or tuna specimen, Rella's often get a heads-up via cell phone as the boats hit the docks. That being said, they choose not to compete with the summer shore restaurants on the lobster front. Although lobster may appear occasionally among the specials—and is always available in sauce form as a pairing with angliotti pasta—this is not one of those ubiquitous plastic-bib joints on the other side of the Manasquan River.
For our remaining entrées, we picked two pastas and the pork osso buco. Also, we deviated from our all-Italian strategy with the addition of chicken Murphy, which was not on the menu (nor among the specials), but which we were told could be made to order. Expecting a hefty breast portion buried under an avalanche of onions and peppers, we were pleasantly surprised at the level of restraint on the part of the kitchen staff, and the finesse with which the dish was prepared. The osso buco, a generously proportioned pork shank that falls off the bone, was accompanied by a mushroom risotto. We happened to eat at Rella's on one of those chilly nights in April, so the heartiness of this dish was appreciated. On a humid summer evening, the carnivore in your party might look elsewhere on the menu—perhaps the New York Strip or even the breaded Veal Chop.
We selected two dishes that represented the extremes of the pasta spectrum at Rella's: the house specialty (more on this in a moment) and goat cheese ravioli. The ravioli, ordered off the evening's list of specials, was made in-house and combined roasted garlic and sun-dried tomatoes in a light, creamy arugula pesto sauce. Of all the entrées, the ravioli got the biggest thumbs-up. Even those among us who are not normally fans of goat cheese enjoyed an eyebrow-raising experience. As with the scallop salad, the description did not do this item justice. It was the evening's hidden gem.
When asked which pasta entrée would be most likely to turn a first-timer into a regular, Sal pointed us toward the Sunday Macaroni. A bed of sturdy rigatoni supports a sauce that includes meatballs, brasciole, Italian sausage and pork spare ribs. The gravy itself has won the local Boss of the Sauce competition so many times that, rumor has it, Rella's has been discouraged from entering it this year. The Sunday Macaroni may not appeal to diners who prefer a light touch, but to those who embrace the meat-eating experience, it is nothing short of an event. It hit our table family-style, so it is difficult to gauge what a single serving might look like. However, from a value perspective, it is hard to imagine anything at Rella's topping this house specialty.
Which is an important part of the story at Rella's. When Sal and Sam Chiarella decided to open their place in 2008, they agreed that they would offer a menu with lots of value. The day-to-day entrées are almost all between$15 and $25, while "higher-end" dishes only find their way onto the nightly specials if they can be offered within those price points. Starters range in price from $5 to $15, while desserts—though extravagantly plated—are also reasonably priced.
Ah, dessert. If possible, save room—just a little room. Italian restaurants can be pretty heavy-handed in this department, but not so Rella's. The table produced a collective groan when Nick the waiter reviewed the dessert selections, but we were assured that two of the richest-sounding items were actually light enough to pass around with multiple spoons. Nick was a man of his word. The Almond Cake had a feathery texture and a complex combination of flavors. The Chocolate Lava Cake was also surprisingly light without being overly volcanic. Rella's also offers Mama Rella's Cheesecake (a family recipe) and a popular Tartufo.
ON THE TAVERN SIDE
Rella's would not be the success it is (you can barely squeeze in on most Friday and Saturday nights) without a menu that brings in a diverse and devoted clientele. The space itself offers a number of different dining experiences. To the right of the hostess station is a pair of warm, subdued rooms featuring open hearths. To the left, it's a less formal atmosphere, with cocktail tables, booths, a u-shaped bar and the aforementioned pizza bar and scattering of flat-screen TVs. The entire menu—specials and all—is available throughout the restaurant.
An important word about wings, if that's your thing…normally, connoisseurs of bar food steer clear of chicken wings at Italian restaurants. At Rella's, the patrons swear by them. Besides Buffalo and BBQ wings, the kitchen also prepares them with garlic and parmesan, as well as Scarpariello style. Sliders (with a choice of meatball, sirloin or chicken parm) are also popular.
Rella's makes a wide range of paninis and wraps, as well as a signature Prime Rib French Dip. Pizzas of all sizes and varieties fly out of the wood-burning oven, as do calzones, with a selection of toppings above-average in both quantity and quality. The wine list has good options at all price levels and there are over a dozen beers on tap.
Editor's Note: Rella's Italian Tavern is located at 110 Union Avenue (aka Rte 71). In Brielle. The restaurant is open at 3:00 p.m. Monday through Friday, and at 11:30 on Saturday and Sunday. Rella's has two spaces that can be reserved for private parties or business gatherings. Call (732) 528–0034 or log onto rellastavern.com for more information. Special thanks to Gary and Joanie Brown, Terri and Tim Russell, Maria Dabroski and Sarah Wilson.