by Christine Gibbs
A look ahead. 
By Christine Gibbs
Over a lifetime, the average person will probably spend close to 20,000 hours in the bathroom. If you bother doing the math it comes out to almost an hour a day. When weighed against the time spent, say, in bed, it pales in comparison. However, what you do in the bathroom you couldn't (or hopefully wouldn't) do anywhere else. Which is why the bathroom gets a lot of attention but not always a lot of respect. In recent years—thanks largely to home buying and home improvement "reality" shows—Americans have started looking at their bathrooms with a more critical and creative eye…and wondering what the future might bring to that most intimate room in the house
First a little history. Humankind has made commendable progress when it comes to taking care of our business.
Though some would say we still regard the world as our toilet, the truth is that people have been thinking and rethinking the john for thousands of years. Historians have traced commodes to the Indus Valley civilization some 5,000 years ago, while some experts believe primitive toilets date back 7,000 years earlier than that. Leave it to the ever ingenious and pragmatic Romans to install the first pay toilets in Rome, in 74 AD. The first flush toilet was a royal one, installed for Queen Elizabeth I by Sir John (the original "john") Harrington, in 1596. And, yes, the modern toilet really was designed by Thomas Crapper (left), in the late 19th century
In the 21st century, the trend has been toward transforming the bathroom from a traditionally functional space into an opulent retreat that more closely resembles a high-end spa than a place for personal hygiene. Indeed, the bathroom label itself may be going the way of quaint terms like powder room, water closet and loo. Today's bathroom is morphing into a sort of sanctuary that could conceivably rival the kitchen as the most expensive room in the house. Above and beyond the soaring cost of fixtures and finishes, bathrooms today overflow with gym-quality treadmills, touch-screen televisions, surround sound equipment, and other high-tech digital paraphernalia.
The Cost of Fine Bathing
Whether designing a new bathroom or renovating an old standard, cost is always a bottom-line factor, and the typical bathroom project is never cheap. Why? Five-figure invoices often are a result of the fact that renovating or adding a bathroom involves plumbing, electrical and tile work that needs to be done by talented and experienced professionals. The guy who shows up on a Saturday afternoon to unclog your drain is not necessarily someone you want to trust with a more elaborate project. Furthermore, today's new bathroom will have more equipment, more appliances, and more leisure-time gadgets per square foot than any other room in the house. An ambitious "reno" or a new build can eat up as much as 10% of a home's estimated value, especially if you do not budget wisely
Is it worth the time, money and trouble? US News & World Report actually ran a story a year ago that estimated the return on investment for a gold-standard bathroom. First of all, that should tell you something about who can afford such a project. Second of all, the numbers are good but not great: sellers can expect, on average, to recoup about 70% of their investment upon resale. That's more than 2 percent higher than the average kitchen remodel. Of course, most experts agree that a high-end kitchen and master bedroom with master bath is almost guaranteed to sell a house faster and at a better price (in some markets, the ROI can be as much as 90 to 100 percent), so it's not an either/or decision. And updating one bathroom may not be enough.
"Homeowners are seeking a balance among all the bathrooms in the house," says Elisabeth Woomer, Showroom Manager at General Plumbing Supply in Green Brook, NJ. "Everyone looks to economize, whether it's a renovation or a new build—economizing more on the family bathroom down the hall, while splurging on the private en suite master bathroom
Costs are often dependent on geographical location and can range from as little as $12,000 to $15,000 in hard costs for a standard hall bathroom (not to include labor) to as much as $50, 000 to $80,000 for an all-out luxury master bath, she adds. "We find out what the client is passionate about and then lead them to the best options that satisfy their passions…without breaking their budgets."
Although New Jersey tends to be a more expensive state in terms of labor and materials, those numbers are right in line with national averages. The National Kitchen and Bath Association annually publishes its Bathroom Planning Guidelines, developed by a committee of experts who analyze statistics, lifestyles, trends and building codes to present recommendations that "promote the health, safety, and welfare of consumers." In a recent NKBA survey, 50 percent of responding members confirmed the cost for a bathroom ranged between $10,000 and $29,000, while 31 percent said their average price was higher than $30,000
To Remodel or Not to Remodel…
That is the question. Given the considerable cost of turning an old bathroom into a modern miracle, when should you finally decide to take the proverbial plunge? First, take a look in the mirror. Is it part of a creaky medicine cabinet over a pedestal sink? Now look down. Is that dingy linoleum or, worse, pastel tile that matches the toilet and sink? You may be able to kid yourself into thinking your bathroom is hip and retro, but you won't be kidding anyone else. It's old. 
The mistake some homeowners make at this point is to embrace a bathroom trend that's already on the way out. A little homework is required here and, needless to say, opinions differ from expert to expert. But a quick look at interior design magazines and web sites can give you a sense of what's in and what's out. The Coastal Cottage motif? Out. Clean and contemporary with a touch of traditional is in. Bowl-shaped sinks sitting in the vanity? Out. Under-mounted sinks in leggy cabinets are in. Granite tops?Out. Quartz is the current choice for baths (as well as kitchens). Clean, white tile? Boring. Out. Daring, moody designs are in. That being said, with the current emphasis on clean lines, geometric shapes, and minimalist color schemes, a few small touches can make a big statement:
Skip the "pop" of color and limit even accessories like bath towels to white or gray tones.

Spring for a freestanding tub that you can strategically place within the bathroom to take full advantage of Feng Shui principles.

If space is at a premium, consider placing the tub inside a walk-in, no-threshold shower.

Showcase quartz and wood elements (yes, there are waterproof wood tubs).

Connect with the great outdoors by bringing in potted plants from your garden and adding a skylight, budget permitting.

Create an atmosphere with your lighting—it's as important as the actual light fixtures you select.

Emphasize that geometric feel by hanging framed prints and personal photos.
Gadget Inspector
With the decision to re-do a bathroom comes a dizzying array of technology options. Brooklyn-based Watermark manufactures a Luxury Shower System ($7,000) complete with a full-color digital touchscreen tablet that lets you select from among nine different shower "scenarios" that program water temperature, pressure, volume, lighting and timing. Kohler makes a $299 shower head with an embedded wireless speaker that delivers music, news and sports. For$750 more, you can purchase Kohler's Underscore VibrAcoustic Bath, which turns your tub into a Bluetooth-enabled system in which music vibrates through the water when the tub is full and fills the entire bathroom with sound when empty. If you're into New Age chromotherapy, Tubz Hydrotherapy makes a product that turns bathwater into an array of colors that elevates ordinary bathing to holistic ritual. Light also plays a part in Graff's Ametis faucet (below), which features an LED display that ranges from blue to red, indicating the temperature of the flowing water ($3,528). Hansa's Canyon faucet ($1,490) works much the same way over the basin. The Airblade tap, from Dyson ($1,800), doubles as a hand dryer.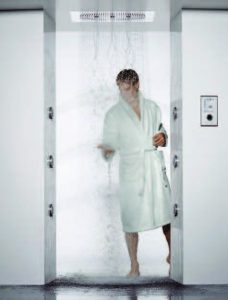 And it doesn't stop there. Showers are now programmable. The RainBrain by Hansgrohe ($4,750) (right) takes total shower jet control to a whole new level, creating the equivalent of a stand-up body massage. How about a laser razor? Skarp makes a slick, minimalistic shaver that emits a powerful light to cut off your facial bristles. Its recent launch on Indiegogo (a crowdfunder for startups), raised almost $500,000 and is targeted to be available this year at $289. FitBit devotees will enjoy the Aria scale, which can be synched to a smartphone to record not only poundage, but also body fat percentage, body mass index (BMI), heart rate, and even let you know about the day's weather forecast
And then there is the centerpiece that no one likes to talk about: the toilet. I'm not sure how this is calculated, but the average person supposedly spends about five years on (or in front of?) the throne over a lifetime. Not surprisingly, just about every major plumbing manufacturer is rethinking, redesigning, and reengineering it. The Kohler Numi (left) is a case in point. It does just about everything except attend to your most personal hygiene. Its seat senses your approach and raises and closes all by itself. It contains heating elements to warm delicate derrieres and doubles as a self-adjusting bidet with vented airflow. Upgrades include Power-Save mode for energy efficiency and emergency flush for power outages. And if that's not enough to justify the $6,338 price tag, then there is Numi's tastefully illuminated panels, its powerful yet pleasant deodorizer, its touch-screen remote, and its wireless speakers
I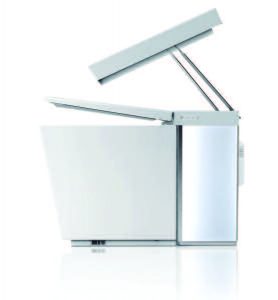 n addition to the various technological bells and whistles they offer, manufacturers are also looking at the safety component of bathroom design. One of Jay Leno's tried-and-true jokes is about how more people die each year in bathroom falls than in plane crashes (the punch line is, "Yeah, but when you fall off the toilet you're not falling 30,000 feet!"). Still, it's no laughing matter. According to the Centers for Disease Control and Prevention, nearly a quarter-million people over age 15 visit the ER annually as a result of a bathroom injury; 14 percent require hospitalization. Two-thirds of bathroom injuries are sustained in or near a bathtub or shower. The injury rate for women is 72 percent higher than for men. And, interestingly, you're more than four times likelier to get hurt getting out of a tub or shower than getting in. Even if you're not springing for the big bathroom reno, its worth doing a quick safety assessment. Look for poorly fitting shower curtains, slick tile floors, soapy tub or shower beds, antiquated or improperly installed glass shower doors, area rugs without non-slip backing, and space heaters. These are items worth an immediate upgrade.
Finally, there is the issue of ecological soundness. Most people undertaking a bathroom renovation opt for products and technologies that are environmentally friendly. There's even a word for it now: Greenovating. The focus is on saving water, using fewer paper products, and avoiding dangerous cleaning agents. There are actually a lot of ways to "green up" our bathrooms. From Moen, we have a shortlist of ideas that don't require much time or money:
Install Low-flow Toilets and Showers
Toilets use on average 27 percent of household water consumption; older toilets can use up to about 7 gallons of water per flush. Older model showerhead will use 5 to 8 gallons of water per minute, while a low-flow head can reduce that to 2.5 gallons or less without compromising water pressure.
A mind-boggling amount of water is wasted by leaving the faucet running when washing hands or brushing teeth. A faucet with a built-in motion sensor remembers to shut off running water when you don't.
An LED bulb consumes 80 percent less energy and lasts 25 percent longer. That can translate into a cost savings of $160 per bulb on your electricity bill over its lifetime.
Upgrade Bathroom Fans/Vents
Replace that old bathroom fan with one that is Energy Star-rated; it can provide up to 60 percent in energy savings.
Shop for Eco-friendly and Sustainable Products Look for the Certified Organic label on everything from bath towels to toilet paper. Any increased cost is more than offset by a lower environmental footprint.
Open or Closed?
Among the many decisions that must be made in advance of a major bathroom renovation, the one that catches many people by surprise is whether the new loo's design will lean toward privacy or open space. More and more, the line between the master bedroom and master bath is becoming blurred. Did you ever think someone would ask you whether or not you wanted a door on your bathroom? It's a personal choice, to be sure, and doorless bathrooms don't yet qualify as a widespread trend. But don't be surprised if you start seeing homebuyers on one of those reality shows saying, "We love the bathroom, but the door's gotta go."
Whether open or closed, large or small, his, hers or available to the entire family, one thing about the bathroom will never change: It is essential to daily living. 
In fact, all this talk of bathrooms has only made me yearn to retire to my own (rather retro) retreat. There I'll draw a tepid, non-jet-propelled bath and I will relish the downtime despite the fact that there will be no lights and no music. There is nothing masterful about my bathroom, its shortcomings now only too apparent. But one of these days…  
TRENDS FOR 2016 
According to a National Kitchen and Bath Association (NKBA) study, these are some of the top bathroom trends for 2016:
Earth tones rule the day, with off-white and beige not far behind.
Undermount and Trough Sinks
The undermount style continues to be the most popular selection by a wide margin, but the trough type is gaining ground.
Selected as a key trend by 67 percent of NKBA members in 2015 and predicted to increase this year.
Special lighting, convenient seating and hand-held showerheads top the list.
Selected by 80 percent of NKBA members as the most popular finish in 2015. Satin finishes in gunmetal and brass are growing in popularity.
Radiant floor heating, steam showers, smart toilets, and even coffee and wet bars were cited as trends by 25 percent of NKBA members.
Seniors are focusing on age-friendly safety and other conveniences, including comfort-height toilets and no-threshold showers, in addition to traditional grab bars, taller vanities and lever door handles for easy opening by arthritic hands.
A LITTLE BUDGET CONSCIOUS 
A year ago, the Huffington Post addressed the issue of how to put your money to best use when renovating a small bathroom. 
With $500… 
Apply a new coat of paint, preferably in a soothing, neutral earth tone.

Take down fluorescent or incandescent lights and put up energy-saving LED bulbs.

Buy some fresh, inexpensive accessories such as towels, plants, and prints.

Expand storage by installing shelving and hanging racks.

Rip up that germy old flooring and replace it with light and bright economical new tile.

Consider investing $20 in a Glow Bowl, the motion-activated mechanism that transforms any toilet into a dazzling nightlight.
With $5,000…
Reach out to professionals for help in upgrading plumbing and wiring.

Optimize space by relocating or buying new fixtures that make you feel like you've moved into the 21st century.

Invest in top-drawer

ceramic or stone tile, and pay someone who knows what they're doing to install it.

Leave enough to get your bathroom repainted.