by Steve Sears
Atlantic City's hottest hotels are sparing no expense when it comes to pampering their guests. The newest battleground for business is skincare—and the big winner may be you.

 There is certainly something to be said about the soothing effects of being near the ocean. The air is cleaner. Breathing comes easier. Blood pressure, elevated by a hectic workweek, eases downward. For some, rejuvenation comes with a winning hand of Texas Hold 'Em. For others, the j
ackpot is waiting at one of AC's world-class spas, where skincare regimens play a major role in relieving the outward signs of stress—and the hotels leave little to chance. "We're the newest spa in Atlantic City," says Jane Mackie of the Chelsea Hotel's Sea Spa. "The décor is retro—close to nature. There's an opportunity to do natural and healthy treatments here."
Sea Spa offers a variety of facial and body treatments— everything from nurturing and strengthening delicate skin to nourishing and calming rough skin by deep-cleansing to a silky-soft texture. Sea Spa's signature treatment is a full-body Mediterranean Veggie Wrap, which makes you feel good on the outside and actually nourishes you on the inside. Extracts found in a typical Mediterranean garden are blended to smooth, tone, and elasticize the skin. At the other end of the island, off White Horse Pike, is the 36,000-square foot Immersion (left), perched atop the awe-inspiring Water Club.
Brennan Evans is the Spa Director of this harmonious space where soothing water features and Asian-inspired elements and textures blend to provide an atmosphere of total tranquility. "Being close to the shore, it's all about beautiful skin," claims Evans. "We have skincare services that include the use of hyperbaric oxygen as an infusion method for transporting serums into the skin to help reduce fine lines and smooth pigmentation. This allows for immediate results with no down-time for recovery. Ayurvedic skincare treatments can be customized to your personal dosha through a simple questionnaire and mini-consult with our estheticians."
Immersion also features stimulating body exfoliating and moisturizing sessions that take advantage of modern technologies such as heated hamman/vichy tables and cocooning dry-fl oat, soft-pack tables. bluemercury (below), founded ten years ago by Marla Malcolm Beck, is located in the Quarter at the Tropicana. The spa draws many clients who make special trips from New York, Philadelphia, and D.C. looking for resultsoriented treatments and products. Products such as Kiehl's Shaving Cream, Bumble & Bumble Seaweed Shampoo, and Dermalogica Active Moist Moisturizer are best-sellers. "And given that we have the beach in Atlantic City," says Beck, "sunscreens are always popular." bluemercury recently added a new brightening facial to its menu. "An intense, vitamin C firming treatment," Beck explains, "this facial is amazing because you come out feeling like someone just tightened your skin. I also adore our luxury body treatments, which are almost two hours of pure pampering and massage. Our 'Coconut Escape' is our most popular." bluemercury also unveiled its first Ultimate Skincare Guide. "What we try to do," says Beck, "is make sense of the world of skincare products, which can be quite confusing. There are informative sections about what certain ingredients, like vitamin C and vitamin A, really do."
The guide is available to all visitors and also online at bluemercury.com. The 16,000-square-foot Qua Baths & Spa, located on the fourth floor of the Ocean Tower at Caesar's, impresses the moment you enter its doors. As Robert Seibel explains, "We attack your senses immediately. Our concept is to have you leave all your problems outside." Qua Baths & Spa features Organic Spa Therapies with a focus on eliminating toxins. The body itself does not produce most toxins, notes Seibel. Rather, they tend to come from poor habits such as an unhealthy diet, smoking, and excessive drinking—all of which destroy new cell growth. Ocean Sp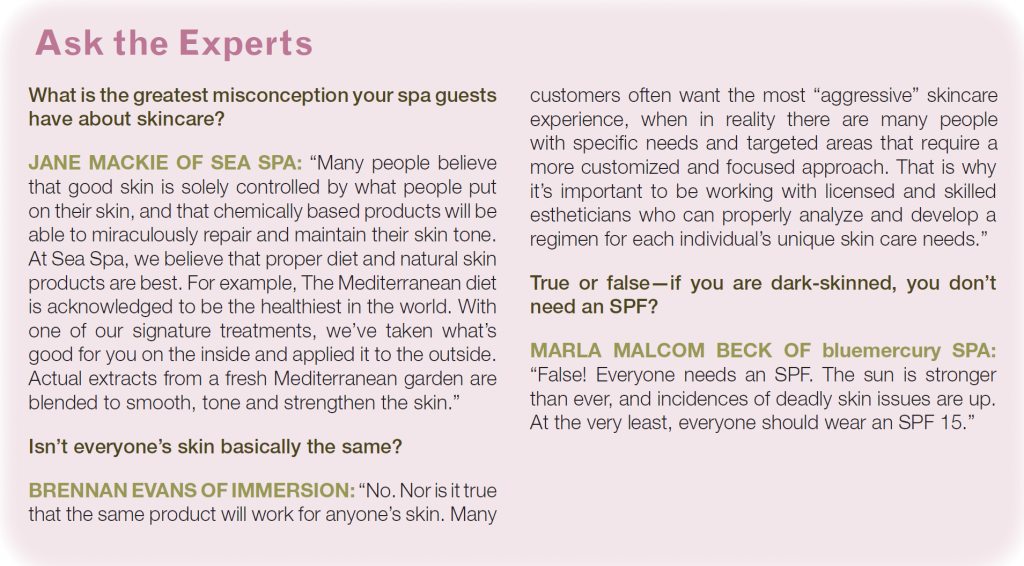 ray Organic Treatments, including the Body Renewal & Detoxification Therapy, Organic Firming Massage, and Organic Facial, utilize key ingredients in sea salts and seaweed, which rank among the purest form of therapeutic organic substances. Seibel also shares with clients his concerns regarding certain skincare products. "Many facial products may smell nice, but many people, whether they know it or not, may be allergic to them." He recommends the Spa's Organic Facial, noting that it works for those with sensitive skin and folks wanting "something different." Every day you leave the house, you're rolling the dice when it comes to the health of your skin. So how ironic is it that the one place you can't lose is the gambling capital of the East? Just another reason to adore New Jersey.
Editor's Note: For more information call Sea Spa (800) 548-3030; Immersion (800) 800-8817; bluemercury (609) 347-7778 and Qua Baths & Spa (609) 343-2400.