by Diane Alter
New Jersey in the wee small hours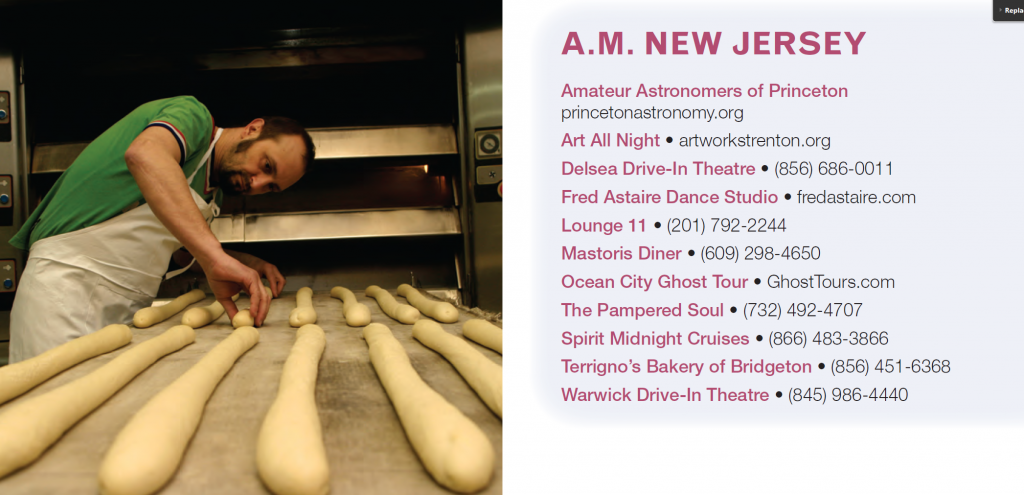 In the wee small hours, not all of New Jersey is in REM state I am an early bird. It has nothing to do with catching the proverbial worm; my day job in the financial sector simply required me to be up at the crack of dawn. No Late Night with Letterman. No Conan. No 1:00 a.m. road trips to the Wendy's Drive-Thru. Whatever the rest of New Jersey was up to after midnight was of little interest to me. Then came the financial vortex of 2008–09, which inhaled my position and proceeded to transform me into an insomniac. I became the earliest of birds, a night owl. I soon found myself downloading songs on the Internet and dancing like no one was watching. Because no one was watching. It was time to get out and see what the rest of New Jersey was up to in the wee small hours. My first stop? That was easy. It was time to really learn how to dance.
CHEEK TO CHEEK Dancing in the dark is not just a Springsteen thing. The Fred Astaire Dance Studio—with six locations across the state— welcomed me with open arms when I requested an after midnight session. By appointment, these professionally run studios, manned by champion dancers, bowed to my presence. The first words I heard after all the midnight pleasantries were exchanged were: "Shall we?" The rest was a little slice of history. As I was leaving the studio another nocturnal soul came lilting in, ready to dance the rest of the night (or,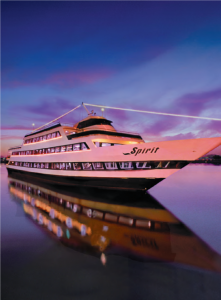 technically, the morning) away.
HOME INVASION Somewhere this evening in the Garden State, a group of ladies is enjoying a truly moving experience. They are spending the night in heaven courtesy of the Pampered Soul, whose magnificent, mobile spa rolls into your driveway to perform candlelight massages, facials, manicures, pedicures and other rejuvenating amenities.
'VETTE FLIX The good old days are still here if you've got a decent GPS. The Warwick Drive-In Theatre in Vernon and Delsea Drive- In Theatre in Vineland run movies past midnight and offer fully stocked concession stands. Hot buttered popcorn. A box of Junior Mints. Orange pop. Get the picture?
WINE FOR WATER I never really got over my long-ago infatuation with Love Boat. Perhaps that was what drew me to Lincoln Harbor, where Spirit Midnight Cruises shoves off at 12:30 a.m. and returns around 3:00. The journey begins with a dockside party and then it is smooth sailing on the Hudson in sophisticated style. Though true love eluded me on this particular voyage, the dancing, drinking, food and fun—not to mention the romantic views of the big city—beat the heck out of Circle Line.
NIGHTLY BREAD Whatever pundit wrote Man does not live by bread alone obviously hadn't heard about Terrigno's Bakery. The aroma of piping-hot loaves draws devotees down to Bridgeton right up to closing time, in the neighborhood of 12 o'clock. Think crusty on the outside, soft and doughy on the inside; seeded, whole grain, rye, sour dough, French, Italian. And for those who insist a balanced diet is a cookie in each hand, Terrigno's also turns out a spectacular array of sweets, pastries, cakes, pies, and tarts. Bring an extra pair of hands.
LOUNGE ACT Frank Sinatra's first group went by the name The Hoboken Four. Old Blue Eyes knew his way around the Mile Square City's backstreets, bars and juke joints in the 30s, but even he might be overwhelmed by the after-midnight choices in the town today. Among Hoboken's new and noteworthy hotspots is Lounge 11, at 505 Madison Street. An exclusive nightclub, bar and restaurant, it combines contemporary design with a hip New York atmosphere. The music selection is diverse, as is the crowd scene—especially on weekends.
SPIRIT OF DISCOVERY If you're searching for weird in New Jersey in the pre-dawn hours, as a rule you shouldn't have to look very far. If you'd prefer a more structured foray, then head to Ocean City, where eerie sounds and sightings highlight the candlelight strolls led by the Ghost Tours staff. No two tours are alike, says one guide, because "many strange and unusual things have been picked up on digital cameras. At times, even my own hair stands on its ends."
STAR POWER Leave it to New Jersey's own Ivy Leaguers to keep our eyes trained skyward all night. The Amateur Astronomers of Princeton have focused their know-how, curiosity and enthusiasm on princetonastronomy.org, an astronomy and cosmology web site that lets us know what to look for on those early a.m. strolls. A 24-hour phone line (609) 737-2575 suggests the best time to wish upon a falling star or view a cosmic display, and alerts callers to sudden developments in the night sky. A recent call described an unusual lunar citing visible at 3:00 a.m. Live updates are also available to Tweeters at princetonastro.
COUNTER CULTURE You knew this was coming, right? New Jersey is world renowned for its diners, and rightfully so. Entire books and web sites have been devoted to the subject. Golly, a whole page in this issue of EDGE has been devoted to diner culture! Rather than debate the relative merits of the Garden State's classic eateries, I've chosen one to represent them all. The Mastoris Diner in Bordentown has been satisfying appetites and clogging arteries for more than four generations. An endless menu only hints at the jaw-dropping portions that cascade out of the Mastoris kitchen—which often serves 2,500 customers a day. Technically this is not an all-night diner; the Mastoris staff catches its breath for a couple of hours after 1:00 a.m. every morning. But that has not kept it from becoming one of Jersey's most cherished late-night traditions.