by Robert Kellner
Transforming an imperfect space into something usable and new is easier than you think. Just pray you pick the right architect. 
The scenario is a painfully familiar one. House-hunters pass on what they think is a train wreck, only to discover a year or two later that someone else scooped it up for a song and transformed it into a showplace. Old homes are full of exciting potential, but can also be petrifying. Whether you are renovating before you move in, or tackling them on a project-by-project basis after you've taken up residence, it's hard not to think about Tom Hanks's excruciating slide into The Money Pit. Right actor. Wrong film.
In Sleepless in Seattle, Hanks actually provided the correct blueprint for a major home renovation. His architect, Sam, had the ideal relationship with the homeowner. That job was going to turn out beautifully. I should know. As an architect who specializes in repurposing historic spaces, I've lived both movies. In Sleepless, architect and client had an ongoing dialogue, which also included the contractor (played by Rob Reiner). Issues were openly discussed and strong decisions were made. This is the type of situation that inspires a positive relationship, with the kind of mutual respect that delivers the confidence needed to move forward and make the transformation happen. Which is a roundabout way of saying that, before you trust your instincts and make a potentially life-altering financial decision about a great old space, you need to talk to an architect. We are in touch with the pulse of trends and issues that affect every aspect of a renovation. When brought on board early, we can help clarify the challenges, discuss different options, or even assist in the actual selection of a property.
When weighing a decision, particularly with higher values at stake—such as the purchase of a home to be remodeled versus remodeling your own residence—including an experienced architect in the conversation not only gives the process an exciting kick-start, it will probably pay for itself many times over. So, how does one start? Select a few architects to interview. Ask to see examples of their work and possibly go visit one or two. Have a prepared list of questions that represent your main concerns. Try to engage them in the kind of dialogue that is important to you. After all, you may be entrusting them with the very space where your children will grow up, or that you may retire in. The closer the relationship and bond you develop, the more in-tune your architect will be to your values and beliefs. These all eventually translate into the solution, the look and—most importantly—the feel of the renovation.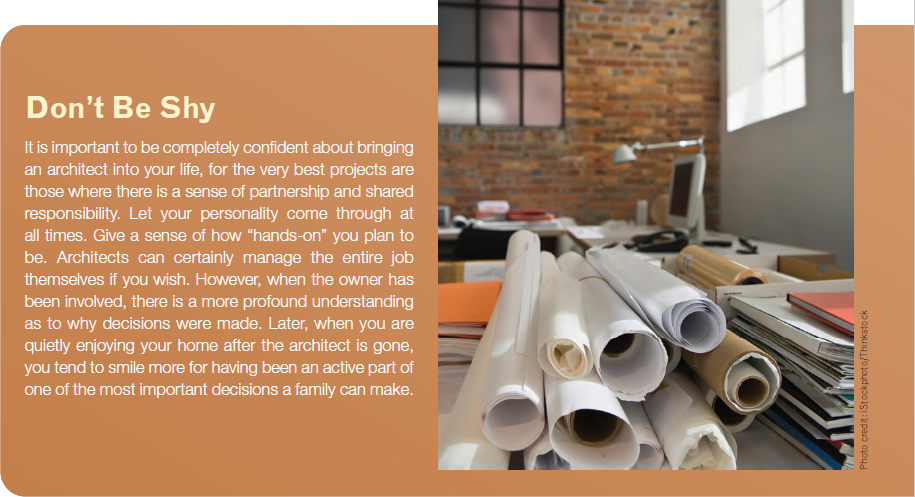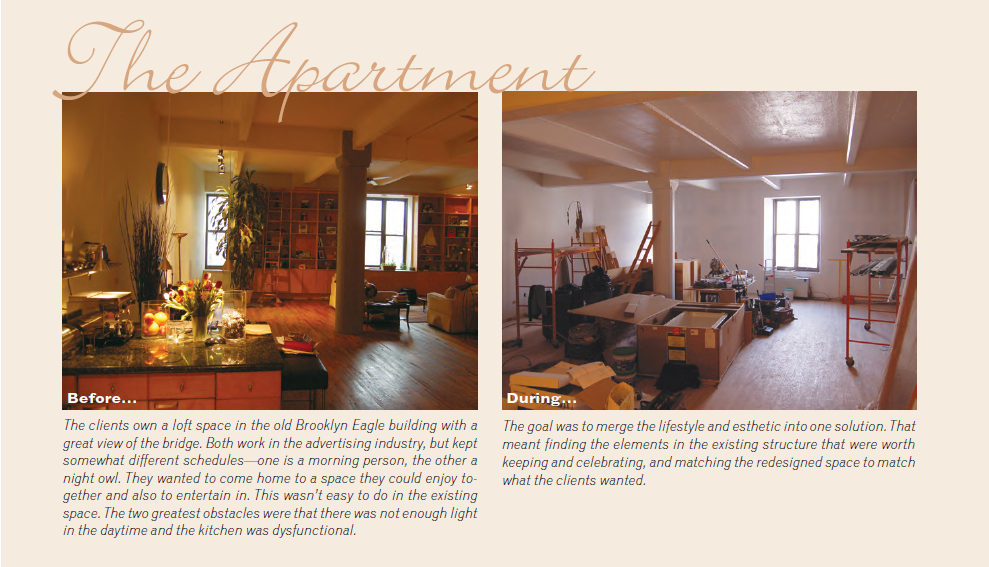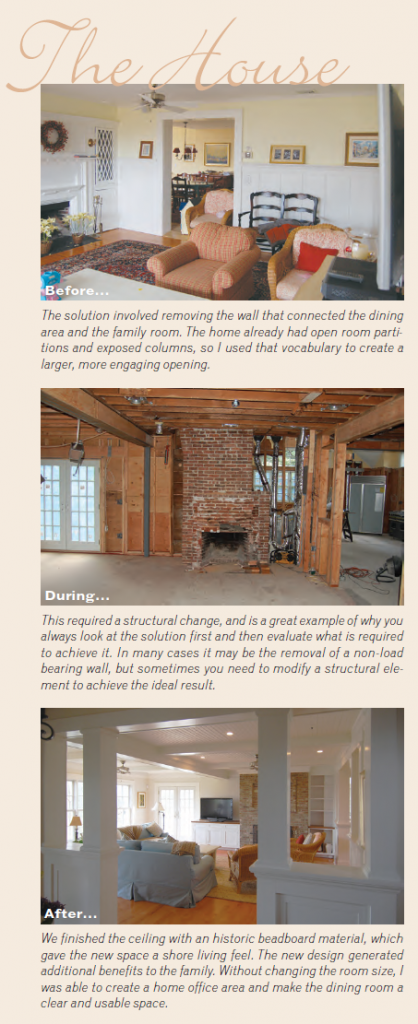 Open A Window One good piece of advice I can offer is once you've made your choice, gather all the information you've been thinking about to share with your architect. I encourage my clients to begin collecting images, articles, books and even physical materials they find appealing. Even if these items involve structures and spaces that are seemingly unrelated, they are extremely helpful. They are the window into your thoughts. The architect's job is to interpret them. Using these as a starting point, we can develop a vocabulary that relates to, and works with, the existing property—but which might also reference your collection for inspiration to an entirely new and different direction. An early mentor of mine taught me how to engage and enjoy the process, as well as the reward of the product itself. We too often miss this by focusing solely on the budget, schedule and layers of tasks to accomplish. Taking the time to work closely with your architect helps to bring the importance of the function, aesthetic and space itself into view. Have faith in the process. Embrace it with confidence and trust rather than fear. You never know. Your success story could become the plot for the next Tom Hanks movie.
Editor's Note: Bob Kellner specializes in adaptive reuse and sustainable design. As an architect, his portfolio runs the gamut from large-scale work (including the master plan for Bank of America's Corporate Headquarters and for Ft. Hancock on Sandy Hook) to major renovations in iconic properties (among them the Waldorf-Astoria and Plaza hotels) to the diversity of more modest commercial interiors. Bob enjoys residential work as a balance to larger-scale projects for the opportunities they present to focus on details, materials and concepts that are more personal. He is the recipient of numerous design awards.