by Erik Slagle
Doctors are catching abdominal aortic aneurysms before they can kill.
By Erik Slagle
Adrian Velasquez was fortunate. During a routine physical in early 2015, doctors discovered a silent killer developing in his abdomen—an aneurysm had formed in the aorta, the largest artery in the body, which runs from the heart and supplies blood to every organ in the body. It was an abdominal aortic aneurysm (AAA), a condition that often goes unnoticed until it ruptures. When that happens, 85 percent of patients do not survive.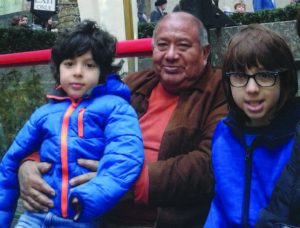 Adrian was doubly fortunate in that his doctors had caught his condition early, and that he would soon come under the care of the Vascular Surgical Team at Trinitas Regional Medical Center. A 78-year-old resident of Roselle Park, Adrian was referred to the team of vascular and endovascular surgeons on faculty at Rutgers-New Jersey Medical School (NJMS).  
Dr. Michael Curi, chief of Vascular Surgery at NJMS and Trinitas, explained he would operate to repair the aneurysm—not through invasive open surgery, but through a minimally invasive endovascular procedure known as a Stent Graft. Dr. Curi enlisted his partner, Dr. Timothy Wu, an expert in percutaneous techniques, so they could perform the entire procedure using just two needle punctures without creating an incision.
"We recruited Dr. Wu to the faculty at Rutgers because of his vast experience with minimally invasive techniques such as these for treating all forms of vascular disease," Dr. Curi explains, "and so we could also make these advanced techniques available at Trinitas. These techniques are game-changers for patients who would otherwise not do well with the more invasive, traditional therapies for treating AAA."
"I was very thankful for Dr. Wu's recommendation and approach," Adrian says. "Given my age and weight (210 pounds), this was the most appropriate option for me.  The fact that it was non-invasive was a great relief to me and my family."
Surgery to correct these types of aneurysms before they rupture has traditionally been aggressive and invasive, requiring major incisions and an extended hospital stay. Recovery is typically lengthy and uncomfortable. But the endovascular technique has changed that.
"Elective repair, as was performed on Mr. Velasquez, can be greatly beneficial to patients who have this condition,"
Dr. Wu says. "Once an abdominal aortic aneurysm ruptures, the loss of blood is extremely damaging. When one is discovered early, the majority of cases can be treated with stents in a fashion similar to Mr. Velasquez's. This is preferable, as the open approach to these aneurysms introduces a high level of trauma to a patient's body. The percutaneous method significantly cuts down on that trauma and greatly eases recovery."
Adrian's age, Dr. Wu adds, made him an excellent candidate for the minimally invasive method. Correcting an AAA through endovascular surgery saves up to two hours of anesthesia time for a patient, and hospital stays can be cut from 5 to 7 days down to just 1 or 2. Adrian spent less than two days in the hospital following his December 10th procedure, giving him plenty of time to spend the holidays with his grandchildren.
"I was able to come home to my family much more quickly thanks to Dr. Wu's method," he says. "I had very little discomfort…no pain that was out of the ordinary at all."
As screenings for abdominal aortic aneurysms become more routine, doctors are confident more of these issues can be caught, monitored, and repaired before they become a serious threat to a patient's life. The SAAAVE (Screening Abdominal Aortic Aneurysms Very Efficiently) Act of early 2006 encourages screenings, providing as part of Medicare coverage a one-time ultrasound exam for individuals considered to be at risk (males between 65 and 75 who have ever been a smoker) or anyone with a family history of AAA.
"We do believe that the SAAAVE Act has contributed significantly to the number of AAAs that have been found, and operated on, before they can rupture," Dr. Wu says. "These types of aneurysms are known as 'silent killers' in the medical field, because patients often don't know they have one until they're in severe pain, or until it bursts. I encourage anyone with certain risk factors, especially those with family members who have had an AAA, to talk to their doctor about screening options."
Adrian Velasquez agrees. 
"I'm happy to talk about what happened to me, because I want other people to know about the risk for abdominal aortic aneurysms," he says. "People should be aware of the importance of getting checked, and that this non-invasive procedure could be available to them."
Adrian recalls that when surgery for the AAA needed to be scheduled, he was given the option of having it performed at a hospital in Newark, or at Trinitas in Elizabeth. He picked Trinitas because of its proximity to his Roselle Park home. He says it was a good choice.
"I came away with a very good opinion of Trinitas," he says. "Everyone there—the doctors, the nurses, the whole staff—were professional and kind to me. If someone needs to have a procedure, and Trinitas Regional Medical Center is an option, I definitely recommend it."