"Sea scallops from Barnegat Bay showed the kitchen at its height…it was another plate that neglected neither style nor substance."
By Andy Clurfeld
A TOUTE HEURE 
232 Centennial Avenue, Cranford 
Phone: (908) 276.6600
Reservations and major credit cards accepted. Lunch: Tuesday through Friday from noon to 2 p.m. Dinner: Tuesday through Thursday from 5 to 9 p.m., Friday and Saturday from 5 to 10 p.m. Sunday brunch is served the last Sunday of the month from 10:30 a.m. to 1:30 p.m. There is a special "Second Saturday" dinner served from noon to 10 p.m. Prices: Bites and appetizers range from $3 for an oyster to $19. Entrees range from  $35 to $45. Mussels pots are $16 for a half pot and $30 for a full pot with frites. Desserts are $10. BYOB.
They had me at the duck rillettes.
First, that this oh-so-French specialty was on tap. Next, that they were textbook: Duck meat, slow-cooked in duck fat till silky-tender, then shredded, salted, potted and topped with more fat, is preserved and released from captivity when the flavor of the duck has been oomphed to the nth degree, then presented with proper toasts to diners who miss the dish's native Dordogne like Harry Connick Jr. misses New Orleans.
OK, I think to myself; you can go home again, even if the home fires aren't being lit by the same ol' folks.
A Toute Heure in Cranford, one of my favorite restaurants in all of the Garden State, may have a new chef and new owners, but the charms and sincerity of the plates coming out of its kitchen match that of founders Andrea and Jim Carbine, who sold the restaurant last spring.
Today's proprietors, Nathally and Mario Florio, and their on-point chef Alexandre Gomes, also source locally and fanatically, but they bring a bit more of a cosmopolitan approach to the menu. Sure, there are the humble peasant-fare-gone-haute rillettes, but there's also an asparagus duo that sings with a citified French accent:
Both white and green asparagus are employed, along with peppery greens, a coddled egg oozing golden yolk and dabs of bearnaise tickled with tarragon. Gomes then takes the pitch-perfect dish a step higher by sprinkling the pretty plate with bacon dust. Holy smoke! It's a unifier.
Speaking of pretty plates, I hope the special salmon tartare makes regular appearances in A Toute Heure's new lineup: The rosy-orange sushi-caliber fish, chopped and mounded amid peas and near-translucent slices of radish before being topped with microgreens, sits atop a thick wash of pea puree given a couple arcs of fruity olive oil for good measure. It was the dish that made it clear to me why the Florios hired Gomes as their chef. Finesse, top-notch technical skills and an acute awareness of how to bring nuance to a dish aren't exactly qualities priced at a dime a dozen.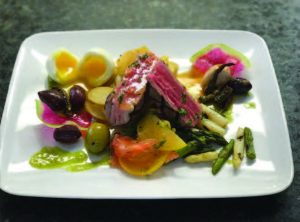 Those same skills are evident in the soft-shell crab, expertly seared so the shells are crisp-tender, while the meat remains sweet-juicy. It gets a lift from two plate partners that offer a counterpoint to the flavor and texture of the dish: an aioli that resonates with musky, gently bitter saffron to offset the sweetness of the crab, and shavings of cucumber that do the crunch-squirt do-si-do just like the shellfish.
The only dish we tried that fell short was the roasted chicken, billed to have been marinated in piri-piri. Piri-piri is a hyper-hot chile native to Africa that's used in a Portuguese chicken dish that folks make pilgrimages to experience. It's incendiary in that irresistible way, with waves of heat ebbing and flowing in the presence of, usually, garlic and vinegar or lemon. The chicken here, to be sure, was lovely, but the bird and the broccolini and the roasted potatoes sure would've been special with real-deal piri-piri heat.
Sea scallops from Barnegat Bay showed the kitchen at its height: Again, a textbook sear; again, perfect produce partners in baby carrots and discs of purple potatoes, as well as earthy shiitakes and delicate oyster mushrooms; again, a garnish that proves it's more than a toss-off in fava leaves. It was another plate that neglected neither style nor substance.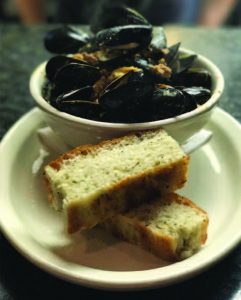 But what about mussels? A Toute Heure, the original, was known for its mussels pots, an ever-changing, ever-evolving repertoire of them. We indulged with the new "beurre fondue" mussels pot, a rich concoction bolstered by butter (lots), cream (lots) and leeks. This version's statement-making, breakout ingredient is the addition of potent, but not overwhelming, garlic confit. (Fortunately, the billed "truffle" had little impact.)
Salad for dessert? You bet. Grab it when it's peach season and Gomes is grilling his peaches before tossing them with raspberries and blueberries, then topping them with the creamy Shy Brothers' "cloumage" from coastal Massachusetts. A drizzle of honey, and you have just my kind of dessert. I have to admit, though, that I also was smitten with the ricotta cake, infused as it was with olive oil, plied with citrus and hazelnut, then plated with macerated cherries.
For a decade, Andrea and Jim Carbine served New Jersey in exemplary style, creating a restaurant in A Toute Heure that paved the farm-to-table way for small, personal, bistro-style restaurants determined to educate, enlighten and, ultimately, elevate our expectations of what could be done in a casual, comfortable setting. Like good parents, they gave all they could – and then they let the next generation do their own thing.
Their chosen successors, chef Gomes and the Florios, aren't just worthy; they are world class. 
LET EVERYONE DRINK ROSÉ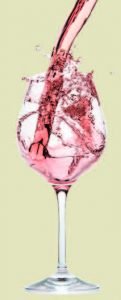 Never have I met a restaurant menu that begs for a French rose more than A Toute Heure's. It's possible that the menu served forth by the new regime begs for such a rosé even more forcefully. So much of what we ate, and so much of what we passed up on this first round at the new ATH, seemed made for rosé.
So now a bit of torture: My dine team for this dinner drank the most special wine I've ever brought on an eating mission—the 2015 Chateau Simone Rosé. Don't expect to find it at any old wine shop or liquor store. It's imported by Neal Rosenthal (Mad Rose), and not exactly in big-box-store quantities. Chateau Simone is in the Palette appellation, which is a teensy speck of a wine district within the mere spot of a wine region known as Bandol, which is known as the premier place in all of Provence (and the Cotes de Provence appellation) for rosé.
Quite simply, it's the bee's knees of rosé, many, many, many layered, nuanced, rich yet lyrical. It's delicious, and its partnership with everything from the duck rillettes to the salmon tartare to the soft-shell crab to the asparagus—yes!—to the scallops and the mussels was exactly what the wine-food pairing thing is about.