by Mark Stewart
  At the Union County Kennel Club Show, there's competition at both ends of the leash.
The problem with a bright idea is that sometimes it becomes a do-it-yourself project. During a fit of `insomnia last January I found myself watching a silly late-night cable show called Animal Champions. It got me thinking about what makes an "official" champion in the animal world. A few days later I assigned a writer to attend the 101st Union County Kennel Club Show—held near the southern tip of New Jersey, at the Wildwood Convention Center—and try to capture the spirit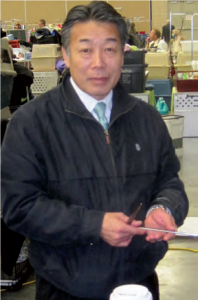 of competition in a fun and lively story. Alas, the original writer, having been stuck in one too many snowdrifts during the winter that wouldn't quit, bowed out after hearing rumors that the top two-thirds of the Garden State Parkway might be a sheet of ice on the morning in question. With one child in college and another getting close, a gruesome highway death didn't seem to have the same downside for me, so I agreed to go in her place. In the spirit of full disclosure, I should point out here that I am not a dog person. And they seem to know it. Even "my own" dog—the one my wife and daughters outvoted me on 3-to- 1—is careful not to irritate me. I'll spare you my troubled history with canine-Americans. Not that it isn't interesting. It's just that I can't stand it when other people yammer on about their childhood this and childhood that. Upon arriving at the convention center, I was greeted with open arms by show officials, who cheerfully tolerated me as I got my facts straight and asked a lot of stupid questions over a quick lunch. Then it was out onto the floor. My goal? Quietly observe, form an opinion, and then dig-dig-dig until I understood what it means to compete at a real dog show. What surprised me after watching several breeds go through judging was that the dogs were not eyeing one another or trying to intimidate each other, at least not that I could tell. They were completely absorbed by their work. And make no mistake, they treated it like work. It's a job they love, of course—a champion show dog has to enjoy the experience. However, there was no interplay between the animals even when they were standing inches apart in the ring. It was a little weird, but I got it. These were the "pros" of canine competition. Whatever makes my dog run in crazed circles around vehicles exiting—but not entering— our driveway had been bred out of these animals. Still, this was a competition, with money and prestige at stake. Someone in the building was driven to win. I just had to find out whom. I decided to cruise the aisles between the different handlers. Each had a space staked out, with dogs in crates, dogs on grooming stands, and dogs on their way to and from the judging rings. An unattended Cocker Spaniel eyed me with suspicion and I returned its glance with a raised eyebrow. I hadn't lost my touch. The animal leaped off the table and ran down the aisle in front of me, causing a brief panic. I felt bad, like I'd broken something in an antique shop. Since the dogs clearly were not going to help me, I turned my attention to the people preparing them for competition. I'm better with people anyway. Among the many top handlers and trainers present at this event was one who towered over the rest, at least figuratively. His name is Kaz Hosaka, and he is to the poodle world what Michael Jordan is to basketball. Smooth, clever, elegant and nearly unbeatable. (And he's been on Charlie Rose, so take that other poodle handlers!) Based out of Greenwood, Delaware, Hosaka attends as many as 150 shows a year and has been honing poodles like samurai swords for three decades. You do the math. The important number is #1, and he has racked up a bunch of 'em during his career, including the #1 toy poodle in 2010. Hosaka is a "finisher" of dogs. In other words, if you think you've lucked into a great poodle, Kaz is the man who knows how to transform it into a champion. He won't take a dog unless he truly believes it can be a winner. Often he must break the bad news: This is a wonderful pet, but not a show dog. That being said, Hosaka will consider animals that other handlers have turned down because they may be too difficult. "I am the last stop," he smiles. "If I can't do it, nobody can." Like many in his profession, Hosaka (left) is a handler of owners, too. Most ship their dogs off like boarding-school kids, dropping in occasionally to monitor their progress at important shows. The bulk of handler-owner contact is accomplished over the phone. When one does appear at an event, Hosaka's rule number-one is don't come near his set-up and throw your poodle off its game. Helicopter parenting may be tolerated in the human world, but during shows it is definitely frowned upon. One owner who left her dog alone was Charlize Sutton, and the strategy paid off. Her confident little Norwich Terrier went out and blew the fleas off the competition, grabbing Best in Breed. Charlize had more pressing matters to attend to, barely acknowledging the victory. She had her nose buried in an iPad, watching Dora the Explorer. Charlize is two—by far the youngest owner I could locate, though probably not, a neighboring groomer whispered to me, the least mature. Charlize (right) was stationed in a portable playpen in the midst of a dizzying ballet involving three humans, 17 dogs and a seemingly endless array of clippers, snippers, brushes and blowers, each of which was wielded with maximum expertise and minimum effort. Her parents, Jessy and Roxanne, along with assistant Tom Durst, have a first-class operation back in Narvon, Pennsylvania, and they get paid well for the work they do. The Suttons were on a winning streak when I barged into their little corner of doggie heaven. Miles, a regal, self-possessed Rhodesian Ridgeback, was returning from the judging ring with, yawn, another Best in Breed nod. Miles looked like he could stare down a lion (which, apparently, he was bred for), and so did Jessy. He handles the working breeds at shows, while Roxanne works her magic with terriers. "We are sticklers for conditioning," Jessy responded when I asked what gave his dogs an edge. "When an owner hires us, it may not seem cost-effective right away, but the constant work we do pays off in the long run, because we finish dogs quickly." Is the flip side of this equation, I wondered, that owners apply a huge amount of pressure? The Suttons confirmed this after getting off the phone with Miles's owner, reporting the Rhodie's win within seconds of the judge's decision. "The owners who hire us believe they should win every time," says Jessy, adding quickly that "it's okay, because that's the attitude we have. We want to win every time, too. Of course, not even the number-one dog in the country wins breed in every show—if they did no one would show. It would be boring." After talking to a half-dozen handlers I began to wonder how often owners actually show their own dogs. The people I asked offered wildly varying percentages, but I could tell the number isn't high. Basically, owners who can afford show dogs tend to work for a living and therefore rarely have the time to show them. Those that do are more likely to participate in a weekend show as opposed to mid-week ones like this one.

It is accepted wisdom, however, that owners don't "shine" the way top handlers do, meaning they are not as adept at pushing a dog's best attributes to influence judges. What is the price tag for a top handler? Hang on to your teeth. To take a dog from obscurity to the Westminster Kennel Club Show can easily cost $250,000. One breeder described the animals that reach Westminster as "Yale pHd's." My first thought was that a quarter-million is a bargain for any kind of advanced degree from Yale, even for a dog. (And believe me, I know a few.) Then I wondered how much of that goes to the handler? The answer is a lot, but also not as much as you'd think. A huge chunk covers the endless travel and other costs that mount up at this level of the game. That being said, dog handlers with a winning track record do generate handsome six-figure incomes, especially when they work with several championship dogs at once. This was something of a revelation to me. I was frankly astounded. Although, when you sit down with a pad and paper (as I did) and actually work out the huge amounts of time and travel involved, it makes a lot of sense. They may make a nice living, but they definitely earn it. Suddenly it dawned on me where the true competition was at these shows. For my first four hours I had been looking at the wrong end of the leash. Follow the money, right? Every win is a notch in a handler's belt, and every notch has a dollar value attached to it. More wins demand higher finishing and showing fees, and at the big shows there is serious bonus money, too. Come away from a few shows empty-handed and the phone might stop ringing. Simply put, the real competitors at these shows are not the dogs. They are the handlers. The competition is 24 hours a day, seven days a week. It's deadly serious, yet only in the rarest circumstances could it be considered cutthroat. You get that after you've talked to a few handlers. They are focused and tense and totally on their games. But they honestly adore what they do and adhere to a strict code of conduct and ethics. Apparently, there are enough owners, enough shows and enough money to keep everyone happy. Including my friends, the dogs. EDGE