by Erik Slagle
When New Jersey desperately needed more nurses,  Trinitas grads answered the call…in record numbers.
By Erik Slagle 
Unprecedented. Among the myriad adjectives we'll be using to capture the magnitude of 2020 in the years to come, unprecedented might not be as vivid as devastating or frightening or horrifying, but it captures the positive along with the negative—and that makes it a word we should embrace. For instance, the dedication and courage of healthcare professionals in the face of a tsunami of unknowns brought about by COVID-19 was truly unprecedented, although hardly surprising. At Trinitas and other hospitals around the state, workers put their lives on the line every day because, well, that's what they do, isn't it?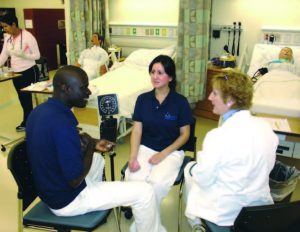 Also unprecedented in 2020 was the surge in interest among young New Jerseyans in entering the healthcare field—specifically nursing—at a time when there was no small amount of risk accompanying that decision.  
The 2020 graduating class of the Trinitas School of Nursing was the largest ever, with nearly 190 graduates immediately entering the workforce when their communities needed them most—a new generation of frontline heroes joined the fight against the pandemic.  
"COVID-19 actually affirmed, for me, that I made the right decision in starting a nursing career," says Patience Opaola, who graduated from the School of Nursing in January and now works at Trinitas as a registered nurse (RN). After graduating from Linden High School in 2016, she started her RN education at 18, unsure of where she should go next in life. Opaola admits it wasn't an easy adjustment moving later from the classroom to the front lines, but says she was met with a great deal of support. 
"I wanted to quit so many times," she says of her early days on the Medical-Surgical floor. "But I'm glad I saw it through. You learn how to ask for help…everyone's ready to lend a hand." 
"These nurses and students are amazing individuals who want to work with patients that are very, very sick," says Dr. Roseminda Santee, Dean of the Trinitas School of Nursing. "Our students want to serve their communities and take on the challenge of the COVID-19 battle." 
Between January and May, a record 188 graduates earned their credentials at Trinitas, and Dr. Santee says that, during the worst months of the pandemic, the school continued to see extraordinarily high numbers of applicants. Most were new to the healthcare field, while some were Certified Nurse Aides or Licensed Practical Nurses, completing their education to become RNs. The cohort overall was a diverse mix of ethnic and cultural backgrounds, and included a number of male candidates, as well—more so than usual, according to Dr. Santee. 
The coronavirus outbreak, of course, forced the physical closure of schools at all levels, and the School of Nursing had to quickly pivot toward online instruction. Faculty and students alike stepped up and made the transition a smooth one. Looking ahead toward 2021, challenges are likely to continue until an effective vaccine is made widely available, as social-distancing measures limit the number of seats permitted in each class. However, says Dr. Santee, the school is up to the task.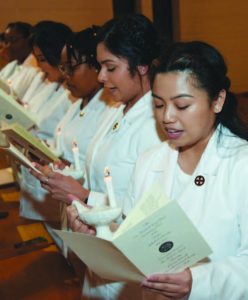 "I wish I could take every single one of our applicants," she says, noting that some will have to be waitlisted. "It's a balancing act, meeting the New Jersey Board of Nursing demand for more licensed nurses while adhering to state-mandated health protocols in our classrooms. We also have to bear in mind the guidelines required by the New Jersey Office of the Secretary of Higher Education." 
The school's ability to master that balancing act helped garner its fourth designation as a Center of Excellence in Nursing Education by the National League for Nursing—one of only 17 institutions across the country to receive the recognition for another four years. The relationship between Trinitas and Union County College is a key to the School of Nursing's ongoing success. 
"Trinitas has been such an open and helpful partner," she adds. "It's a collaborative effort between the hospital and college to ensure we're meeting the standards of nursing education and graduating enough nurses to meet the hiring needs of our healthcare facilities." 
To help meet demand, the New Jersey Board of Nursing has approved "temp" new graduate nurse hiring, meaning candidates receive temporary work permits while waiting to take the licensing examination. These exams were also impacted by COVID-19 because of the social-distancing requirement for examinees. 
For more than a decade, the Trinitas School of Nursing has enjoyed a reputation for rigorous curricula, an outstanding teaching staff, and an admissions policy ensuring that only the best students—representative  of the community served by the school—are admitted as future healthcare professionals. Based on recent applicants, enrollees and graduates, the school will maintain its status as one of New Jersey's top destinations for students looking to lead the fight for our nation's health for years to come. 
"Getting into the hospital after finishing school may be a bit of a shock," says Opaola, reflecting on her advice to others thinking of following her path. "You might feel small in the beginning, but you'll have a lot of support. And that support starts with your faculty and classmates at the School of Nursing." 
DID YOU KNOW? 
The World Health Organization  Designated 2020 as the International Year of the Nurse and Midwife in honor of the 200th "birthday" of Florence Nightingale.