When Jane Kelly is angry with people, she kills them.
That is just one of the many perks of being a mystery writer. "There was a person in my life who I disliked very much," Jane Kelly says of her first book, authored in the mid-1990s. "So I killed him in a story. I found it to be a much safer, more legal way to vent my frustrations, and most importantly, I discovered that I really enjoyed writing."
The author of the popular New Jersey Shore-based fiction series featuring sleuth and heroine Meg Daniels, Kelly will release the fourth installment of a series that includes Killing Time in Ocean City, Cape Mayhem, and Wrong Beach Island later this fall. That first book, for the record, never found a publisher. Nevertheless, Kelly (then in her 40s) didn't give up. After a conversation with Tom Hogan, Sr., president of Medford-based Plexus Publishing, she was encouraged to try writing about something she knew a lot about. That's when the focus of her next mystery became the Jersey Shore; Kelly had been vacationing at the beach from the age of five months, and has returned every year since.
"I was most familiar with Ocean City, so that's where I started…and Killing Time in Ocean City was actually published," she recalls. "But since bodies don't wash up at the Jersey Shore every day, I thought it would be best to come up with mysteries for Meg to solve in other towns I knew and loved, like Cape May and Long Beach Island…and now Atlantic City."
Kelly's most recent novel isn't entirely focused on casinos or gambling. She's more inclined to sink $20 in video poker and go home than she is to drop hundreds of dollars at the tables. Instead, she infuses her work with other sources of personal inspiration. "I'm not a big gambler, but there is a part of me that always wanted to be a singer—even though I have no talent whatsoever," she smiles. "So that's why I made one of the main characters a frustrated lounge singer."
In Missing You in Atlantic City, Meg is vacationing in Atlantic City while her boyfriend (recurring character Andy Beck) is busy working at his job in hotel casino security. She finds herself spending a lot less time with her toes in the sand than she had hoped when she decides to dig into a disappearance that occurred in the 1960s. The 50-year-old mystery revolves around a chance encounter with Johnny Boyle, a lounge singer and Frank Sinatra impersonator known as Johnny Angelini, and his long-lost mother, Betty Boyle, who went missing when he was an infant.
Like Kelly, Meg has always written from the perspective of a tourist at the Jersey Shore. As she listens to Johnny's tragic tale, she vows to help him find out what happened to his mother once and for all. "My first thought was that, as someone who comes to visit the beach, you never expect anything bad to happen." Kelly says. "Yet, somehow, Meg always knows how to find trouble. After three books, you'd think she would have figured that out by now."
As Meg attempts to interview a tangled web of surviving witnesses in the mysterious disappearance of Betty Boyle—and ultimately reveals a twisted cover-up in the process—the story delves into the sordid world of politics in 1964, when the Democratic National Convention rolled into town and was held at Boardwalk Hall. "The reason Meg is so successful at what she does," says Kelly, " is that she really cares. She genuinely wants to help people, and she finds herself completely caught up in this story of the son who was left behind. My books are supposed to be light, fun beach reads. But they also have that additional emotion and depth regarding the crime itself."
Prior to becoming an author, Kelly's life didn't have quite as much drama as her heroine's. She graduated from Chestnut Hill College in Philadelphia, earned a Master's of Science degree in information studies from Drexel University, and added a Master's of Philosophy in Popular Literature from Trinity College at the University of Dublin. She went on to work in online information ("Before people even knew what the Internet was," she says), consulting, and facilities management—in which she still has a day job, traveling to New York, Washington, DC, Chicago, Boston and other cities as part of her work.
Actually, it was when writing her graduate thesis on political fiction when Kelly first began researching the historical events that ultimately would set the stage for the plot of Missing You in Atlantic City. "I became completely fascinated with history, and started reading exclusively non-fiction about the early Cold War period," she recalls. "That's when I had the idea of having a crime that was committed in the past, and combining it with my memories of all my visits to Atlantic City growing up."
Kelly did some sleuthing herself. Not only did she spend time wandering the boardwalk and casinos of Atlantic City, she took her research a step further and tracked down an assortment of people who had lived during that time. "I had a friend who actually went to hear Bobby Kennedy speak at the convention. Times were different back then, and I know Betty Boyle would have been able to do the same thing."
Looking ahead, Kelly hopes to continue to be able to explore the past when it comes time to dream up her next mystery. "I like to learn about the history of the years that I've been alive," she says. "You don't have to live in Atlantic City or have grown up in the 1960s to know what was going on back then, and I think people will enjoy reading about something that was so important to our history and that happened right here in our backyard."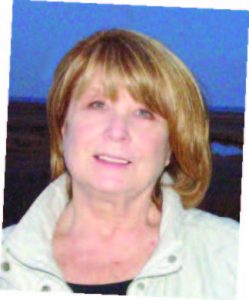 Meg Daniels will continue solving crimes, Kelly expects. However, there are plans in the works for new characters. Devising the complex plots in her novels almost comes naturally to Kelly now, but it's her characters that make each book special. "If I were only concerned with plot, I'd be publishing books a lot more quickly," she says. "The characters always end up taking on a life of their own…and if I can't 'hear' them in m