by Mark Stewart
In Live Like Sean, a New Jersey father reflects on lessons learned from his special-needs son.
Father's Day 2019 was a difficult day for the Nelligan family. Sean Nelligan passed away at the age of 29, leaving his parents, TJ and Maggie, and sisters Meghan and Moira with a profound void they would struggle to fill. Sean was a special-needs child whose intellectual and developmental issues, the Nelligans were told, would keep him from living a meaningful life. As it turned out, Sean packed far more meaning into his 29 years than most of us do in a lifetime.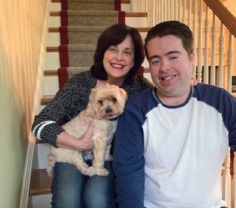 While composing his son's eulogy—a collection of heart-warming vignettes he planned to recount at Sean's memorial service—TJ Nelligan realized that the young man who was unable to read or write had created a legacy of life lessons that he wanted to share. On the day of Sean's funeral, Nelligan told a room packed with hundreds of friends and loved ones, "Live like Sean every day and you will make the lives of others so much better…and it will make you feel better, also."
After the service, Steve Adubato, a family friend, suggested to TJ that he consider extending this message to a wider audience by writing a book. Adubato introduced him to Theresa DiGeronimo and together they produced Live Like Sean, published in 2021 by Greenleaf Book Group Press ($19.95).
"When Sean was born we took home what we thought was a perfectly healthy boy," Nelligan recalls. "Over the first two months he started having leg spasms, which later were determined to be seizures. Over the next two years his development was delayed—it took him a long time to walk, a long time to talk—but I was in denial. I was like, Everything will be fine. A friend connected me to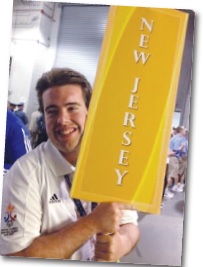 the foremost child neurologist in the world and we went to his office. He took Sean for about an hour and came back and basically told us that our son had intellectual disabilities, that he would never live a normal life…and probably never fit in with normal mainstream society…and that, as he got older, these disabilities would become more pronounced. It was like getting punched in the face, and like Mike Tyson used to say, everyone's got a plan until they get punched in the face."
Years of physical therapy and speech therapy followed. The Nelligans learned how to deal with the seemingly endless private and public issues involved in raising a special-needs child. Then, when Sean hit his teen years, something marvelous happened.
"Suddenly he became this amazing personality," says Nelligan. "He was funny. He was kind. He would laugh at everything. He loved life. He loved sports and, because I worked in college sports marketing, we went to tons of sporting events over the years. I bought Sean an iPad and he memorized all of the college sports logos, which I was amazed by."
One day, while father and son were watching ESPN and the scores were scrolling across the screen, Sean began telling his dad who was winning each game. What's going on here, TJ wondered—how could he possibly know all these things? At a Giants game, Sean said, "Giants are winning 7–0…if they score another touchdown it'll be 14–0."
"I was like, How does he know that?" Nelligan remembers. "I asked him what seven plus seven was, and he just looked away. That's what he'd do if he didn't know the answer to something. He was doing what we called 'sports math.'"
Special Olympics programs provided Sean with a physical outlet for his interest in sports, and also enabled him to build friendships and camaraderie with his teammates—and he became quite good at basketball. Nelligan was all-in on Special Olympics and ended up spearheading the effort to bring the Special Olympics USA Games to New Jersey in 2014, serving as its Chairman and CEO.
Live Like Sean is, first and foremost, a heartwarming and inspirational story about a life well lived in the face of daunting challenges. It also doubles as an invaluable handbook for families of special-needs children. Its reach, however, extends beyond what one might assume is "baked-in" readership to engage and inform a much wider audience. Hence the book's title. The authors build their story on a framework that devotes each chapter to a simple, clear life lesson that Nelligan absorbed from his son: Be Present, Be Friendly, Be an Inspiration, etc. Words to live by, for certain.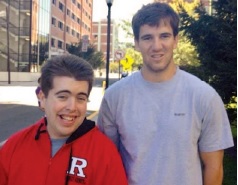 "One of the most important things Sean taught me—and this was difficult for a guy with a Type-A personality—was to have gratitude," says Nelligan. "He couldn't spell gratitude…but he lived it every single day." Not surprisingly, Chapter One in Live Like Sean is entitled Be Grateful.
Like so many families of special-needs kids, the Nelligans started their journey believing they had to protect Sean and teach him about life. By the time he reached his twenties, they realized he had taught them far more about life than they could ever teach him.
"In the beginning of that journey," says TJ Nelligan, "you wonder How are we going to live like this? Now that he's not here…I wonder How can we live without him?"
Editor's Note: Longtime Montville resident TJ Nelligan is a marketing and sales executive who has worked as a tireless advocate for individuals with intellectual and developmental disabilities. He founded (and later sold) Nelligan Sports Marketing and served on the board of New Jersey Special Olympics for more than a decade. He also raised millions of dollars for the Special Olympics New Jersey Sports Complex in Lawrenceville. For more information on Live Like Sean visit tjnelligan.com.