Merritt Miller Duffy, President of B.B. Miller & Company, keeps alive a 70 year-old family tradition of supporting healthcare in Elizabeth.
EDGE: Judging by the article in the 1944 Rotary International magazine, your family has a long history of giving back to the community, and especially in assisting Elizabeth's hospitals. Growing up as a member of the Miller Family, was it just assumed that you would someday find a significant way to help the community?
MD: In my family, helping the community is always something you are expected to do. It's how we grew up. If you're going to benefit, then you also must give back. This business has been successful in Elizabeth, and we all want to share that success. Being in the insurance business, we survive by being out with people, limiting the time we spend behind the desk. Helping the community is an outgrowth of that as well.
We have a long history in Elizabeth. My great grandfather was only 19 years old when he acquired the former RW Walsh Agency, moved it from First Street in Elizbeth to its current location on North Broad Street, and renamed it B.B. Miller. That was in 1901.
So I would say yes, there's an expectation that you will give back to the community, but it's something I would do anyway.
EDGE: What are the organizations that you choose to assist?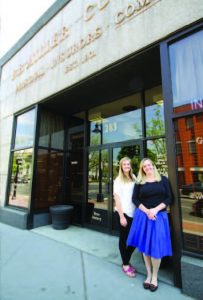 MD: I'm just finishing a third and final year as Chairperson of the Greater Elizabeth Chamber of Commerce, which I found very satisfying. Also, each Summer I volunteer for 10 weeks as Assistant Director of the Adirondak Camp near Lake George. I fell in love with the place when I went there as a 12 year-old. Later, around 1994, I attended a reunion and learned that the camp was in dire financial straits and about to close. I got together with 5 other former campers, and we volunteered behind the scenes and were able to save the camp. For the last 16 years I work there as Assistant Director during the 10-week camping season. Every Summer I live at the camp, but I take a day and a half each week to make the drive to Elizabeth, see my family, spend time at work, then make the drive back to the Adirondaks.
More recently, I got to know the Trinitas Health Foundation by helping out on their Gala Committee. I liked everyone I came in contact with, and told Nadine Brechner to let me know if she'd like me to do anything else. Well, that's the wrong thing to tell Nadine! I've been a member of the Foundation Board now for 3 years. Actually, I could still do more for Trinitas. I like the satisfaction that comes with helping the hospital, and knowing that it makes an impact.
Our family's and our firm's involvement with the Rotary Club of Elizabeth goes back generations starting with my grandfather. He and my father, and my husband have all served as President, as has Bill Mealia, our company's Chairman. Rotary was men-only for many years, so as a woman I forged a different path. This led me to the 200 Club of Union County, Junior Achievement, and the CMI Community Center which became Jefferson Park Ministries.
Above: Merritt Duffy, President and 4th generation owner of insurer B.B. Miller & Company, Elizabeth, looks over a World War II – era copy of Rotary International's Rotarian magazine. The magazine features her grandfather, Bertram N. Miller's, efforts to organize Elizabeth Rotary members and other volunteers to assist Elizabeth General Hospital during the war-time manpower shortage. Today Bertram's descendent, Merritt, keeps the tradition of voluntarism alive, serving a number of organizations including Elizabeth General's descendant, Trinitas Regional Medical Center.
EDGE: Volunteering must take a huge amount of time out of your schedule. What would you say is your motivation?
MD: I really believe in the City of Elizabeth. I see so much success – so many people are investing in the City—I see it every day. I've got great pride in the City and my family's long history here. I hope our daughter, Heather, will carry on as the 5th generation to run BB Miller. As for me, I'll never leave!
Sometimes it can be a challenge to convince certain insurance carriers that Elizabeth is a great place to do business. They sit in the suburbs and look down at us. That only fires me up more to be a champion for this City and for its multi-ethnic population. I'm committed to non-profits, women-owned businesses, minority-owned businesses—those that don't have it so easy. Those are the entrepreneurs that I want to help.
You are correct about the time that volunteering takes from work. It's difficult to do, because with insurance, you always have to go after new business. It would be a lot easier to not do any community work, but it would not be nearly as satisfying. It's definitely a choice.