by Andy Clurfeld
"I want to take everyone I know to this restaurant…'This is how we should be eating!' I want to shout."
By Andy Clurfeld
Roosterspin Wine Bar & Eatery
251 North Avenue, Westfield. Phone: 908.233.7333
Open for lunch and dinner at 11:30 am 7 days a week: Sunday thru Thursday until 10:30 pm and Friday & Saturday until 12:30 am. For more information log onto info@roosterspin.com.
Defending Jersey's restaurants is so 20th century, but we do it anyway. We do it because attacks are frequent and the attackers a mix of the ignorant with strong cravings for superiority and the wise who know our state's chefs and restaurants could really, truly do much better.
This is our collective issue: the dichotomy in restaurants that brings us both brave brilliance and sorry retreads. Restaurants such as Cucharamama in Hoboken, A Toute Heure in Crefending Jersey's restaurants is so 20th century, but we do it anyway. We do it because attacks areanford, Drew's Bayshore Bistro in Keyport, and Zeppoli in Collingswood fortify our pride as we learn from, and feast on, the visions of their pioneering chefs. The same-old, same-old menus of countless copycats, be they Italian or Asian, traditional American or globally influenced, do little but provide the busy or the bored a supper away from the stove.
That's why the emergence of a restaurant with both verve and vision—and extremely delicious food—is cause for celebration. Roosterspin in Westfield, which opened last fall as the sibling of Mono + Mono in New York under the stewardship of owner Mihae Cho and chef Hyun Han, may take off from an uber-trendy genre of modern Korean restaurants with must-offer dishes, but it does it with singular style and technical prowess in the kitchen.
Roosterspin rocks.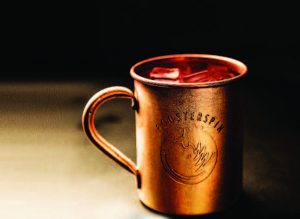 Often, literally. There are LPs galore as decor and a deejay at a computer taking requests. I somewhat hesitantly ask for John Coltrane and, within a minute, get a couple tracks of Coltrane. We take menus from a tuned-in server and receive a concise, but not condescending primer on how to navigate a rather novel bill of fare. We dig into a series of dishes that connect the accessible to the adventurous and fall in love with Roosterspin's cuisine—and concept.
I want to take everyone I know to this restaurant, sitting pretty in a multilevel woody-modern/industrial-cozy space in the downtown district conveniently near the train station. "This is how we should be eating!" I want to shout. This is food we should know and food we can learn from, taking riffs from Roosterspin's plates into our home kitchens. This isn't rocket science, either; it's fun eating, with some new ingredients and twists on techniques making that happen.
Take a simple dish, something as familiar as fries. Season them, give them a dipping sauce pumped with the taste of spirited kimchi, and let folks dig in to something old energized by something new. There is a drizzle of tame cheese to smooth the way, but the novice eater is already craving more.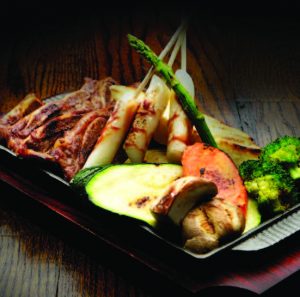 It is time for another small plate, which is how you can start here or dine straight through. Slurp map chae, sizzling skinny sweet potato noodles spliced with beef, wild mushrooms and shards of Asian vegetables. Bright and unexpectedly light are the seafood patties known as seafood jeon, packed with calamari, shrimp and vegetables and bound by egg. If you are looking for something hearty, snag galbi LA cut, a signature dish here, is a perfect partnership of silky short ribs with rice cakes and vegetables served with a nod to beloved Korean barbecue. Looking for light? The mango salad, flush with pretty beets and sweet potatoes and dressed with sesame, is a dandy mix of flavors that you will have a hard time separating ever again.
OK, but the real reason you come here is to find out what all the fuss is over this Korean fried chicken business. Deep-fried twice to ensure super crispy skin and a desirable burning off of the fat, this is chicken at its best. You can get it with a soy/garlic sauce or a fiery hot sauce. Request a half order with one and a half with the other. Why choose?I took it with a side of fried pickled radish and smiled as I ate.
Roosterspin's range does not stop with the basics. It serves forth Korean rolls such as the kimchi, with shrimp, kimchi, cucumber, crab and beets given a smack of crunch, then dappled with a smoky spicy màyo. Delish. Roosterspin does sliders in rice buns that demand attention—a spicy tuna tartar with cherry tomatoes and greens and a pop of addictive Korean red pepper paste, a beef bulgogi given the crunch of pickle and the zing of wasabi, and a chop of shrimp and calamari topped with calm tartar sauce.
I do not want to lose the lingering flavors of Roosterspin's savory fare by ordering dessert, but we need to, right? Soba noodle pudding is serviceable and the green tea mochi de rigueur. No interference, thankfully.
You can be one of the Jersey restaurant bashers, sporting a chip on your shoulder, or you can support a truly thoughtful concept and check out Roosterspin. New is nutrition for the taste buds.
SEOUL FOOD
If Roosterspin whets your appetite for more traditional and authentic Korean fare, you might want to head toward southeastern Bergen County, to Palisades Park or Fort Lee.
Over the past two decades, Palisades Park has transformed itself into New Jersey's unofficial Koreatown. Three in five of the 20,000-or-so residents are of Asian descent, with the vast majority hailing from South Korea. In terms of density and percentage, Palisades Park is now America's "most Korean" municipality. The most popular restaurant in Palisades Park is probably So No Nan Jip on Broad Avenue. It features authentic Korean barbecue and is usually packed—often past midnight. However, you can duck into almost any eatery along the town's main drag and find an authentic Korean meal.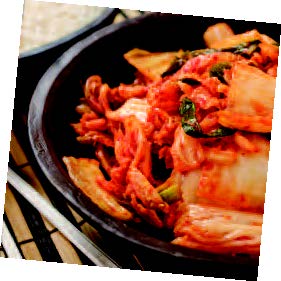 Palisades Park's next-door neighbor, Fort Lee, also boasts a large Korean population, as well as a robust commercial section featuring Korean shops and restaurants, which stretches from just south of the George Washington Bridge north to Englewood Cliffs. Two of the best are Gammeeok on Main Street and Dong Bang Grill on Palisade Avenue. Besides traditional Korean fare, Dong Bang Grill also does a brisk business at the sushi bar—which is saying something, considering the number of excellent Japanese restaurants in Fort Lee.
Editor's Note: Andy Clurfeld is a former editor of Zagat New Jersey. The longtime food critic for the Asbury Park Press also has been published in Gourmet, Saveur and Town & Country, and on epicurious.com. Her post-Sandy stories for NBCNewYork.com rank among the finest media reporting on the superstorm's aftermath and recovery.
Somewhat closer to home and also quite popular are Kimchi Hana, located in South Plainfield, as well as New Keum Ho Jung and Chung Sol Bat,both in Edison. —M.S.