David Drake is in the house, and this— in the age of name-brand chefs playing musical stoves at multiple locales—is enough to raise the excitement level at the restaurant that bears his name in downtown Rahway.  
Where David Drake goes, those with curious and refined palates follow. Thus, Restaurant David Drake has become a must on dine cards statewide. The chef who has done star turns at Stage House Inn, Ryland Inn and the Frog and the Peach here in New Jersey, as well as at the River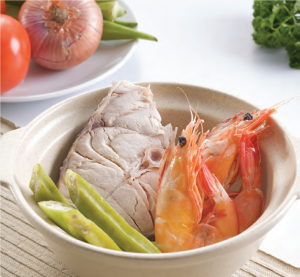 Café in Brooklyn Heights, turned an old insurance agency into a restaurant in 2005. The city that too often had been associated with a prison took on new luster and a new (and desirable) distinction: dining destination. Then, in 2007, he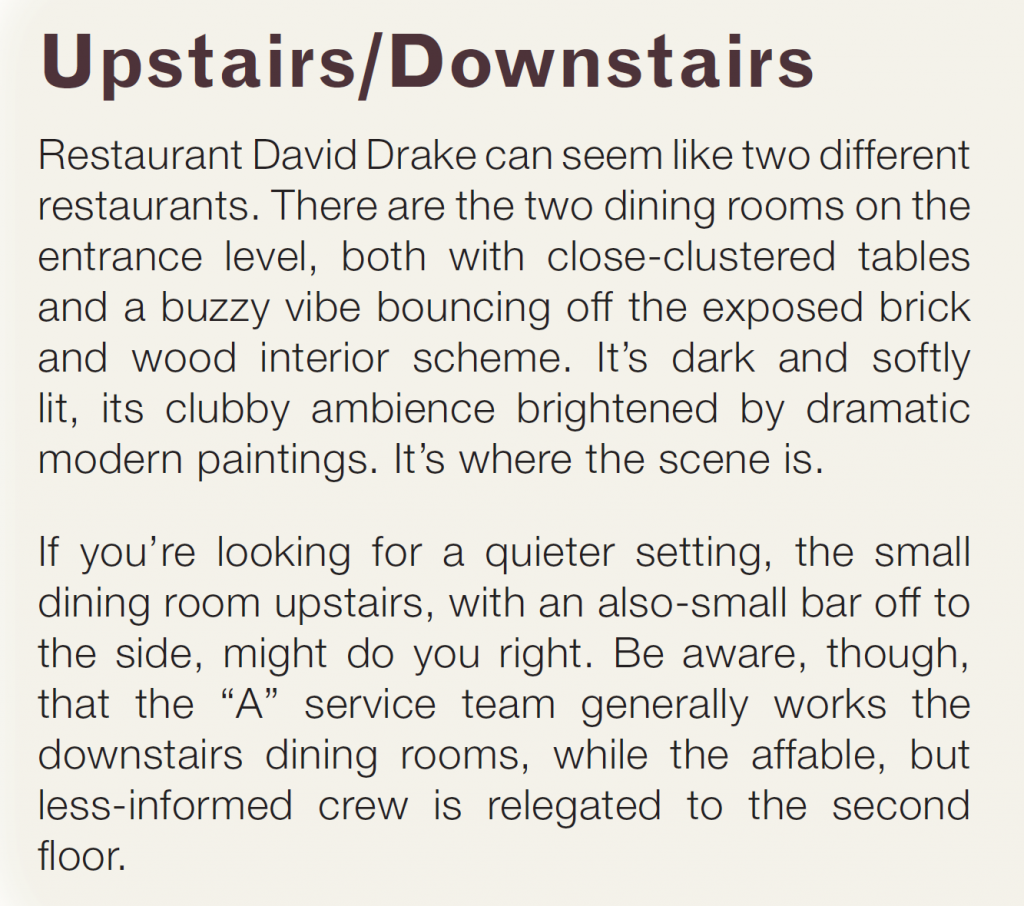 opened Daryl Wine Bar & Restaurant in New Brunswick. This year, he'd also been spotted on KP duty up at Alice's Restaurant at Lake Hopatcong. When a chef spreads his wings in ways other than through the menu at his eponymous restaurant, there can be cause to worry. No worries in Rahway. Restaurant David Drake's chef de cuisine Peter Turso is technically skilled and culinarily gifted. But on this night, with Drake in the kitchen and then doing a post-dinner rush survey of dining rooms both upstairs and down in this posh, yet winsomely rustic setting, there's a confidence that speaks of decades of experience in high-toned, high-pressure kitchens.
There's no food misstep to speak of. The menus, both a la carte and degustation, are well-edited, largely seasonal and clearly focused on primary ingredients. It's new American in a classical way— not silly-fussy, not kinetic with chemical experiments, not forcing taste issues by partnering two discordant flavors and calling it a "challenge" to the diner. That isn't to say this is snooze food. Maine crab, flaky, sweet and tingling with freshness, is indeed challenged by a pickled cucumber chop underscored by an acidity that punches up the natural salinity of the crab. A swirl of heirloom tomato concasse brings out its sweetness and a cumin-scented tuile manages to unite every flavor on the plate. For a palate-cleanser, Drake puts a few favas on the plate, a meaty interlude between crab bites. There's nothing revolutionary about the pepper-crusted seared yellowfin here, but its execution is flawless, including as counterpoints a rakish citrus salad and a feisty ginger vinaigrette you might not mind sprinkling on your next round of New Age sushi.
The textbook foie gras terrine can't be ignored. Coupled with a mini ramekin of chunky fig preserves and a swirl of reduced cranberries, it's a starter fit for Fall. When it's a bitter-cold winter night, I'll crave a big bowl of Drake's carrot-ginger soup dusted with warming curry, sparked by lemon oil and made luxuriously rich by a pouf of whipped cream. That's living right. Parmesan flecked gnocchi are treated right by being set in a wash of heirloom tomato water dotted with specks of the fruit along with scallions grilled and smoky and ready to be fork-skewered with those light, fluffy torpedoes of pasta. Drake always has had a masterful way with fish.
He handles a sea scallop with finesse by serving it astride carrots two ways: super-sweet in a soulful age, letting the broth enrich the scallop, and humble-hearty in a fricassee that adds texture to the dish. Halibut, pert amid a chop of alium-licked vegetables, laps up a basil pistou. But it's the shrimp risotto that brings out my inner hoarder. The backdrop of lemongrass kicks the dish into high gear immediately, while snips of zucchini keep it grounded. Once you fork the whole assemblage into your mouth, it's a wisp of Thai basil,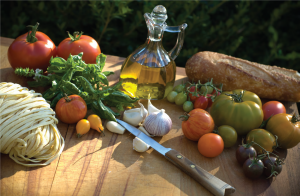 mysteriously minty and clovey, that makes the dish irresistible. Seconds? Gladly. Another irresistible accent partnership—the fool-proof combo of chanterelles and apricot puree—elevates slices of roasted duck breast, creamy white polenta and knobby baby turnips.
Chanterelles and apricots love each other and, in the end, they provide the flavor muscle for the dish. I'm just as fond of the roasted pork, which, on this night, was given the season-throwback sideshows of corn both in a purée and strained chowder, plus grilled asparagus. Here there is nothing on the menu for which you won't find the right wine on the eclectic wine list. While there's a wide price range, the middle-level bottles between $60 and $90 are where vinophiles will find relative bargains and the best connections to the food. We nabbed a midrange Charles Schleret Herrenweg Riesling from Alsace whose versatility with Drake's food would be tough to match at any price.
I'm not sure I've met the match for the berry trifle here, largely because the almond shortcake that anchors the layering hits the trifecta of texture, balance of flavors and moistness. Tack on a rush of tart and sweet blackberries, a dollop of vanilla-scented cream and a scoop of strawberry sorbet, and you've got a truly grand finale. The chocolate tart—with its lemony pastry, brush of salted caramel, vanilla crème fraiche and sprinkling of pulverized pistachios—certainly can't be considered an also-ran. Choosing cheese as dessert might find you presented with a plate of creamy Pierre Robert, a tangy goat's milk number called Coupole, a nutty Pecorino, a butterscotchy aged Gouda and a spicy Cabrales, which is a dandy and snappy blue. It's a fine choice for ending an evening here. So is making a reservation for next time on your way out. Restaurant David Drake is what a chef-driven restaurant is all about.

Editors Note: Andy Clurfeld is a former editor of Zagat New Jersey. The longtime food critic for the Asbury Park Press also has been published in Gourmet, Saveur and Town & Country, and on epicurious.com.