A Tribute to Gary S. Horan
In the following pages, EDGE salutes Gary S. Horan, who for more than two decades led Trinitas Regional Medical Center through two mergers and a global pandemic with grace, humor and a level of commitment and expertise that have become the industry standard. He announced his retirement in 2023 and leaves Trinitas—now part of the RWJBarnabas Health System—in the capable hands of the hospital's new President and CEO, Nancy DiLiegro. Gary's legacy is the unique team environment that distinguishes Trinitas in both the community and business of healthcare.
We begin with some thoughts from the people who knew him best, both personally and professionally…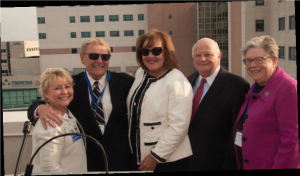 What a wonderful and eventful ride you and I have had together here at Trinitas. It all began over 21 years ago in an interview process and, together, we have seen Trinitas grow into the outstanding Medical Center it is today. You have created a wonderful legacy and I am so pleased that your name will forever be highlighted in our Emergency Department. Enjoy your richly deserved retirement with Arlene and your wonderful family! Fondly, from your brother from another mother.
—Victor Richel, Trinitas Chairman of the Board
 You have been the champion of all associated with the hospital during some of the most stressful years for medical care.
—Andrea Richel
 You have been the champion of all associated with the hospital during some of the most stressful years for medical care.
—Andrea Richel
 We are grateful for Gary's vision and abiding commitment to the community, particularly during the unprecedented challenges we faced during the COVID-19 pandemic. He was also a critical guiding force for the recent successful integration of Trinitas into the RWJBH family in 2021.
— Mark E. Manigan, President and CEO, RWJBarnabas Health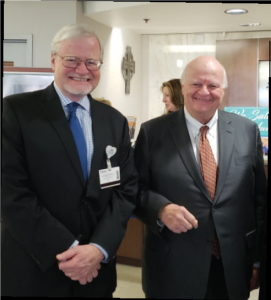 It goes without saying that all of us are grateful for your steady leadership of Trinitas. To me, your friendship and your guidance over these many years are equally important. I'll always remember how you nurtured my career by setting the highest of expectations. And I'm not just talking about that paperweight on your desk…you know, the one with the saying: "If you say you can't do it, you're right. YOU can't do it." Part of what makes you an effective leader is your use of humor and your ready laugh. Who knew that a bad joke could be such a vital part of leadership?
—Doug Harris, Retired Trinitas Marketing & Public Relations VP, Former Publisher, EDGE magazine
 The plaque on your desk read, "If you're not the lead dog, the view never changes." Under your great vision and leadership, you established Trinitas Regional Medical Center across the region, the state and beyond as a can-do hospital with 12 Centers of Excellence. You advanced the hospital through two major mergers, received "Best Place to Work in New Jersey" awards (not once but six times) and developed a workforce that was proud and honored to work hard with one another and our patients.
—Glenn Nacion, Trinitas Chief Human Resources Officer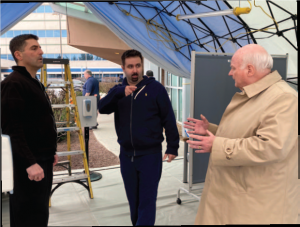 You were firm but fair. You demanded excellence. You had an open-door policy. You listened with intentionality. You made us laugh. You placed our patients and our staff at the center of every decision.
—John D'Angelo, Trinitas Chief Medical Officer
"The great use of life is to spend it for something that will outlast it." A quote from William James and he very well may have been speaking of your legacy. Trinitas is a special place—committed, compassionate people working toward a common mission, and you have been at the center, directing that purpose and spirit.
—Lisa Dressner, Trinitas VP of Behavioral Health
I remember the first time we met. You were so approachable, kind and welcoming. It was so apparent that you were engaged and invested not only in organizational success but my individual growth both professionally and personally. There are simply not enough words to describe how inspirational you have been. Your support, guidance, mentorship, and warm smile has lifted my spirits through the toughest of times. Your ability to lead with compassion courage and humility is simply phenomenal. But what I will remember most is the nurturing environment you created—grounded in mutual respect and trust.
—Muniba Naqi, MD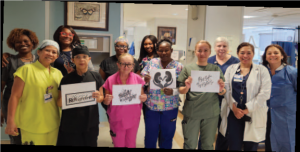 We only just got to know each other but I am so very grateful for the opportunity to work at Trinitas. In just two short months, it's evident why so many employees have been here for 5-10-15-over 20 years. People stay where they feel welcome, heard and guided through good and bad times…and you did that. You developed something great here and I am honored to witness just a little piece of your amazing legacy.
—Maria Auciello, Trinitas Marketing Assistant VP
 We have been through so much together: Hurricane Sandy, COVID and myriad other emergencies, large and small. I chuckle every time I think of when you would say, "It isn't a disaster unless Phil's around," with its double meaning. You are the best boss I have worked for and I consider you not only a colleague and friend, but also a mentor and the leader I strive to be.
—Phil Solomon, Trinitas Emergency Preparedness Coordinator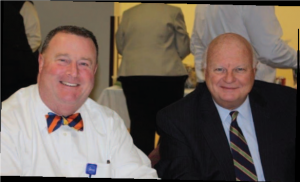 I have had only two full time jobs in my life, the Summit Police Department and Trinitas. I have worked under the tenure of six chiefs of police and yourself. I can honestly say you were my best boss ever. From my first day on you welcomed me in the board room and made me feel included in every Trinitas event. You have a leadership style that is like no other. You motivate your staff intrinsically to want to do their best. Your staff simply wants to give their all so they do not disappoint you.
—John Dougherty, Retired Trinitas Director of Security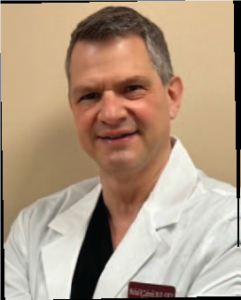 From the creation of Trinitas to your incredible work during the pandemic—and then preparation for Trinitas incorporation into the Barnabas system—your achievements have been monumental for this institution. I'll never forget seeing you each morning during the pandemic in the War Room. Those were harrowing times, but you steered through them perfectly.
—Michael Zaboski MD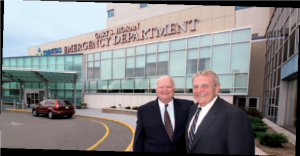 I have seen many different examples of leadership and have had the opportunity to be a leader myself. I tell you this so that you know that when I say that you are one of the finest leaders I have had the privilege to work for, it is not idle chatter. Although there were many levels of management between you and me, I always felt that you were approachable. I was and am most impressed by your tradition of annual town meetings, where people can ask you anything. Very few leaders are willing to be that open and transparent. I also greatly appreciate your extensive efforts to keep us all informed on a daily basis during the early months of the Covid epidemic. It helped us all feel like we were in this together. You are a wonderful communicator.
— Kathy Howie, Behavioral Health & Psychiatry
 I feel fortunate to have had the opportunity to work with you and learn from the wealth of knowledge and experience that you have shared with us. You will be greatly missed.
—Karim Khimani, MD
 I like to believe we hit it off the very first time we met before I officially became a Trinitasian, when I was freelancing for EDGE and was asked to write the piece about the magical working relationship you share with Vic. You both were so warm and welcoming that at that moment I knew Trinitas was a special place. That was back in 2017. It wasn't until January 2018 that I joined your team, but since then, I've lost track of how many sideways glances we've exchanged and how many times you made me laugh to the point of tears. In your presence, everything was fun. You always made me feel welcome and valued, and I'm forever changed because of it. Thank you for being you and for giving me an opportunity to be me in a setting in which I never thought I'd experience success. You are a special person. I will never forget you. Ever.
—Yolanda Fleming, Trinitas Director Marketing & Communications
 You led us through many transitions, and we always came out on top. Your leadership during our first pandemic was inspiring and the memory will live on in this community.
—Beth Mayers, Behavioral Health Coordinator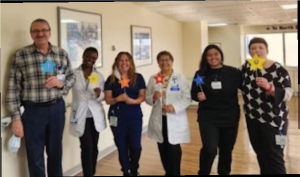 You always made people feel that you were approachable. You put forth an aura of genuineness that made you ideal for this position. In an environment where our patients are disenfranchised on many, many levels you made them feel important and listened to.
—Linda Reynolds, Director of Adult Psych Services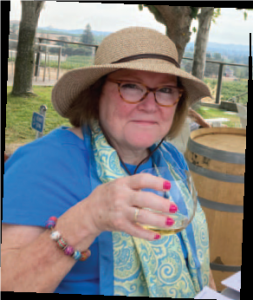 Your unwavering support for providing learning opportunities for the teens of the academies of Elizabeth High School has been extraordinary. Countless numbers of students have become Nursing Assistants, Unit Secretaries and EMTs, as well as so many more who have returned as RNs, PA's and Nurse Anesthetists because you encouraged them to pursue their health care dreams. I can attest to your readiness to support your employees and always greet us with a quick hello and a smile. You embody an expression I have lived with as a product of Jesuit education: You truly exemplify "a man for others."
—Eileen O'Brien Mulroy, Trinitas Education Dept. & Volunteer Dept.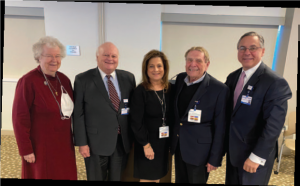 How time has flown since I interviewed with you at Our Lady Of Mercy! It is amazing how it feels like yesterday, but it is almost 22 years. Thank you for being a friend, a mentor, a role model and a great leader. I have big shoes to fill and look forward to the opportunities and challenges ahead.
—Nancy DiLiegro, Trinitas President & CEO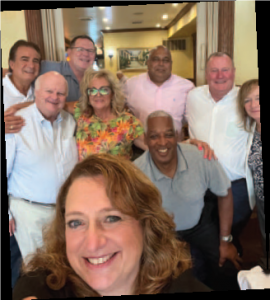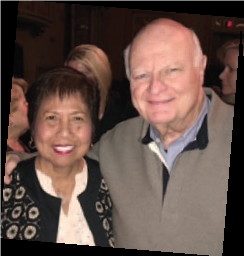 You were the first CEO to approve my privileges as a certified Nurse Midwife in Staten Island when you were the CEO of SVMC in 1993-94. Finding you here at my new home, TRMC/RWJBH, was a sign that I belonged when I started almost 9 years ago. Your support of midwives then and now will always be a blessing to Women.
—Carol Rose-Trzaska, Certified Nurse Midwife
 I remember when you first arrived here replacing our previous CEO. We were told by those that knew you or of your reputation—that you were a people person and always willing to listen and was good to all employees regardless of their rank. I thought that wasn't true and they just wanted to soften the blow of a rigid, strictly-business man whose only concern was the bottom line. I was so very happy to see what we were told was very true!
—Jose M. Santiago, Trinitas Patient Access Coordinator
 It was a pleasure to have worked under Gary's leadership for 20 years. He has been a good caring leader with compassion and empathy. His understanding of employees' and patients' needs—and balancing both effectively—motivated the staff and addressed the mental health of our patients.
—Maria V. Padron, MD
It has been a privilege to work under your inspirational leadership during the last three years, most notably through the terrible pandemic. Your style, constant presence and support gave us the assurance that we would prevail despite the odds. You have left us in good hands with Nancy DiLiegro.
—Hantz Ricot, Trinitas Director of Respiratory Care & Sleep Departments
 Editor's Note: The Trinitas Regional Medical Center Board of Trustees has honored Gary Horan with the title of President and Chief Executive Officer Emeritus.