A play list you won't see anywhere else.
There have been at least a couple of dozen films that play off the word "straight"—stretching all the way back to the silent-movie era. It's a word with multiple definitions and uses, as well as new meanings in language and culture. We've picked the eight most noteworthy examples, including a couple of classics and more than a few that flew under the radar and are now worth a second look.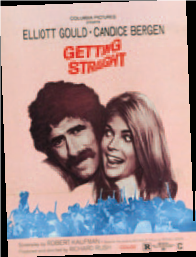 Getting Straight • Columbia Pictures
Getting Straight • 1970
If you ever wondered what an actor like Elliott Gould could do to elevate a so-so script, Getting Straight is a textbook example. Set in the late-1960s, this "serious comedy" follows a Vietnam vet trying to get his teaching degree on a college campus roiling with student unrest. Candice Bergen co-stars as his girlfriend, who just happens to be the leader of the escalating demonstrations. Look closely and you'll see teenaged Harrison Ford in one of his first speaking roles.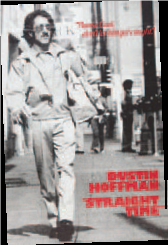 Straight Time • Warner Bros.
Straight Time • 1978
In an era when many big-name stars sold out for big-budget movies, Dustin Hoffman remained true to his craft, picking scripts that challenged him and his audiences. Straight Time is a wonderfully gritty "neo-noir" film that profiles a disillusioned ex-con who simply isn't wired to rejoin society…and it's up to us to figure out why. The supporting cast—which includes Kathy Bates, Gary Busey, Theresa Russell, Harry Dean Stanton and M. Emmett Walsh—is terrific.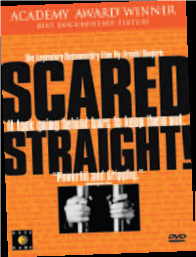 Scared Straight! • Golden West Television
Scared Straight! • 1978
Filmed at Rahway State Prison—and relentlessly parodied on Saturday Night Live—this film was not only acclaimed in its time…it won an Academy Award for Best Documentary. Scared Straight! shows a riveting three-hour session between cocky juvenile offenders and hardened criminals. The film was aired on television uncensored, marking the first time that many stations allowed foul language to be broadcast. Peter Falk served as the narrator.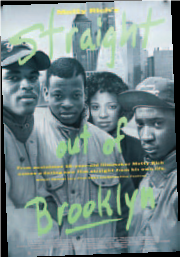 Straight Out of Brooklyn • The Samuel Goldwyn Co.
Straight Out of Brooklyn • 1991
More than a decade before Lawrence Gilliard Jr. earned fame as D'Angelo Barksdale on The Wire, he portrayed Dennis, a Brooklyn teenager desperate to break free of the cycle of poverty and domestic violence that is dragging him down. His solution is to rip off a local drug dealer and move his family out of the projects, but he and his buddies get more trouble than they bargained for. George T. Odom, who plays Dennis's father is particularly good in a movie that received glowing reviews and won a special jury prize at the Sundance Film Festival.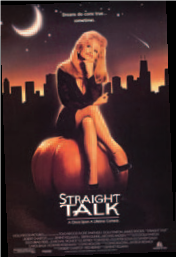 Straight Talk & The Straight Story • Buena Vista Pictures
Straight Talk • 1992
This classic 90s Rom-Com features good performances from James Woods and Dolly Parton, along with talented supporting players John Sayles, Griffin Dunne, Teri Hatcher, Spalding Gray, Jerry Orbach and Michael Madsen. Parton fans snapped up the soundtrack, which featured 10 original songs by Dolly. The movie is a lighthearted commentary on radio therapists, as Parton's character rockets from a switchboard operator to beloved "Doctor Shirlee" shortly after moving from Arkansas to Chicago. Woods plays the journalist who discovers she is no doctor at all.
---
Honorable Horrible Mention
The Gang that Couldn't Shoot Straight • 1971
How bad could a mob comedy featuring the talents of Robert De Niro, Burt Young, Jerry Orbach, Joe Santos and Frank Campanella be? The words borderline unwatchable come to mind. The movie, based on Jimmy Breslin's book about Crazy Joe Gallo, is an unfunny mess. Al Pacino was originally going to be the star, but opted out to play Michael Corleone. Francis Ford Coppola planned to direct until producer Irwin Winkler decided he lacked the skills to make a Mafia movie so, as every film buff knows, Coppola ended up directing Pacino in a pretty good flick called The Godfather. The Gang that Couldn't Shoot Straight features the film debut of Herve Villechaize, but his voice is dubbed throughout.
---
Did You Know?
In the MTV cartoon series Beavis and Butt-Head, the boys are ordered to attend a Scared Straight! program…and have so much fun they try to get back into the prison.
---
The Straight Story • 1999
David Lynch has made some of the most imaginative and compelling films in recent history, including The Elephant Man, Blue Velvet and Mulholland Drive. Why The Straight Story is rarely part of this list is difficult to understand. The true story of Alvin Straight, who drove 240 miles from Iowa to Wisconsin on a riding mower to visit his ailing brother, it co-stars Richard Farnsworth, Sissy Spacek and Harry Dean Stanton. Each actor is capable of teaching a master class and, in this film, they pretty much do. Unfortunately, critical acclaim and numerous awards did not translate into big box office for this uncharacteristically sentimental Lynch oeuvre.
Straight Outta Compton • 2015
Rap video producer F. Gary Gray directed this biopic about the origins of the multi-platinum rap group N.W.A., led by Ice Cube, Eazy-E and Dr. Dre. O'Shea Jackson and Jason Mitchell do brilliant work playing Ice Cube and Eazy-E, respectively, while Paul Giamatti plays their slick manager, Jerry Heller. The movie title comes from N.W.A.'s 1988 hit of the same name. You don't have to love rap or even care about its evolution to enjoy this movie, which follows the group's rise and fall.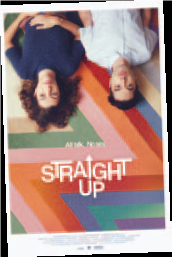 Straight Up • Strand Releasing
Straight Up • 2019
A small independent film that was partially crowd-funded and shot in under three weeks, Straight Up challenges the idea of what a love story is when it doesn't include sex. Todd suffers from OCD and isn't a fan of bodily fluids. He meets Rory—a struggling actress who has difficulty forming emotional connections—in the self-help section of a library. Writer-director James Sweeney plays Todd, while TV veteran Katie Findlay plays Rory.