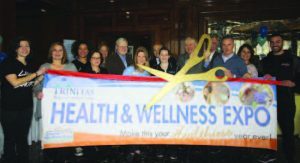 2017 TRINITAS HEALTH AND WELLNESS EXPO 
The 2017 Trinitas Health and Wellness Expo was held on Sunday, February 26th at Pantagis Renaissance in Scotch Plains, with over 500 people in attendance. Guests enjoyed demonstrations, resources, and some great presentations by experts on a variety of topics from stroke prevention to healthy dietary guidelines to follow. Ben Michaelis, Ph.D., author of Your Next Big Thing, and regular feature on The Today Show, Fox News and MSNBC, was the keynote speaker and focused on mental health and well-being through creative expression. The Expo was a collaborative effort with the Greater Westfield Area Chamber of Commerce, which aims to connect local businesses with the community.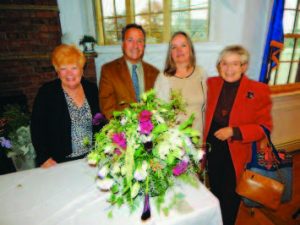 A VICTORIAN SPRING 
A Victorian themed flower show will be presented by the Rake and Hoe Garden Club of Westfield on April 28, 2017 from 1:00 to 7:00 pm at the Presbyterian Church on 140 Mountain Avenue in Westfield. As a prelude to the flower show, Ken Norman from KN Floral Inspirations presented examples of Victorian arrangements at a recent club meeting. The show will provide the opportunity to enjoy floral design and horticulture, photography and fashions. For more information, call Pat Wilson (908-389-9342) or visit the club's website: www.rakeandhoe.org or Facebook page. From left to right: Alice Cowell, Junior Committee Chair; Ken Norman, KN Floral; Diana Kazazis, President; Barbara Mullin, Design Commit-tee Chair.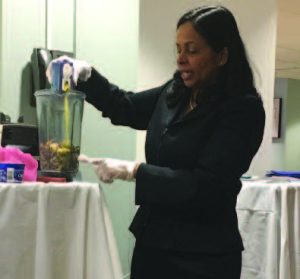 REDUCING SALT AND ENHANCING FLAVOR
In honor of Black History Month, Trinitas addressed high blood pressure within the African-American community with a cooking demonstration on reducing sodium in your day-to-day diet. Michelle Ali, Director of Food & Nutrition Services at Trinitas, shared key tips on how to reduce salt without losing the flavor in your meal. Trinitas hosts programs every month open to all members of the community on a variety of topics. For a full list of upcoming events, refer to the Community Events on page 60.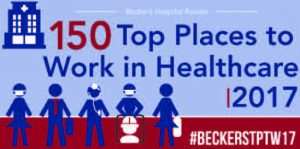 TRINITAS LISTED AMONG TOP EMPLOYERS IN THE UNITED STATES
For the second year in a row, Becker's Hospital Review has named Trinitas Regional Medical Center one of the 150 Top Places to Work in Healthcare. The hospital, which employs almost 2,800 individuals, developed its "Pat on the Back" awards program to recognize employees who go above and beyond on a continuous basis. Trinitas also recognizes five employees annually with the Elizabeth I. Kellogg Award which includes $5,000 for their commitment to the hospital's mission, vision and values. Employees can take advantage of the hospital's tuition reimbursement program, on-site fitness facility and leadership academy program; in addition, employees who use the Trinitas network are offered discounted healthcare services at Trinitas sites throughout the state.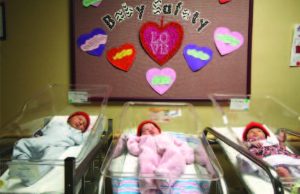 LITTLE RED HATS WARM HEARTS IN A BIG WAY 
Trinitas participated in the American Heart Association's Little Hats, Big Hearts program to empower new moms to live heart-healthy lives while raising awareness of congenital heart defects, the most common type of birth defect in the country. As part of the Little Hats, Big Hearts program, babies born at Trinitas in February received a red crocheted hat and a kit full of heart-healthy information for mom and baby.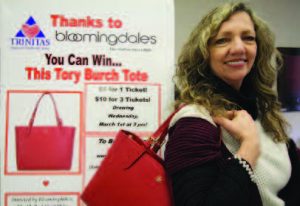 GOING RED WITH TORY BURCH
Big thanks to Bloomingdale's at The Mall at Short Hills, who very generously donated a beautiful red Tory Burch Tote in honor of American Heart Month. Trinitas employees and community members purchased a chance to win the bag, raising awareness of Heart Month and over $1,700 to support the cardiac area of Trinitas' emergency department expansion project. Congratulations to our winner, Trinitas employee Nancy Farrell!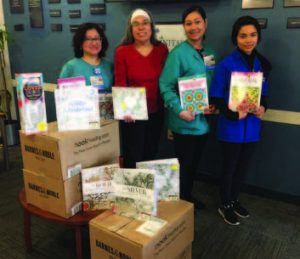 COLOR ME CALM
Barnes & Noble in Springfield made a special donation of four cartons filled with coloring books for the Trinitas HELP Program. These coloring books are an extension of art therapy, which has been shown to reduce stress, anxiety and increase self-esteem in adults.  From left to right: Diana Noboa (Elder Life Intervention Assistant), Veronica Vargas (Barnes & Noble), Johanna Thomas (Elder Life Intervention Clinician), and Kathryn Loaiza (HELP Volunteer).