OPEN FOR BUSINESS
Trinitas President & CEO Gary S. Horan presides over the ribbon-cutting for the new Ambulatory Surgery Center. Elizabeth Mayor Chris Bollwage does the honors along with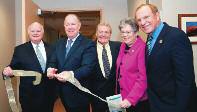 (l to r) TRMC Vice-Chairman Victor Richel, Chairperson Sister Rosemary Moynihan and NJ Sen. Raymond Lesniak. Surgical team members from the hospital's existing operating room services will staff the $5.2 million facility.
STOUTHEARTED MEN
The January 2014 class of the Trinitas School of Nursing included a record number of 20 men among the 89 graduates awarded their diplomas and their Associate degrees. This is the largest number of male graduates in the school's 123-year history.  The multiethnic program is recognized as one of the largest nursing schools in the nation.
THE RIGHT PRESCRIPTION
The Bergen Pharmacy has opened a new convenient location to serve patients at Trinitas in the lobby of the Medical Office Building at the Williamson Street Campus.  Nancy DiLiegro, FACHE, PhD, Vice President of Clinical Operations and Physicians Services, and Chief Clinical Officer (right), welcomed Pharmacist-in-charge Nirav Halani, RPh, and Pharmacy Technician Amelia Nieto.
TOUCHDOWN!
With parents Patti and John Dougherty of Summit, Colm Dougherty, a linebacker, running back, team captain, and MVP for the Hilltoppers, was named to the New Jersey Football Coaches Association Super 100 team of the Top 100 players in the state.  The team's leading tackler with an impressive 102, Colm ran the ball 160 times to gain 1,267 yards. With 22 touchdowns to his credit in the 2013 season, the 17 year old senior heads off to the gridiron at Gettysburg College in September.  John Dougherty is Director of Security at Trinitas.
REFRESHER COURSE
Staff from Trinitas' Institute of Healthcare and Community Education visited the Roselle School District to conduct CPR training for the district's athletic coaches, health/physical education teachers, nurses, security guards and custodians. Trinitas staff members contributed to the knowledge base of those who attended the program.
HAIL TO THE CHEF!
Orietta Rodriguez, Executive Assistant to Gary S. Horan, President and CEO (right), received thanks and a plaque from Ken Richuso, Chairman of the Elizabeth Rotary's 2013 Taste of Elizabeth, for her menu offerings during the food tasting event.
PASSING OF A "DYNAMO"
Trinitas lost one of its most devoted and tireless Auxilians in January when Liz Weishapl of Union passed away following a brief illness.  Serving as an Auxilian for nearly 40 years, first with the St. Elizabeth Hospital Guild and then with Trinitas, Liz was a valuable asset to both organizations. From service as Auxiliary President, to arranging vendor sales and participating in numerous special events, Liz was dedicated and generous of spirit.