by Bill Mehlman
Down the Rabbit Hole
Where is video gaming taking our kids?
Remember the good old days, when homes actually had dens and family rooms? These physical spaces still exist, of course, but thanks to quantum leaps in computing power—and profound shifts in what constitutes social interaction— they have become more and more "virtual." What we used to call dens we now refer to as home offices. That makes sense, at least. But what of the family room, that once-sacred place where Scrabble and Trivial Pursuit provided the glue for togetherness? In the blink of a generation, it has become the rabbit hole down which 'tweens, teens, twenty-somethings and—in startling numbers—grown-ups disappear for hours on end to play video games. The gaming phenomenon has become a subject of growing interest and concern among educators, employers, psychologists and parents. It has created obstacles and opportunities that didn't exist a couple of decades ago, and has changed the very definition of what we think of as play.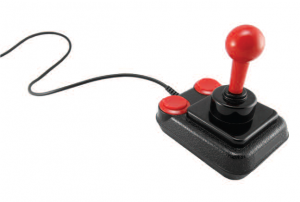 A LITTLE HISTORY Gaming wasn't much of an issue when it began in the 1970s. In fact, the word gaming itself did not yet exist. Pong and Space Invaders could be found in arcades and bars, fascinating the quarter-pushers, but the appeal proved limited. However, a new culture had been born. Indeed, 10 years later, Nintendo consoles were everywhere, and games like Donkey Kong, Super Mario Bros., Zelda, and Metroid had parents enforcing strict bedtimes for their prepubescent offspring. The video game industry continued to grow, technologically and financially, as it entered the 21st century. With the doubling of computer power every few years, games had become more complex, more sophisticated and more addictive. And the money being spent on video games by the public was absolutely staggering. Grand Theft Auto IV was released in 2008 and sold six million units, grossing $500 million, in its first week of release. Game developers, now working with squads of brilliant artists, writers, and coders, had tapped into a demand that would have been unimaginable just a few years earlier. Games were modified to be playable not only on hot-selling consoles like Xbox and PlayStation, but on home computers, laptops, tablets and, inevitably, smartphones. With these remarkable advances came a backlash. The assaults came from many quarters—gaming was blamed for teen violence, plummeting verbal abilities, rampaging obesity, and plagues of ADHD, autism and pathological solipsism. College grads, who "should have been" out looking for jobs and spouses, were locking themselves in their darkened rooms with enormous supplies of tortilla chips and diet soda, playing everything from the latest John Madden NFL (total sales for the series estimated at $3 billion) to Guitar Hero, Tiger Woods Golf or Call of Duty.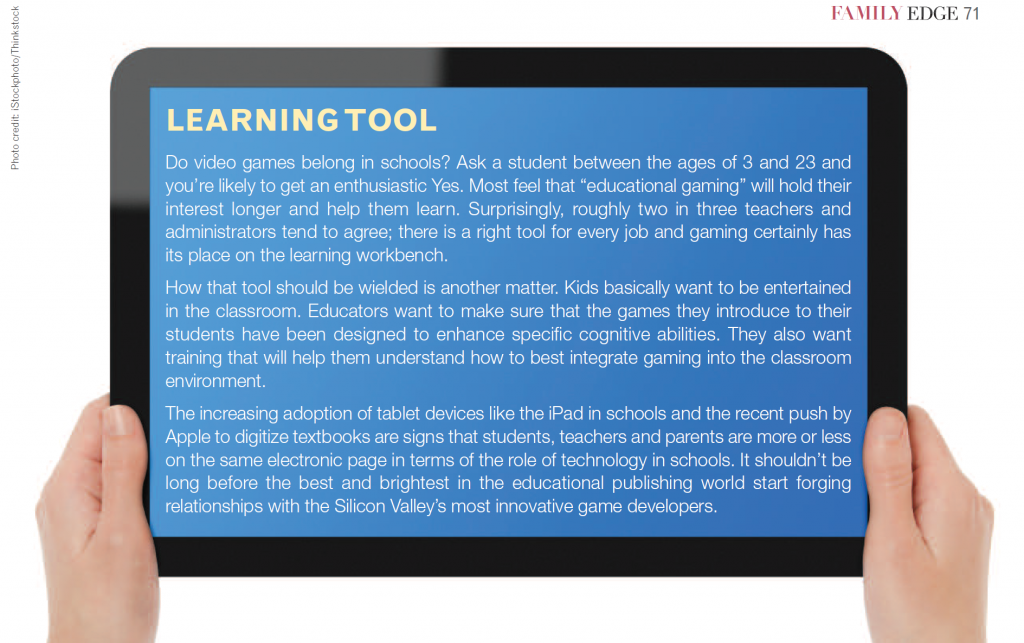 WHO'S GETTING HURT? There is widespread agreement that some video games— specifically those emphasizing stealth, violence, misogyny and lawlessness—are unlikely to be positive forces. This is particularly true in the case of pre-teen and adolescent youth, as well as in adolescent males, who tend to lock into these ninja paradigms. Many games enable the player to experience adventure and danger without developing a realistic appreciation of the consequences. Experts are quick to point out real issues even with the seemingly innocuous games that allow kids to experience the mastery of a sport or activity without acquiring the patience and persistence to study and practice. For example, while a child can quickly gain some mastery over any of these games, by contrast an elementary grasp of karate or baseball requires years of constant practice and respect for authority. The boredom and physical discomfort of actually engaging in a sport pay dividends that sitting alone pushing buttons never will. But don't try telling that to a child who is slugging the ball 500 feet over Yankee Stadium's virtual fence. Some people go so far as to claim there is a one-to-one relationship between gaming and illegal/antisocial/self-destructive activities. That probably stretches the point a bit too far. If memory serves, teenage boys are not exactly hard-wired to be risk-averse. The better debate is whether certain kids are genetically programmed to be sociopaths. Every time another school shooting occurs, video games are high on the list of proximate causes—right after drug  abuse, parental abuse, and getting ditched by the prom queen. This leads to analyses that defy the basic rules of scientific research: clearly defined parameters, repeatable results, and objective evaluations. As yet, no one has produced a shred of evidence that video games turn troubled boys into monsters.
PARENTAL PERSPECTIVE That being said, a search through the archives of the American Psychological Association web site doesn't leave a worried parent with many clear answers. For every pro there seems to be a con, and vice-versa. Video gaming may indeed encourage violent behavior in some (possibly predisposed) kids. Sexual stereotyping and objectification also broadens the gender gap. Then again, gaming helps develop better hand-to-eye coordination, faster reflexes and better processing skills. Games may even help to treat dyslexia. The more you read and research, the clearer it becomes that nothing resembling a unified approach to gaming as a potential threat to young people's development has yet emerged. Nor should anyone expect it to. Concerned parents might be better served by developing some basic tools to encourage moderation in gaming. Because of the popularity of video games, completely eliminating them from a child's life might be difficult. But according to the non-profit Palo Alto Medical Foundation, you can decrease the negative impact that they have by… • Knowing the rating of the video games your children play • Not installing video game equipment in your children's bedroom • Setting limits on how often and how long your children are allowed to play video games • Monitoring all of your children's media consumption, including television, movies and the Internet • Supervising your children's Internet use (there are now many video games available for playing online) • Taking the time to discuss with your children the games they are playing or other media they are watching— how they feel about what they observe in these video games, television programs or movies • Sharing with fellow parents information about certain games or ideas for helping each other in parenting Is it an uphill battle? Of course it is. Parenting is an uphill battle. Are game designers targeting young people? Of course they are—but no more than manufacturers of clothing or fast food or beverages or cosmetics. Commercials for prescription drugs and law firms target adults. Welcome to capitalism. The better question might be: Are we doing enough to identify the kind of at-risk young men and women whose behavior is susceptible to the negative influences of some video games?
THOUGHTS FROM THE GAMING WORLD Every so often there is a groundswell of interest in regulating the content of video games. As any lawyer will tell you, that gets tricky because the industry will almost certainly put the First Amendment in play. Perhaps it's not the industry picture that needs to be altered, but the parenting picture. Consider the viewpoint of one young game developer who recently cashed an eight-figure paycheck after selling his company to a major software corporation. His take is that video games have provided many parents with a cheap, popular, absorbing babysitter—one that keeps Junior at home rather than running in the mean streets. "If you don't think your child should be playing," he says, "maybe you should buy her a book, or teach him how to do woodworking, or get them aikido lessons. Maybe it's not the kids who are being irresponsible, but you. There's nothing inherently evil in gaming, any more than there is in ice cream—it's not an unqualified evil like tobacco, crystal meth, binge drinking, or unsafe sex. It's fun, it has positive qualities, it can even be educational. But you need to help your kids develop values and priorities and a sense of balance." Tens of millions of children have access, by one means or another, to a wide range of video games. Some are despicable, yet others are clearly educational and developmentally sound. Some perspective is called for here. Remember that the overwhelming majority of these children will have their hearts broken, get zits, fail to make the varsity, and wallow in the certainty that their parents neither love nor understand them—all before they reach voting age. Amazingly, they will go on to lead reasonably productive and happy lives.