by Andrew Feldman
An NFL linebacker comes home.
On a sunny Saturday in Elizabeth, wide-eyed young football players fill Waterfront Field in the never-ending quest to burnish their skills. It might sound like a typical late-spring weekend morning here, but there is one big difference. On this day, the kids are being coached by a professional: hometown hero Khaseem Greene, twice Big East Defensive Player of the Year at Rutgers and now a linebacker for the Tampa Bay Buccaneers of the NFL.
For most of these kids, it is their first experience interacting with a player of Greene's caliber. Towering over his charges, he is someone they can look up to, literally and figuratively. No matter where his football travels have taken him, Greene has always come back home. This is the second year he has hosted his football camp. It's not a money-maker (many NFL player camps are), nor is it just about teaching on-field techniques to the city's kids. Greene sees his camps as an important way of making a meaningful difference in the town where he first caught the eye of college recruiters as a defensive back of the state-champion Elizabeth High School varsity.
"Kids might read about me and know a little bit about me," Greene says, "but my coming back and having free camps—getting the kids involved with football and teaching them the basics—is for me a joy, because they get to know me as a person. We get to meet and interact."
Greene understands what the kids of the city are going through today. He lets them know that they should not hesitate to "dream big," because you never know the opportunities that are out in front of you. In Greene's case, his quickness and ferocious tackling prompted a move to linebacker his junior year at Rutgers. That decision changed his life. He instantly became one of the best at the position in the country and earned Big East Defensive Player of the Year Awards in 2011 and 2012. He was selected in the fourth round of the 2013 NFL draft by the Chicago Bears and has been working hard to establish himself in the pros the last couple of seasons.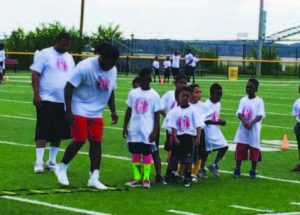 The kids at Waterfront Park don't hear a lot of local success stories like Greene's. Which is why he feels compelled to tell it. He hopes others from Elizabeth who find success follow his lead and come back to share their stories. "It's a way to motivate a kid to want to do better, to make it somewhere in life for themselves," he says. "It's special that I get to be the guy that comes back and actually does camps and gets involved in the community the way I do. It's definitely a big deal for me. I can't even put it into words how excited I would've been to have been able to attend a camp like this when I was a kid."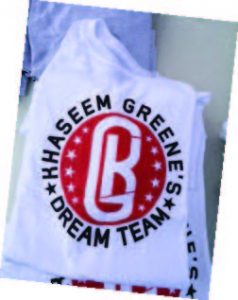 Greene found football as most young players in Elizabeth do, through his family. Several of his siblings, cousins, uncles—and especially his father—were first-rate athletes. His dad played college football at Purdue. But it was Greene's mother who kept him laser-focused on sports. "I credit my mom for keeping me involved in and making me love the game the way I do."
Not surprisingly, it's all hands on deck for the Greene family when it comes to making the camp happen—from tutoring the players to serving food to passing out camp t-shirts. "Family is the reason why I grind, the reason I do what I do," he smiles. "It means everything to me for them to be there."
Editor's Note: Andrew Feldman first crossed paths with Khaseem Greene on the Rutgers campus, where Andrew earned a degree in Sports Management. He has profiled other pro athletes from the Garden State for njsportsheroes.com, including Muhammad Wilkerson and Elaine Zayak, and authored histories of Rutgers basketball and Seton Hall baseball for the web site.